Nightlife & Cambodian Girls in Siem Reap
If you take a look at most mainstream travel guides on Siem Reap out there, they all claim that the "center of nightlife" with the best bars and clubs is right on and immediately around Pub Street (picture). However, the truth is that 90% of all places there are tourist-oriented restaurants and nothing more than that. There are very few options in terms of nightlife on Pub Street and if you are looking to meet young and attractive Cambodian girls then I'll tell you this is not the best place to go.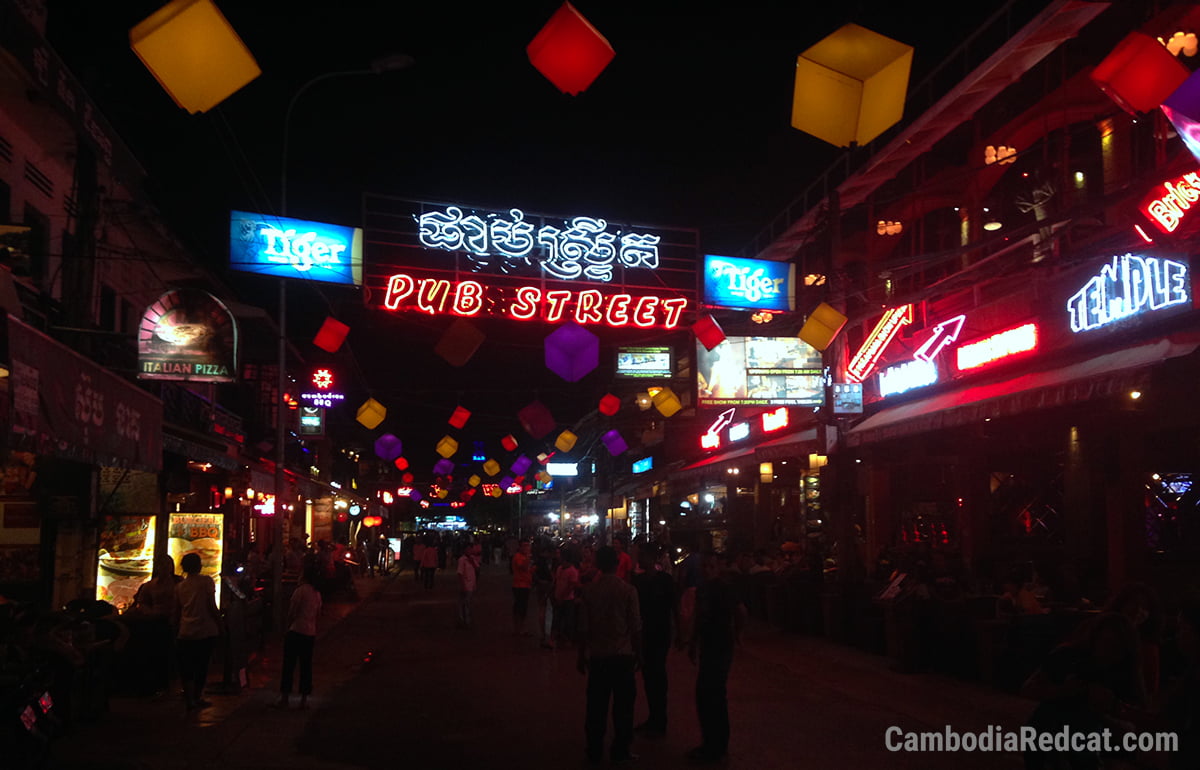 The nightlife and girls scene in Siem Reap is quite different than the one of Phnom Penh, with only a handful of girly bars and no real soapy massage parlors but instead many many more karaoke clubs and small happy ending massage salons that make it just equally easy to get laid in Cambodia's second largest city.
So where to find "open-minded" girls in Siem Reap?
There are basically two ways to meet Cambodian girls here. You either do like most of the expats and more and more travelers do and sign up on the popular dating site and easily arrange dates with nice Khmer girls in town. Or you visit one of the following places that are spread all around Siem Reap and again: The famous tourist hotspot of Pub Street is one of the places to get lucky – but certainly not the only one.
Girly Bars in Siem Reap

In Thailand they call them beer bars and here in Cambodia we say hostess bars: The kind of bars that have plenty of young and attractive girls employed who are there to entertain the male customers both inside and outside the bar. They are the most popular hangout spots for "Barangs" (westerners) in Cambodia. There are currently no such girlie bars in Siem Reap with one exception:
The place that comes closest to a hostess bar in town is Mickey's Night Bar. It may appear like a hostess bar, but the girls are actually freelancers and not employed by the bar. That means if you want to take one of them back to your hotel there is no need to pay a bar fine (in Phnom Penh this would cost you 10 USD). Same thing applies for lady drinks: If they ask for a drink, you pay exactly the price that's on the menu and nothing more. Great place Mickey's with two pool tables (quite old actually but free), two TVs with live sport and cheap drinks like Anchor draft for 1.50 USD, whisky for 2-3 USD and cocktails for 3-4 USD.
The second-best bar in Siem Reap to meet girls is X-Bar. This is the kind of place I think is still missing in Bangkok: Cheap drinks, daily live music, free pool, free table football, relaxing rooftop seating area with superb views over the nightlife area and the bar itself, a great mix of expats and travelers and always some sexy Cambodian ladies around – on some nights as low as 3 to 4 and on other nights more than a dozen. Again, many girls are generally freelancers and will ask for money if you want them to "go with you" and if so, then a realistic price is 20 to 40 USD for sex in your hotel (negotiable).
A couple of other bars that have some Khmer girls looking to meet foreigners are The Draft Bar just 50m down the street from Mickey's, UP2U Bar located on "Little Pub Street" and sometimes also YOLO Bar right across the street from X-Bar. Find the exact locations of all the mentioned lady bars on the map below.
Night Clubs in Siem Reap
The night clubs are the best places to meet nice Khmer girls who are not out for money, but you do also find countless of freelancers or karaoke girls that come here after work in case they haven't found a guy for the night yet. You can usually spot those easily as they like to hang out by themselves (which is quite unusual for Khmer women who are rather shy and like to party in groups) or just simply by looking how much skin they show and how they approach you (if you're dealing with non-prostitutes in Cambodia, it's still the man who makes the first move).
The three most popular nightclubs in Siem Reap are Temple Club on Pub Street, Hip Hop Club on Sok San Road and Galaxy Night Club, a kind of well-kept-secret in the Khmer Pub Street that hardly has any Barangs going there.
Go Go Bars in Siem Reap
There are currently no go go bars or coyote bars in Siem Reap like you find them in Bangkok or Pattaya. Of course I would update this page as soon as there will be opening only one or two places, but it doesn't look like this is going to happen in the near future.
Sex Massage in Siem Reap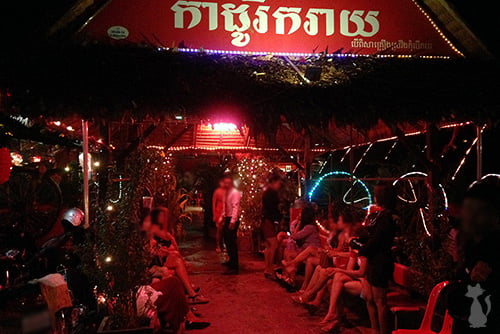 The bad news is there is no typical soapy massage in Siem Reap comparable to the sex parlors of Phnom Penh. However, the good news is that instead you have several karaoke clubs spread all around town. These are partly huge buildings and also small KTV bars in the Khmer Pub Street that have a similar purpose.
The way it works is you pay the fee for a girl of your choice (in the small KTVs as low as 1.50 USD, in the bigger clubs up to 10 USD – no time limit) and then you either sit and drink with her, rent a private karaoke room (also depending on the place, 5-20 USD per hour) or you take her to your hotel or to a short time hotel around the corner (5-10 USD per hour). The girls itself ask for about 30-50 USD for short time, which is negotiable.
Happy Ending Massage in Siem Reap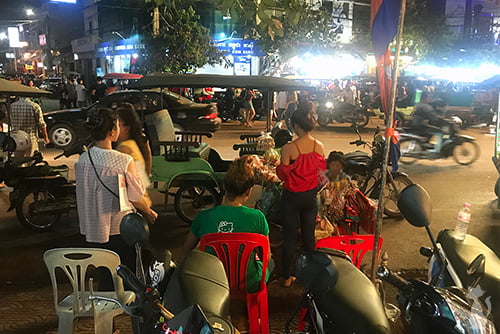 There are countless of small massage salons in the area around Pub Street. It's not that kind of "in-your-face" naughty massage with a guaranteed happy ending that you may know from Thailand's tourist hotspots, you might not know before what the experience will be like. Yes, sometimes you can tell by paying attention to how the girl tries to make you take the massage, but often it's just about being lucky.
So you pick either a Khmer Body Massage (around 5 USD) or an Oil / Lotion Massage (around 8 USD) and that gives you one hour in a private room (or a public one divided by curtains which is almost the same). They generally don't ask you to pick a lady like in the massage parlor, but of course you can say which one you like to have. No need to be shy.
It doesn't happen a lot that the massage girls ask you for a happy ending, it's usually you to ask them and sometimes they would give you a hand job without even negotiating a price! In that case a tip of 5 USD will make her happy – if she's more professional then 10 USD is the common price for a hand job.
Street Hookers in Siem Reap
You can find plenty of street hookers in and around Pub Street who are happily going to your hotel for some short time sex for 20-30 USD. Another popular hangout spot for these girls is at the river bank opposite the night market.
Ladyboys in Siem Reap
Of course it's not only girls you can get laid with in the city of Angkor. Siem Reap also has a thriving ladyboy scene and you can find the best places to meet them both during the day and at night in this guide.
Night Markets in Siem Reap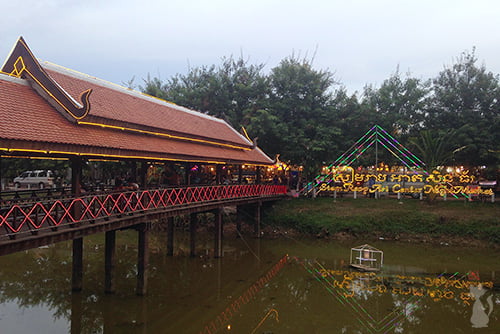 There are at least half a dozen of night markets in Siem Reap selling everything from clothes, fashion, handicrafts and souvenirs to local Khmer street food. And again these markets are in the Pub Street area. They are impossible to miss as huge neon lights illustrating "Night Market" are quickly catching your eye.
If you want to get a more authentic shopping and dining experience you should go to the outskirts of Siem Reap where they have a huge and atmospheric open air night market (see the location on the map below). It's popular for couples or groups of friends to rent a mat and relax for a couple of hours while enjoying some snacks and drinks.
Map of Nightlife in Siem Reap
Video of Mickey's Night Bar
Last Updated on July 20, 2023