How to Hook Up with a Ladyboy in Phnom Penh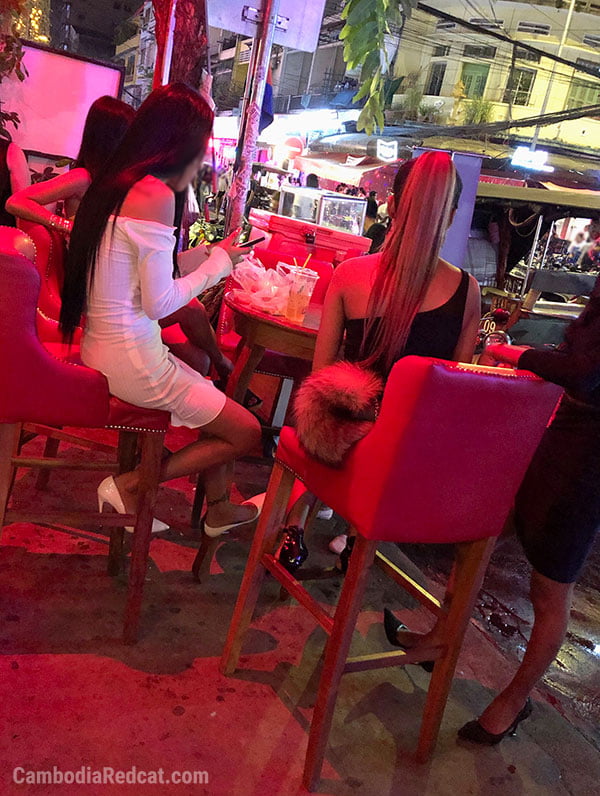 Cambodia is getting more and more famous for being a paradise not just for normal sex tourists and sexpats but also for those who want to try out something completely new: To meet and sleep with a ladyboy. And you probably won't be surprised when I tell you that Phnom Penh as the capital city has by far the highest number of attractive Khmer ladyboys in the kingdom.
This post is all about the different places to find shemales in Phnom Penh but before I get into that, I want to give you some handy advice: Ladyboy means phet tibei (ភេទទីបី) in Khmer and so if you are not sure and would like to ask her if she is a ladyboy you would say: "ku anak phet tibei muoy?" (គឺអ្នកភេទទីបីមួយ) If she replies with "bat" (បាទ) that would mean yes and if she replies with "kmean" (គ្មាន) that would mean no.
If you are both unsure and too shy to ask her then you could also read my guide on spotting the difference between a Khmer girl and ladyboy without having to ask.
Anyway, let's come to the different ways to actually meet ladyboys in Phnom Penh. You will see that they all have their own advantages and disadvantages. Like you could pay for a hooker, which is quick but costs money or if you take some time and effort you could meet normal Khmer ladyboys on the online dating site.
Ladyboy Bars in Phnom Penh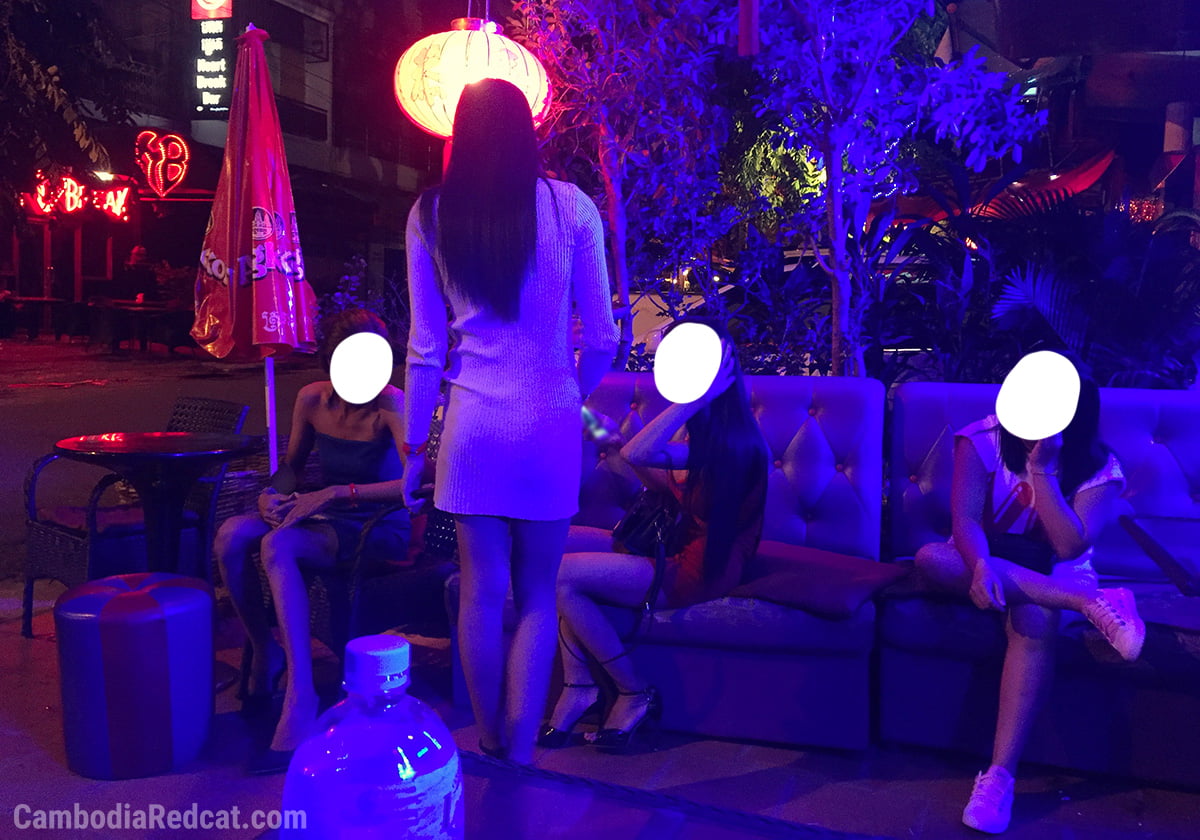 Even though there are no ladyboy only bars in Phnom Penh (yet) you can still find a lot of nightlife places that have both girls and transgenders. The best hostess bar in this category is Island Bar on Street 118. This is also a popular place among expats to meet and greet, as well as ladyboy lovers who will find some of the hottest transgenders in the capital.
Blue Chilli on Street 178 is a venue that doesn't only attract ladyboys but also girls and even gay Khmers. They have a cabaret show going on every Friday and Saturday.
Another popular bar in the city center near the Mekong river promenade is Candy Bar on Street 136. They have actually ladyboy bar girls and that means you can buy them drinks (4 USD) for them to hang out with you and make you have a good time.
Apart from that the ladyboy bar scene in Phnom Penh is changing all the time and it's really the best idea to just walk around the main red light areas being Street 104, Street 118, Street 130 and Street 136.
Prices: Drinks are cheap as usual, 1-2 USD for beer and 3-4 USD for lady drinks. The bar fine is 10 USD at pretty much all bars and the price for short time with a ladyboy in Phnom Penh is between 20 and 50 USD (very negotiable, you may even get along with her well and have her spend the whole night with you for 30 or 40 USD).
Ladyboys in Phnom Penh Night Clubs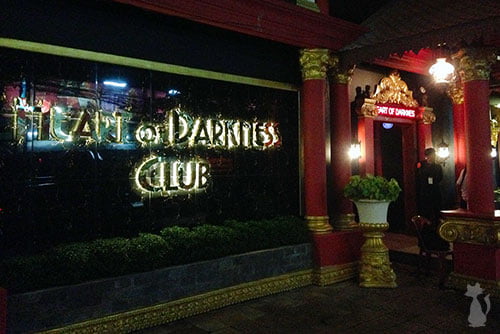 If you don't find any Cambodian ladyboys in the bars or feel they want too much money then you could next try out the various nightclubs in town. I have already written a guide on the best clubs in Phnom Penh to meet girls, but this really also applies to the ladyboys as they simply go where the tourists and expats like to party.
However, there is one place that totally stands out: The Heart of Darkness. Back five years ago I remember how this was the only real night club in town, but then Pontoon opened up around the corner in the Sorya Mall and a few others in the same area. And what happened is the girls scene kind of shifted away to all these new venues while the Heart of Darkness established itself as the epicenter of the ladyboy and gay scene in the capital.
Prices: 20-30 USD for sex or if you are lucky enough to find a non-working Khmer ladyboy who likes you: free.
Ladyboy Street Hookers in Phnom Penh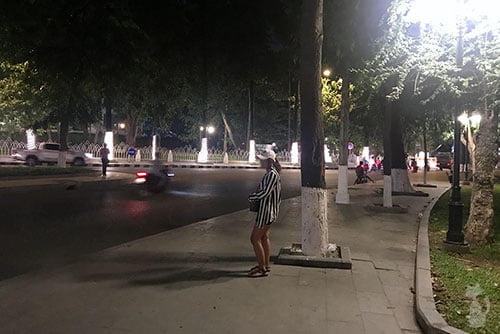 The cheapest kind of hookers are definitely the ones on the street – but then they are obviously not the most attractive ones. There are mainly two areas where they like to hang out every day from around 9pm: At the roundabout at Wat Phnom (photo) and along the Mekong river promenade (northern part). You would usually be able to tell that they are ladyboys by how pushing and determined they are in their way of speaking and gesturing.
Prices: From as low as 10 USD for a quick short time. They usually also know a short time hotel around the corner for 5 USD so you don't have to do the "walk of shame" by taking them back to your hotel.
Arrange your own date in Phnom Penh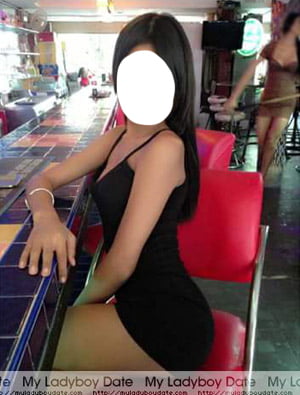 If paying for hookers is not really your cup of tea then the increasingly popular dating site might be for you. It's called My Ladyboy Date and has members not only from Cambodia but from all around Asia. Needless to say that most Cambodian members are from Phnom Penh. And it's not just a great way to meet ladyboys for a one time sexual experience but also for actual dating and proper relationships.
Prices: Generally free if you go out together on a normal date, like you watch a movie in the cinema or have dinner at a restaurant. Being a gentleman, you may want to pay for those bills though.
What's Your Best Option?
That would depend on what you are looking for. If you don't mind paying for a hooker then the ladyboys in the bars are usually the most attractive ones. If you are keen on meeting them in the normal nightlife then you should go with the clubs, however be careful as it's usually really difficult to tell if they are working or not. And often you would notice only after you bought her the second or third drink.
If you want some quick action but don't want to spend much money, then you might want to look for a street hooker, even though they aren't usually real stunners and you hear many bad stories from this type of hooker in terms of her stealing from you. And finally if you don't mind spending some time to create a profile and do some small talk to arrange a meeting with a ladyboy in Phnom Penh then the dating site might not only be your safest but also your cheapest and most reliable option.
Last Updated on February 19, 2021