Overview of ALL Beaches in Sihanoukville
If you are like me then you are primarily coming for the girls in Sihanoukville but then you are probably wondering what to do during the daytime before the bars open. Don't believe anything you read on all the mainstream travel guides and blogs on the internet that tell you about fun local cinemas or other "must do cultural experiences" that turn out to be dead boring.
The only real attraction in Sihanoukville are the beaches, and there are plenty of them. The most famous one where most of the hotels, guesthouses, shops, restaurants and girly bars are found is Serendipity Beach, and so I would definitely recommend you to stay there especially if you are out to meet some nice Khmer girls.
Tip: Rent yourself a motorbike and explore the beaches by yourself instead of being dependent on the Tuk Tuk drivers (2-3 USD one way to most places in town). The going rental rate is just 6-7 USD and that's for 24 hours so you can use it for visiting the various nightlife spots after sunset, too. They generally don't even require a driving license, but they do want to keep your passport as a deposit. Be aware that you are not allowed to turn on the lights during the day – I didn't know that and had to pay 25,000 Riel at a checkpoint. A German expat confirmed that this is indeed a law and only government vehicles are allowed to drive with lights on during the day. Other than that, they will usually check you and your vehicle for drugs as well as your diving license at these checkpoints.
So here is the complete overview of all beaches in Sihanoukville. At the end of the guide you will find a map with the exact location of all beaches as well as a bonus: One of the very few other fun daytime activities in town (besides the casinos, maybe).
Serendipity Beach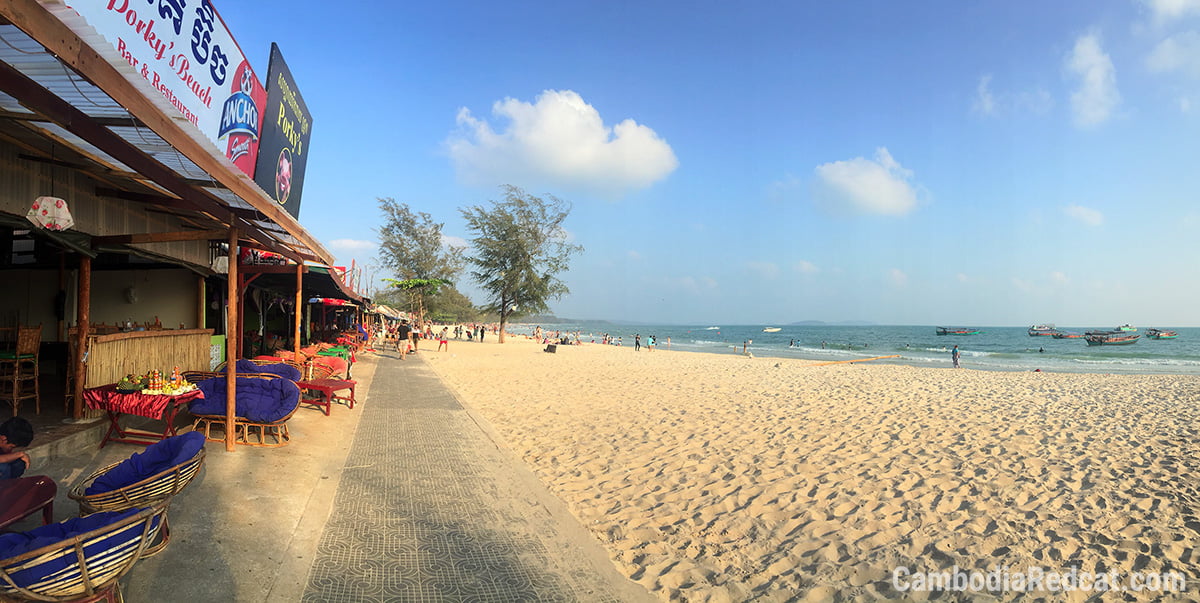 The most popular beach in Sihanoukville with most hotels, restaurants, shops, bars and night clubs. I think my picture gives quite a good impression of the pros and cons: Perfect place to enjoy cheap drinks and to stroll along the promenade, however the beach itself isn't that breathtaking really, there are lots of boats in the water (as well as the ferry pier at the western end) and obviously this is also the most crowded beach of all. Still, you might want to book your hotel here as pretty much all beach bars and clubs (as well as most of the girly bars) are located in this area.
Ochheuteal Beach
I'm not really sure why they call it like that because it's basically the eastern side of Serendipity Beach. It's mostly popular among local Khmers who take photos and eat lots of snacks and only few foreigners who (falsely) think this is Otres Beach.
Otres Beach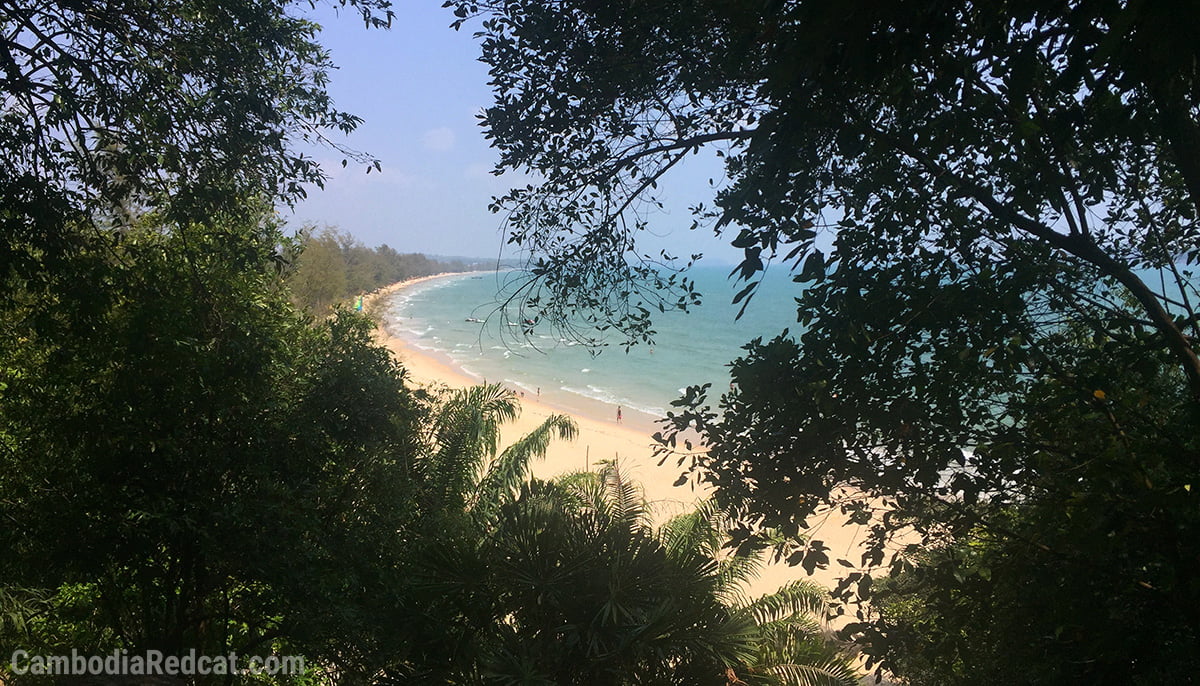 The eastern neighbor of Serendipity Beach.
It's more beautiful and less crowded, but there's absolutely nothing to do here other than sunbathing and swimming. No snack sellers. No restaurants. No bars. Still, one of the best beaches in Sihanoukville to visit once, preferably in the late afternoon when the hottest hours of the day are over.
Sokha Beach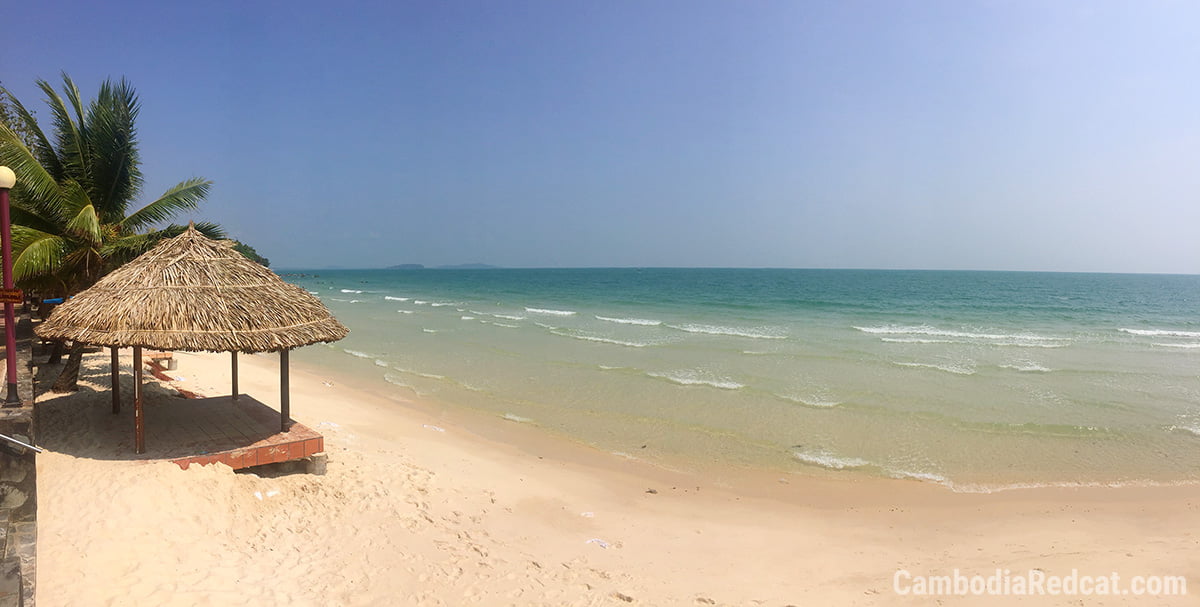 Sihanoukville's only private beach for the guests of the Sokha Resort. But guess what: As a foreigner you can just walk in, buy a drink or snack in the atmospheric half open air restaurant (I had fish amok, the national dish of Cambodia, which was excellent) and no one will check your keys to ensure you are actually staying there. They also got a beautiful swimming pool right behind the beach (and in front of the restaurant):

And then right across opposite the main entrance of Sokha Resort is one of the many casinos in town – but this one definitely counts to one of the most impressive buildings: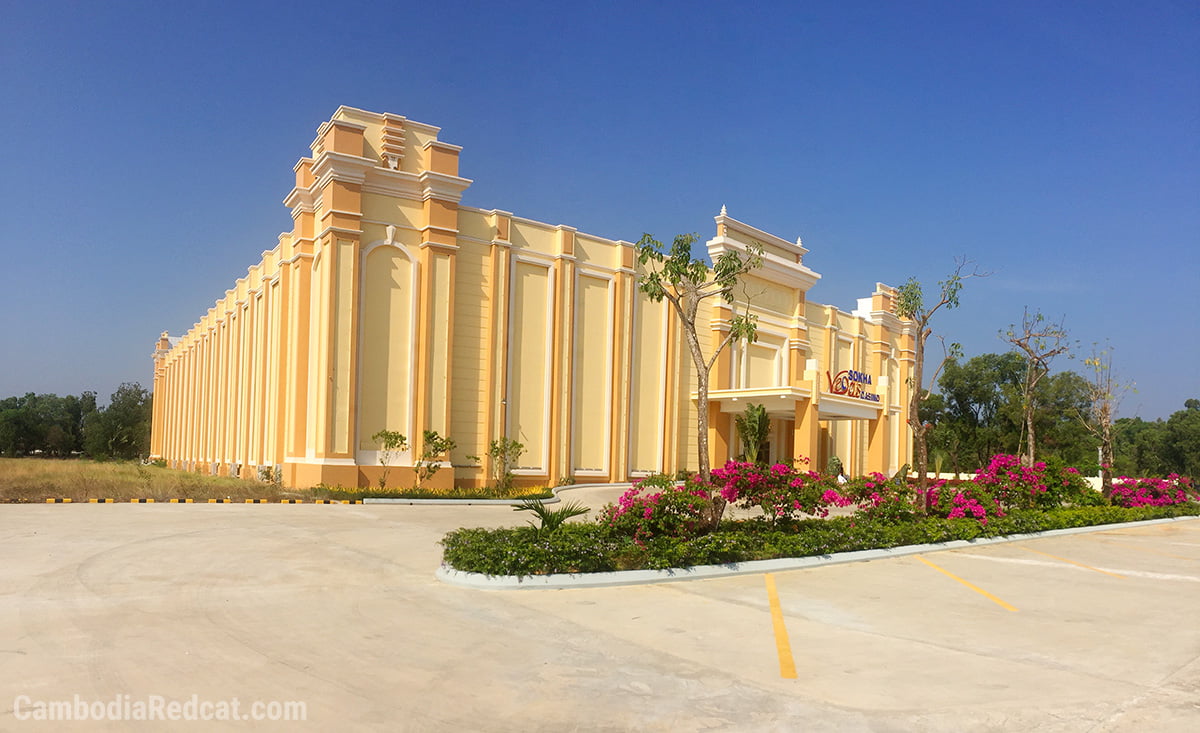 Independence Beach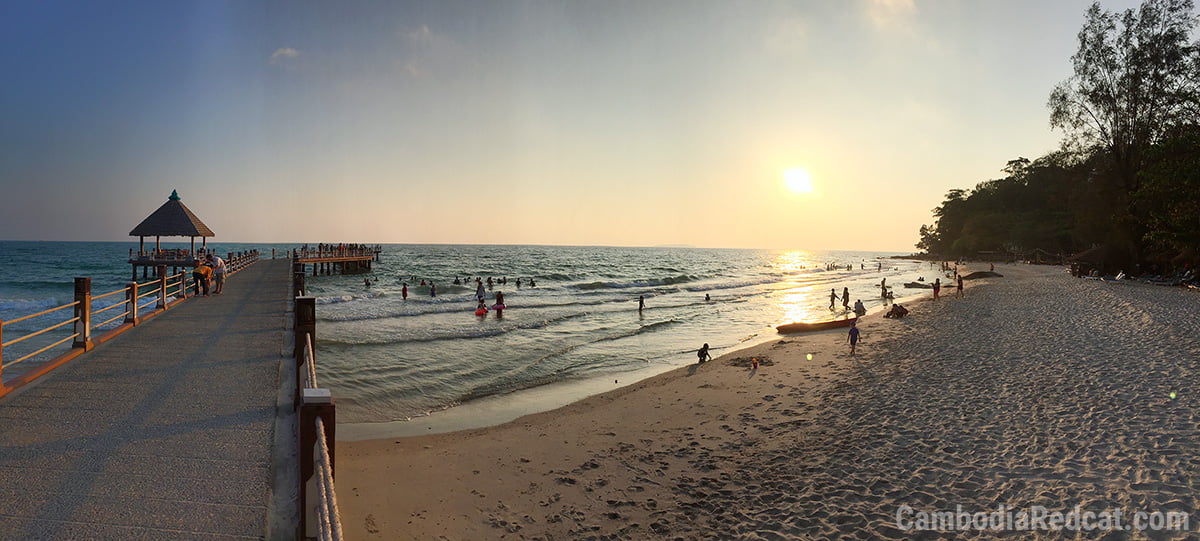 The best place in Sihanoukville to watch the sunset. You'll find mostly local Khmers here, among them many young couples out on a romantic date, who buy snacks at the food and drink vendors by the parking lot before strolling out on the jetty.
Hawaii Beach

One of the worst beaches in Sihanoukville, situated just north of the massive bridge connecting Koh Puos (Snake Island) with the mainland. There tends to be lots of rubbish and seaweed around that no one feels responsible to collect but surprisingly more tourists than at Otres Beach (that's because there are more hotels in this area and only a small percentage of the visitors are keen on renting a motorbike).
Victory Beach

Almost identical to Hawaii Beach (see above) with the difference that the Koh Puos Bridge is further away. It's slightly cleaner and has nicer restaurants.
Locations of all Beaches in Sihanoukville
Bonus: The Snake House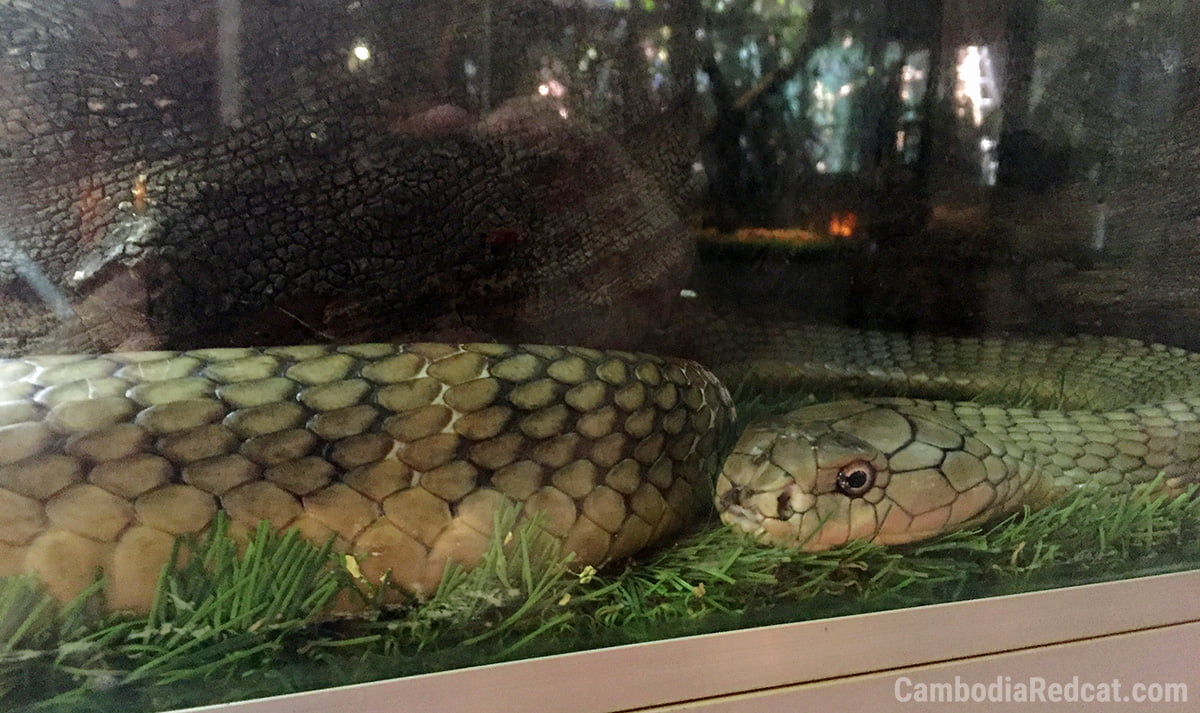 As already mentioned earlier, there aren't really many fun activities to do during the day besides all the beaches. The Snake House in western Sihanoukville is an exception though. It's really worth the 3 USD admission fee and 1 hour of your day to visit.
The main attractions here are obviously the snakes, and many of them are not just sleeping as you might expect but actually moving around and staring at you. The most interesting place to watch snakes I have been to so far.
But it's not just snakes they have in this park: There is also a crocodile enclosure, as well as monkeys, wild cats and lots of birds to take a look at.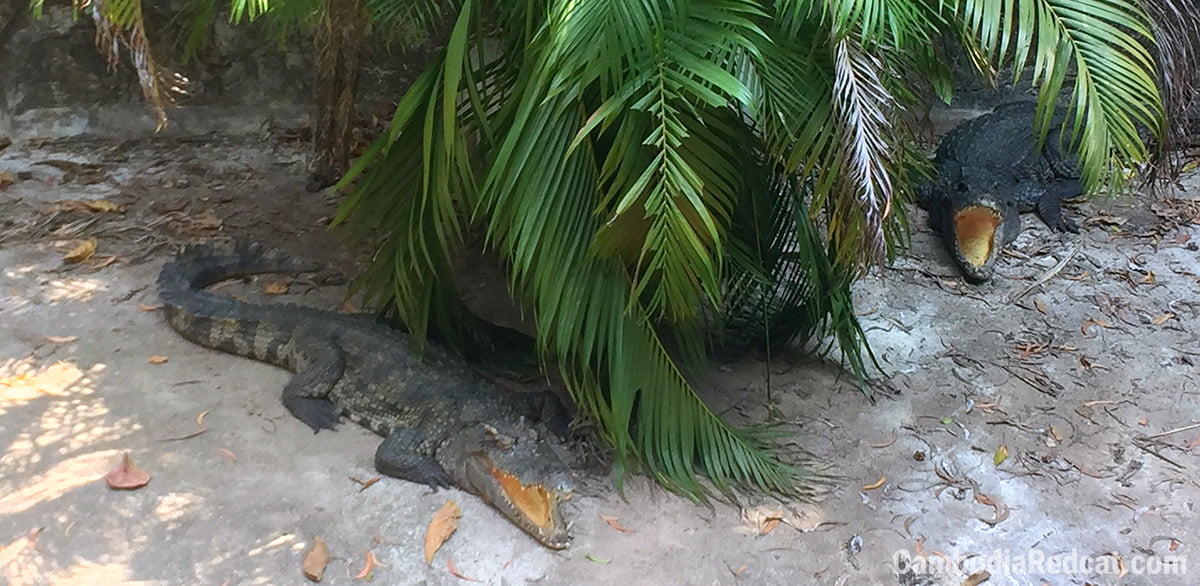 You can find the location of the Snake House on the map above.
Videos of Beaches & Snake House in Sihanoukville
Last Updated on September 29, 2023