Phnom Penh to Kampot: Van, Taxi, Bus & Train
There are many good reasons to get out of Phnom Penh and visit Kampot for a few days: This little town at the bank of a small river has an extremely laid back atmosphere, the locals are friendly, the air is not nearly as polluted as in the capital, Siem Reap or even in Sihanoukville.
And of course there are a lot of things to do and see during the daytime and as soon as the sun sets you can choose among many different types of nightlife venues to not just have a cool beer with great views, but also to meet some nice and sexy Khmer girls.
I have put together extensive guides on all different sorts of activities in Kampot during daytime and nighttime, and the final post in this category will be about the transportation: How do you get there from Phnom Penh?
Short answer: There are four different means of transport and depending on which one you choose, the trip will take between 3 to 5 hours and cost between 6 and 60 USD.
And here comes the long answer:
Bus
The traditional way for long distance travel in Cambodia. And even though more and more people use the mini vans (mostly because they have nice websites, partnerships with the hotels and do good marketing), I personally find them at least an equal good travel option. You get more legroom and it's also safer. The disadvantages are that the travel time is a little bit longer (they stop several times along the way) and you might have bad luck and get an old bus.
I would therefore strongly recommend that you take a look at Book Me Bus, which is a website that lets you buy bus tickets online, reserve seats and you can also see several pictures of the busses. Different to most travel agencies in the hotels, that often show you a nice picture of a bus and it turns out that the vehicle is old and crappy.
The best and most popular bus companies are Kim Seng Express, CTT Transportation and Capitol Tours. Depending on the company and type of coach (such as Ordinary, Express, VIP, VVIP), a one way ticket costs between 7 and 10 USD and the travel time is about 4-5 hours (don't believe the times they tell you on the website – there is always a delay due to traffic and the bad road conditions).
Mini Bus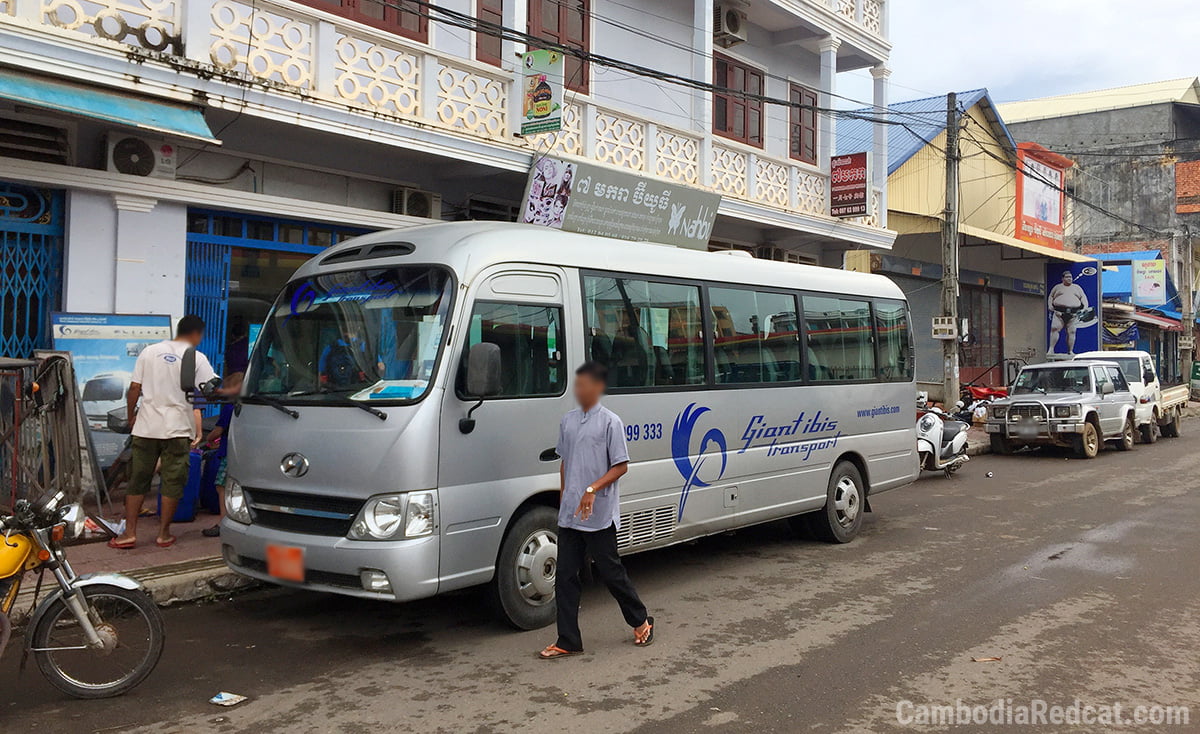 Like you can see in my picture above, Giant Ibis has new mini vans and it's quite safe to say that they are now the most popular type of land transportation for foreign tourists and expats. You can book their tickets online on their website that is really nice and they even have a live chat in case you have problems or questions.
The one way tickets cost 10 USD (plus 1 USD for credit card processing fee if you book online – but I would strongly recommend you to book online because the services are often sold out) and the trip takes around 3 hours. They stop once along the way (about halfway down to Kampot) for a toilet and snack break (about 10-15 minutes).
The Giant Ibis Station in Kampot is conveniently located next to the gasoline station right opposite of the Durian Roundabout in the city center and you can walk to your hotel without relying on the Tuk Tuk drivers.
Train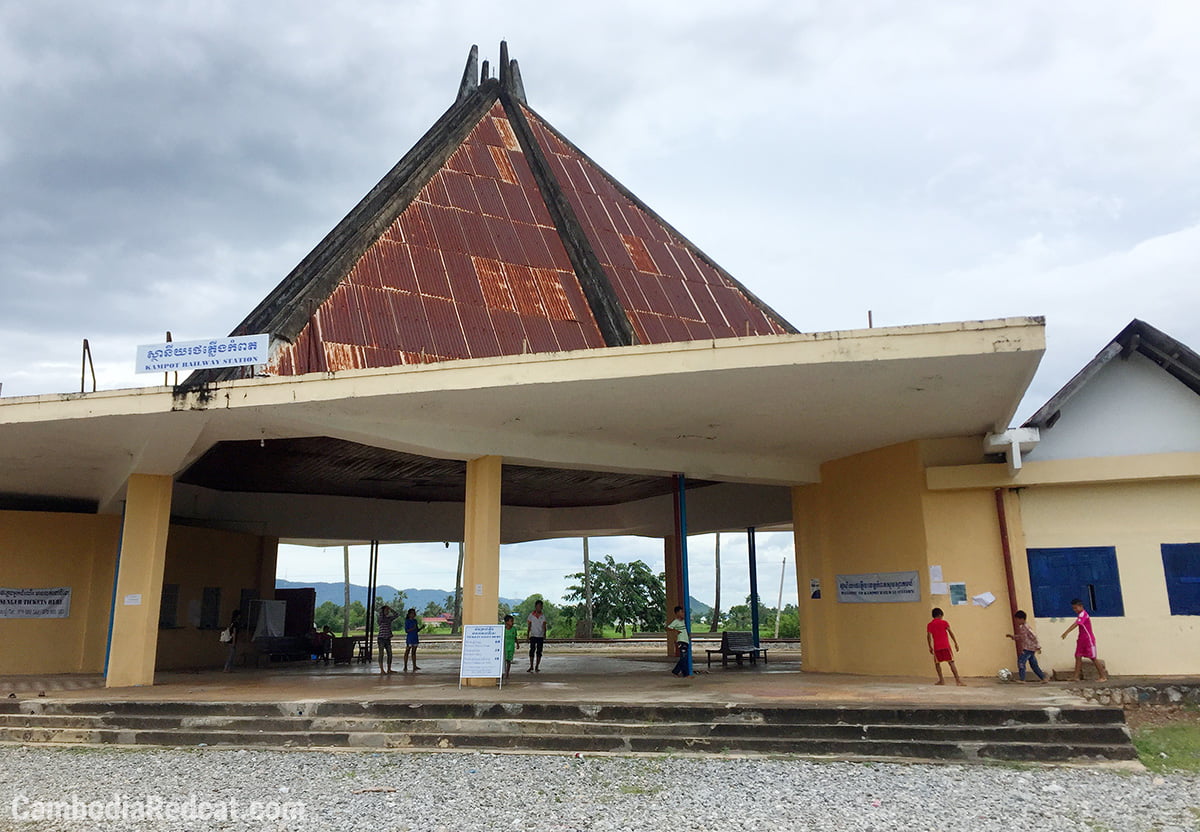 If you are looking for an alternative to busses and taxis then you can also take a train from Phnom Penh to Kampot. It's the same line that continues down to Sihanoukville. There is only one daily service from Phnom Penh, the ticket costs 6 USD (only one class) and the travel time is around 4.5 hours.
No need to pre book your tickets – you can just go there in person and buy it (but you can call 078 888 583 to enquire seating availability during national holidays).
The railway station in Phnom Penh is located in the city center just about 700m from Wat Phnom. And the railway station in Kampot is located about 4km northeast of town (see the picture above, and you can find the exact location on the map below). You will need to take a Tuk Tuk from there to your hotel (about 2-3 USD).
Taxi
A little bit quicker than all other means of transport are the taxis, that will bring you from Phnom Penh to Kampot in just under 3 hours. But you will obviously need to bargain with the drivers a lot. Once I inquired at the reception of my hotel in Phnom Penh how much they charge, and they told me 80 USD. Of course they also get some commission so I wouldn't ask your hotel for help, but instead just go on the street and ask the drivers yourself. 60 USD should be a fair price, but I would only recommend you to take the taxi if you can share the price with 2-3 other travelers, otherwise it's just a waste of money and the mini vans offer a much better value for money.
Map of Transportation in Phnom Penh & Kampot
Note: There is an airport about 23km northwest of Kampot, however, there are currently no flights operating on any route.
Video of Mini Van Ride from Phnom Penh to Kampot
Last Updated on September 27, 2023