Nightlife & Cambodian Girls in Kampot
It's always great to explore some of the not-so-touristic places in Cambodia, and Kampot is just perfect for that. The times where this little town in southern Cambodia with its iconic Durian Roundabout was mainly known as a popular retreat for hippies who smoked marijuana all day long are (almost) over. Many bars now even have a sign saying "No Shirt No Serve!".
I was surprised how laid back Kampot really is and how much it has to offer: Not only are there plenty of attractions during the daytime (like the famous Bokor Mountain and the Pepper Farm) but also more than enough options to enjoy yourself with young and attractive Khmer girls.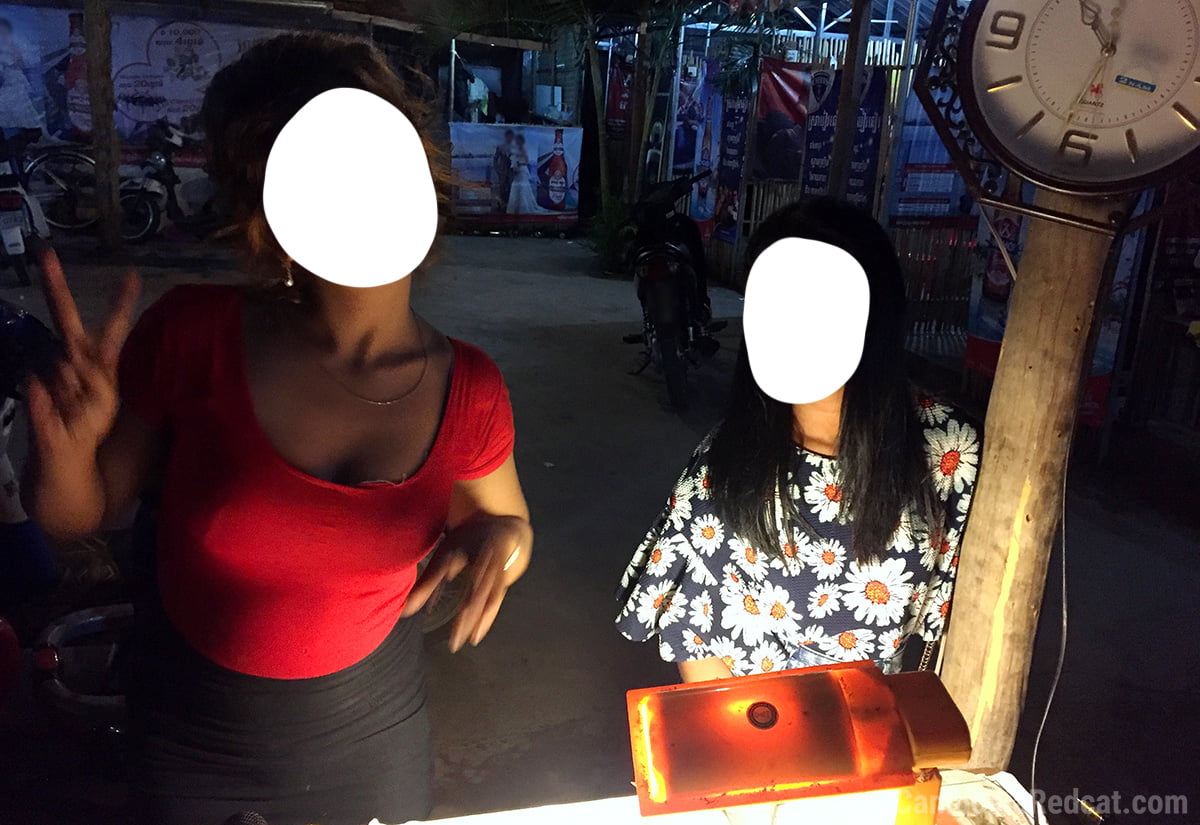 Let me tell you right away that there are much better places for a single guy's holiday in Cambodia. So if it's your first time here and you only have one or two weeks to spend, then I would rather not recommend you to visit Kampot: The selection of bars, massage parlors, KTVs and girls selling sex in general is only a fraction of what you can find in Phnom Penh and Siem Reap. Even Sihanoukville has easily five times more girls "going with men for money" than Kampot.
Kampot Nightlife Overview
However, if you have already been to those places and want to discover a more "authentic" and less touristic town in Cambodia – then you will probably be like me and love Kampot. There is a small expat community and thanks to them, there are a few bars in downtown Kampot and along the Riverside Road (or "The Front" how the expats call it).
Then there are a few happy ending massage salons as well as brothels spread all around town – you just need to know where to find them (continue reading, I will tell you). And if you cross the river to the smaller part of town you can find even more nightlife and girls with several KTVs, karaoke bars and also a few night clubs. And all that without too many foreigners or tourists – means you will always get a lot of attention when visiting those places. And of course the ladies are generally less spoilt and much more authentic than in Phnom Penh or other places.
Since there are so many different types of places to meet girls in Kampot, I think the best idea is to structure this nightlife guide in such a way that I describe each of these places, and I will also link to my more detailed posts on some categories.
Bars in Kampot
There is not really a girly bar scene (or a red light district for foreigners) in Kampot. Means the bars don't usually have girls employed who entertain the male customers in exchange for lady drinks, like you may know it from the hostess bars in Phnom Penh or Sihanoukville.
But still, it's a lot of fun to hang out in the bars in downtown Kampot near Riverside, enjoy some cool drinks, have a chat with other expats and tourists and watch football on the TVs.
Prices: Draft beer for one dollar, spirits for 2.50-3 USD, wine for around 3 USD. Yes, that's really fantastic and I don't think it's going to get more expensive in the near future – there simply aren't a lot of tourists in this town. And these prices are the standard in many bars of Phnom Penh and Siem Reap, too.
Night Clubs in Kampot
The most popular night club in Kampot is called Dragon Club and located on the other side of the river (see the map below for the exact location). It's a typical Khmer disco where young boys and girls come with their friends, share a table and order beer towers or lots of bottles. There aren't a lot of Khmers in Kampot who can afford the more expensive whiskey bottles but if they do, then they will show off on one of the few VIP tables.
Apart from that, there are Banyan Tree and Naga House, which are also located on the quieter side of the river north of town where a few cheap bungalows and guesthouses can be found. This is the most popular area to stay among young backpackers and hippies, and that's also the crowd you will find in Banyan Tree and Naga House – those aren't typical night clubs like Dragon Club, but open air venues with a live band, pool billiards and just a relaxed atmosphere. And yes, like you can see in my picture above, there are some Khmer girls looking for a nice foreigner.
Prices: Very similar prices for alcohol like in the bars (see above), means cheap draft beer for 1 USD, beer cans for 1.50 USD, buckets from 4 USD, and spirits or cocktails around 3 USD. You see, it's rather difficult not to get drunk in Kampot's nightlife.
See also: 3 Best Night Clubs in Kampot to Meet Girls
Happy Ending Massage in Kampot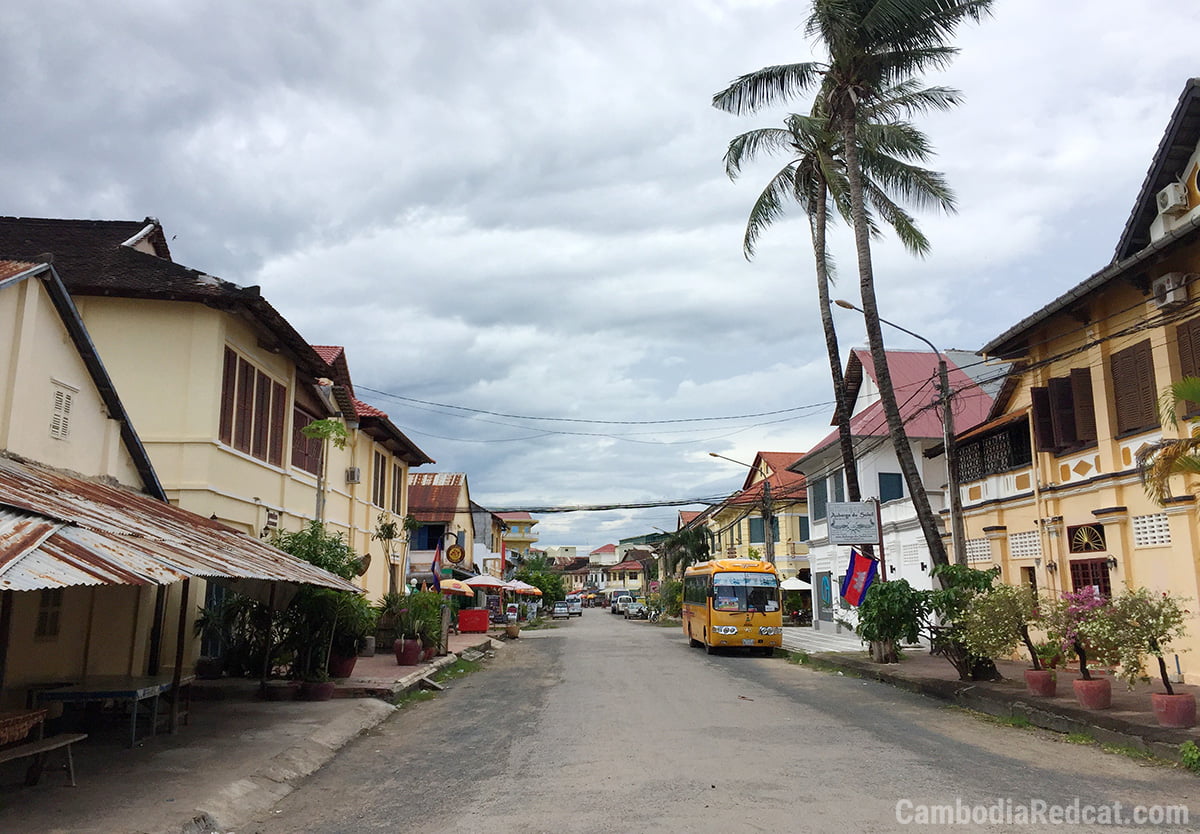 You don't need to wait until sunset to meet a girl in Kampot who gives you a nice and oily hand job in exchange for a few dollars. The massage salons are the best place to do exactly that. I drove all around town with my motorbike for several days so I can present you the most complete map of happy ending massage salons on the internet (or anywhere in the world really).
It's important to know that most of these massage salons offer traditional Khmer massages and oil massages. They don't mention anything about "specials" or "extras". So it really depends on your masseuse if she is willing to massage your dick or not.
However, there is one street near Riverside that has a few "special" kind of places. The buildings are quite old and rundown, but the ladies there do provide happy endings. See the picture above – this is the street I'm talking about. I have marked these places with the pink pin on the map below, and all ordinary massage salons with the yellow pin.
Prices: The going rate for a Khmer massage or oil massage in Kampot is 5-10 USD for one hour. And if your masseuse is providing any "extra", a fair tip for that would be 5-10 USD.
KTVs in Kampot

The KTVs in Cambodia are comparable to the gentlemen's clubs in Thailand. They are the most expensive nightlife venues, but at the same time they also have the most beautiful girls you can imagine. It's no different here in Kampot: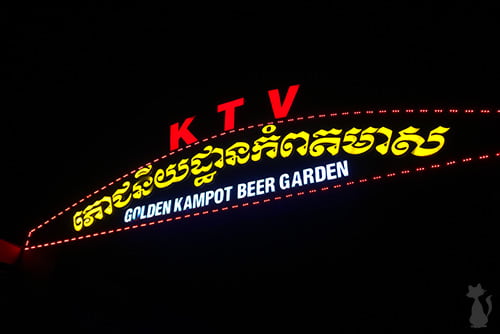 The girls in the KTVs are extremely young, white skinned and attractive. Much better than in any other place – better than in the bars, better than in the massage salons, better than in the clubs. But of course their price tag is also significantly higher (see below). You can find them mostly on the other side of the Praek Tuek Chhu river – especially the bigger KTV complexes like you can see in my pictures.
The four best KTVs in Kampot with the hottest girls are Nine Star, Golden Kampot Beer Garden, The Moon & Royal Kampot.
Prices: I inquired the prices at both Nine Star and Kampot Beer Garden and it always depends on the manager you talk to. In both places the mangers looked at me, thought for a moment and then told me they charge 10 USD for the room, plus 3 USD per girl per hour and 2 USD per beer.
Yes, the girls can go outside with customers (for sex) and that needs to be negotiated with them separately. That will come down to around 50, or maybe 60 USD for a short time.
Karaoke Bars in Kampot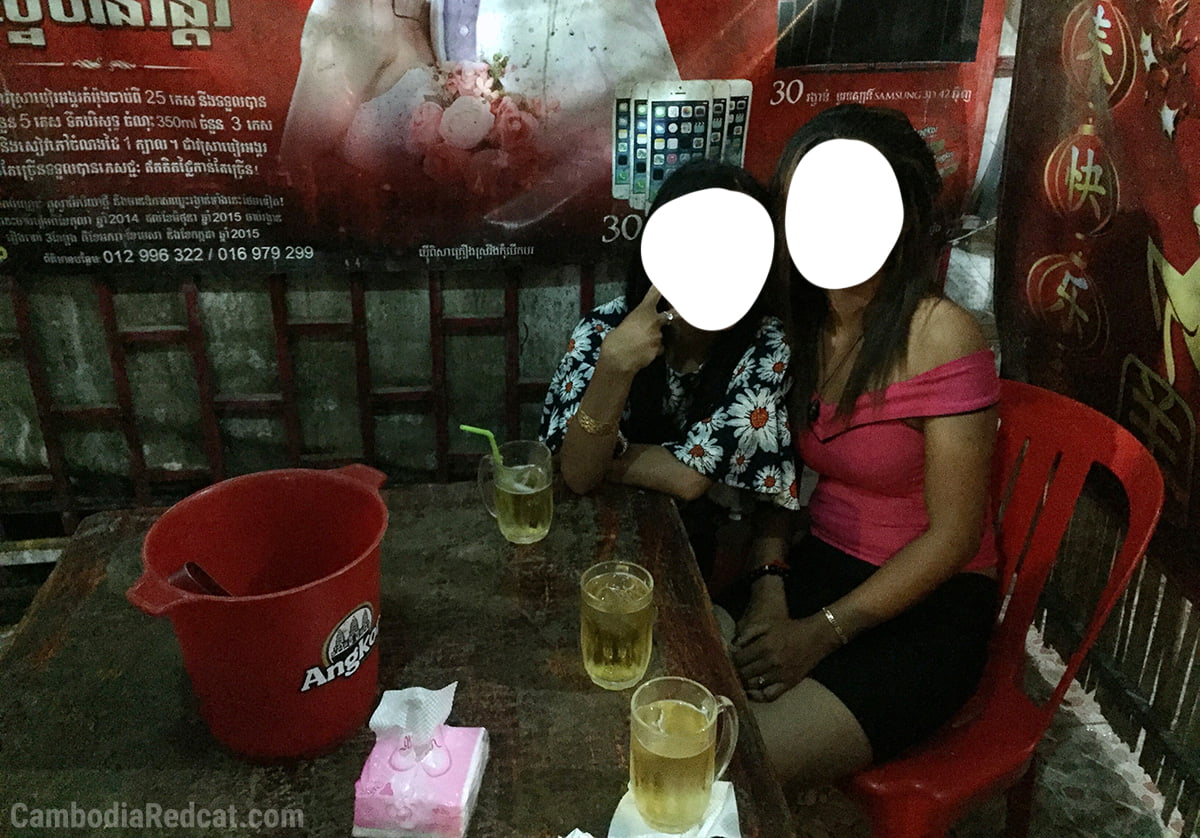 The karaoke bars are the most popular nightlife venues for the local Khmer men. Don't confuse them with the KTVs which are big and modern buildings (see above), while the karaoke bars are much smaller, cheaper and sometimes also a little bit dirty.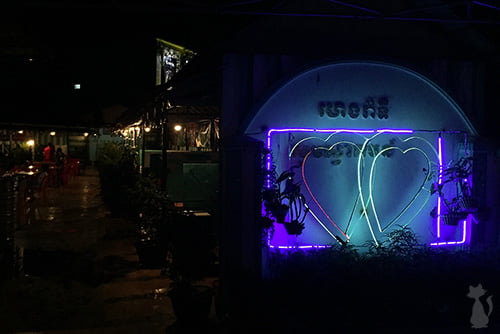 The concept is the same though: You pay a certain amount for one of the girls to sit and drink with you. However, there is usually no room fee – you would just sit down in one of the semi-private seating niches, like you can see it in my picture.
The girls in these bars usually don't speak English, maybe a few words if you are lucky. It's always a little adventure visiting the karaoke bars, you never really know what's going to happen. Maybe you just get drunk with a few naughty girls, but maybe you will find yourself in bed with one of them two hours later. Just make sure you always inquire the prices before you order beers.
Prices: Usually 1 USD per beer (can) and 2-3 USD per girl to sit with you. Everything else is negotiable.
Ladyboys in Kampot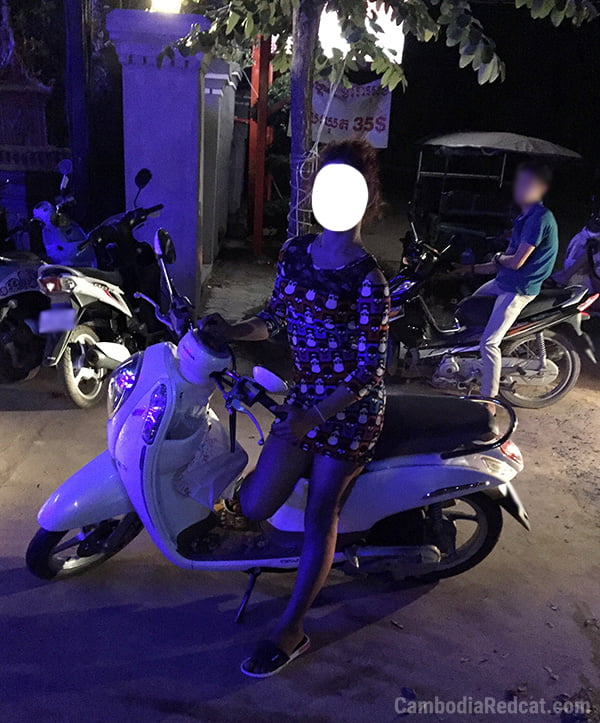 Don't get mislead by my picture: This was one of the few ladyboys I have seen in Kampot (in front of the Dragon Club). So if you feel attracted to ladyboys then I have to tell you that Kampot is not the place to go. Most shemales from the region would leave their homes to work in the big tourist centers of Phnom Penh, Siem Reap and Sihanoukville.
That said, you might just look for the girls and if you still see a ladyboy in one of the bars, clubs or massage salons (and you like them) then that's fine. But your primary reason to visit Kampot should definitely not be the ladyboys. If you meet one, then that's fine, but if not, then don't bother too much about it. If you are really serious about that you could try the ladyboy dating sites where you can probably find more transgenders in the Kampot region.
Prices: About 15-30 USD if you meet them in the nightlife venues (and supposing they are prostitutes) or free if you meet them on the dating site.
Street Hookers in Kampot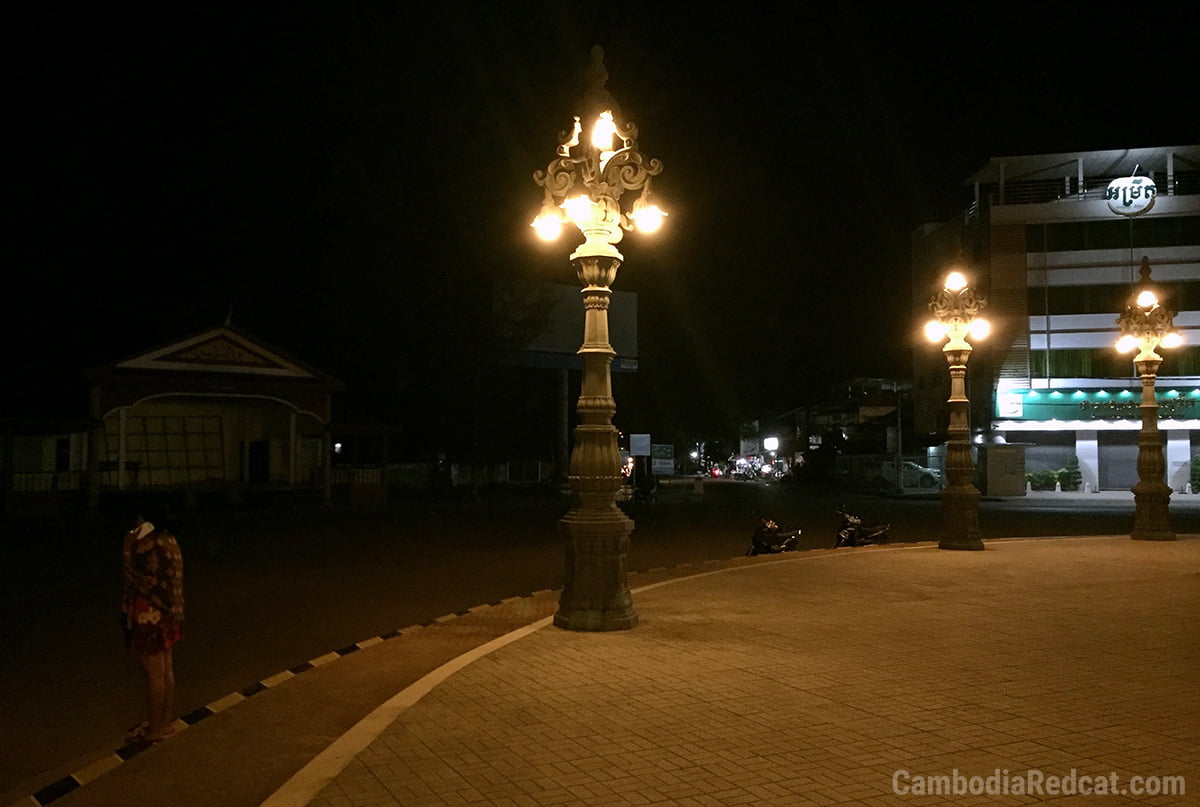 You might expect street prostitutes in Kampot to wait for customers either at the Durian Roundabout or along the River Promenade. However, that's really a hit-and-miss kind of thing. On some nights you may find a dozen young ladies frequenting one place or the other, while on other nights it's dead empty and maybe just a few groups of friends hanging out or couples on a romantic date.
Unlike in Phnom Penh, there are no such short time hotels nearby, means you would have to take them to your hotel.
Prices: 10-20 USD for a short time.
"Normal" Nightlife Spots in Kampot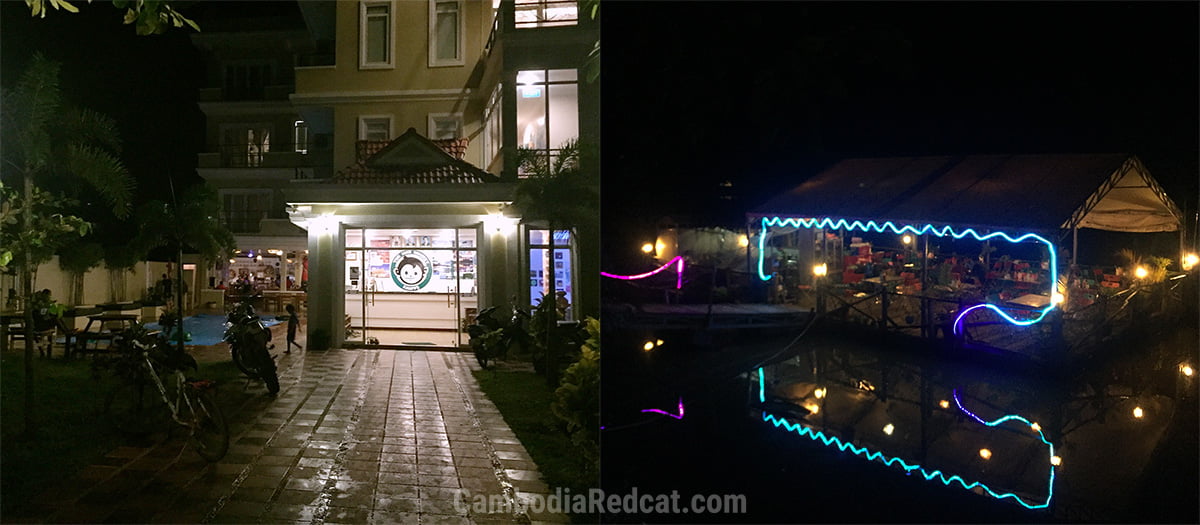 What do I mean by "normal"? Well, all of the nightlife places I have described so far were all about meeting nice Kampot girls. But how if you just want to enjoy a relaxed Angkor draft beer or gin tonic without permanently being surrounded by girls who expect you to pay for them?
Well, there are plenty of normal bars in Kampot, too. Especially the area in downtown and along the riverside road you can just walk around and find dozens of these small and cheap drinking spots, and even an atmospheric floating bar on the river. Also, the best restaurants with both western and Khmer food are located in that area. It's the perfect place to start your night here by having dinner and a few drinks before heading out to the bars, karaoke bars or night clubs.
I don't really want to mention any names here, apart from The Mad Monkey maybe (see the left picture above), because most of these bars open and close all the time, and so don't be surprised when your favorite bar of the previous year has suddenly shut down.
Map of Nightlife in Kampot
One last tip for today: If you are planning your trip to Kampot just now, then you have probably taken a look at my map and noticed that the locations of the different types of nightlife venues are spread all over the place.
Kampot itself isn't really a big town, but because of the fact that many night clubs and KTVs are on the other side of the river, I strongly recommend you to rent a motorbike. It's not expensive either, I remember how I rented an old but fine bike for just 4 USD per 24 hours during my last visit.
That all being said, enjoy your trip down there and the nightlife in Kampot!
Last Updated on March 12, 2021