3 Best Night Clubs in Kampot to Meet Girls
If it's your first time in Kampot and you stay in the main tourist area in downtown near the Durian Roundabout, then you might be quite confused: "Where are all the nightlife hot spots?", you may be thinking. Well, as I have already explained in the overview guide to nightlife in Kampot, there are only a few bars to be found in downtown, and most of them are fairly quiet by 10-11pm.
If you want to experience some of the late night action in Kampot you will need to cross the river to the smaller part of town. There aren't many guesthouses and restaurants, but this is the area where you can find 90% of the popular KTVs, karaoke bars and night clubs.
I'm not going into detail to the KTVs here, those are not everyone's cup of tea, but instead focus on the best "normal" nightlife locations to have a few drinks, party and potentially meet a nice Khmer girl for the night.
There are two types of night clubs in Kampot: The Khmer discos, that play loud music and are not so much visited by foreigners, and the clubs for foreigners that are usually located in a resort by the Praek Tuek Chhu river and popular among tourists and expats of all ages. I recommend you to check out both types – the Khmer discos have more Cambodian girls you can hit on, but the foreigner clubs usually have a nicer atmosphere. And make sure you rent a motorbike, because the distances between the clubs, the river bridge and downtown Kampot are too big too walk.
That's everything you should know for a quick overview of the clubbing scene, so let's now come to the currently three best and most popular night clubs in Kampot. As always, I have a description to each place, a map with the exact locations as well as pictures and videos that I've personally taken last month.
Dragon Club
The best night club in Kampot located by the river. Dragon Club is a typical Khmer Disco: There is loud music, lots of laser lights, a spacious dance floor in the middle of the room and plenty of tables on the sides. It's by far the most popular place for the young Khmers in Kampot to party at night, and that obviously means that you can find lots of cute Cambodian girls who are not prostitutes.
And that's the great thing about Dragon Club: It's not so easy to meet "normal" girls in Kampot's nightlife – most of the entertainment venues have prostitutes and Dragon Club is the only place to meet girls who are not primarily out for your money. It's not a hooker disco like Pontoon in Phnom Penh or Temple Bar in Siem Reap.
But that also means that the girls here are usually shy and will probably not make the first move and talk to you. They are usually in groups with friends and pretend to ignore you. The best idea is to just be patient and wait until about 1am when everyone is a little bit drunk and starts hitting the dance floor, then you can try to say hi (before that it's almost 100% Khmer guys jumping up and down). Just make sure that when you talk to a girl she is not here with her boyfriend.
Price Range: $$$$$
Girls: 8/10
Banyan Tree
I think my pictures really give you a great impression of what Banyan Tree looks and feels like: It's a semi-open-air mix of bar and night club and really has a nice atmosphere. Just like all other night clubs, it's located by the river but unlike Dragon Club, it's quite far away from downtown Kampot and the area near the Durian Roundabout.
However, this area is extremely popular among backpackers (and also some hippies of all ages) because there are a lot of cheap bungalows right by the river. Banyan Tree is one of the most popular resorts here and they also have the best bar. The first time I came there with my scooter from downtown Kampot it took me a while to find it (the street outside is quite dark, too) and then I was surprised how lively this place is.
Like you can see in my pictures, there are quite a few nice Khmer girls you can meet here. Plus a pool table (free, but it's quite old) and several nice seating areas – both at the bar, spread around the place as well as extremely atmospheric wooden benches right at the river – it can't get more romantic. Make sure you give Banyan Tree a visit, you'll probably come back there because it's so laid back, cheap and entertaining.
Price Range: $$$$$
Girls: 6/10
Naga Bar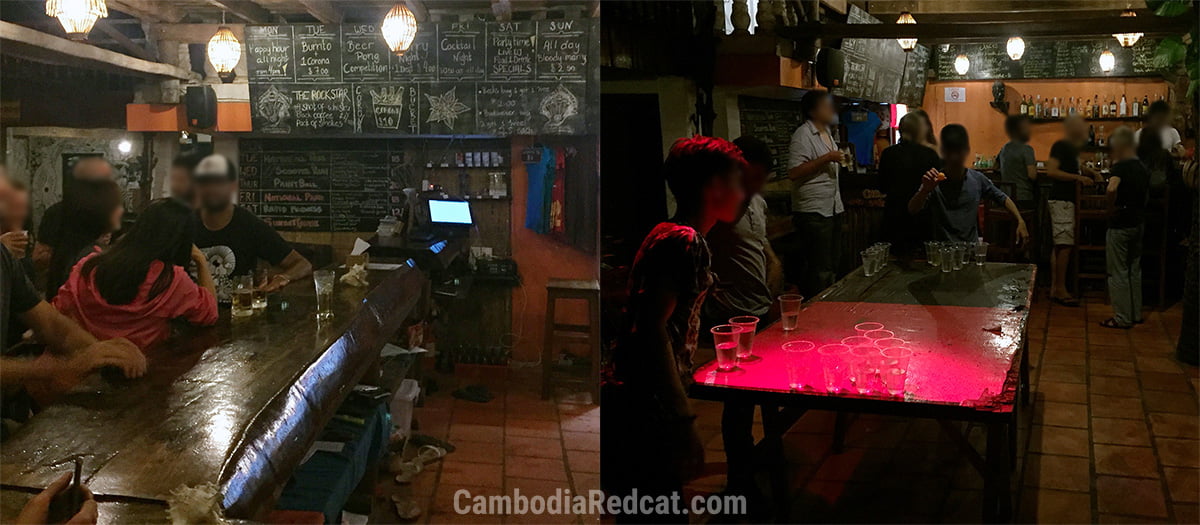 Naga Bar is not far away from Banyan Tree (see above). It has a similar setup and concept – it's half outdoor and more like a mix of bar and night club. Frankly speaking, I'm not the biggest fan of it. I've been to that place twice and every time it was full with hippies and they played reggae music all the time.
I think Naga Bar is fine if you come with your date, but in terms of actually meeting a nice Khmer girl here – that's much more difficult. Yes, you can see a few Khmer girls in my pictures and videos, but again they came there with tourists. It's very rare that you see a group of four single ladies here that wait for someone to talk to them. But you never know, maybe you are more lucky than me.
You could take a look at Naga Bar, have a drink (see below for the prices) and if you don't see any nice girls then head over to Banyan Tree that's just a few hundred meters up the road. By the way, drive slowly, the road is quite dark (no street lights) and it's easy to miss these places. There isn't even a big and illuminated entrance, but just a small way into the resort leading to the parking lot in front of the club. Or listening for the music should work, too.
Price Range: $$$$$
Girls: 5/10
Map of the Best Night Clubs in Kampot
How much are Drinks in Kampot's Night Clubs?
I have already included $-signs for each of these night clubs so you get a quick impression. But of course you also want to know some real prices so here we go: Draft beer is cheap like everywhere in Cambodia and you can get a glass (mug) for one dollar. Dragon Club is the exception here, the drinks are more expensive and it might make sense to buy jugs. See below their full drink menu: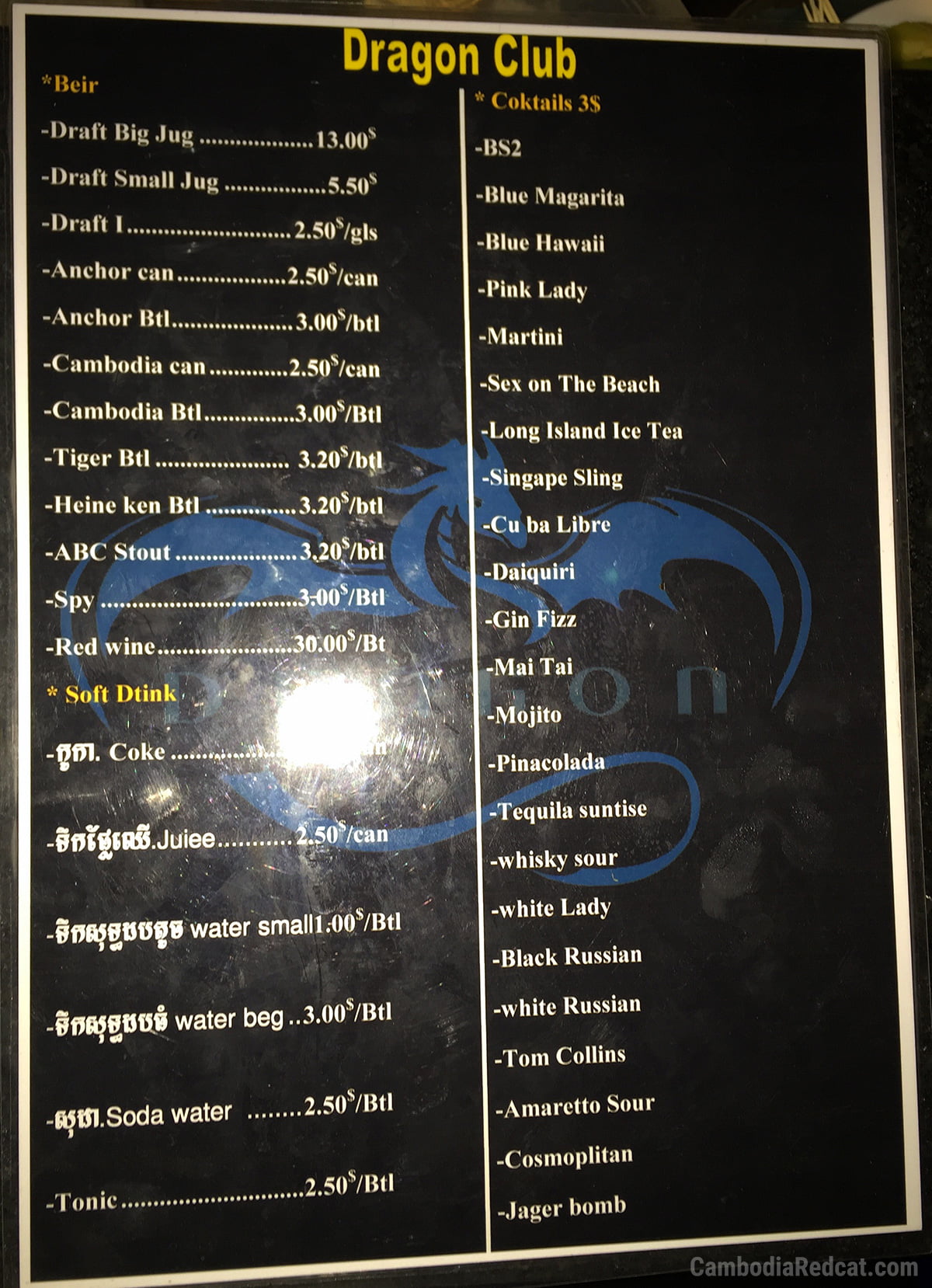 Yes, that's 2.50 USD for a mug and 13 USD for a big jug – quite expensive for Kampot standards. But remember that this is really the best (and only real) night club in town. Funny, because if you look at their prices for gin tonic – 2.50 USD and cocktails for 3 USD – these are the same prices as elsewhere.
Just to give you the comparison to the foreigner-oriented night clubs – here is the full drink menu of Naga Bar (note how their Long Island is 2 dollars more expensive than in Dragon Club, but I assure you that the glass is bigger and they put in more alcohol):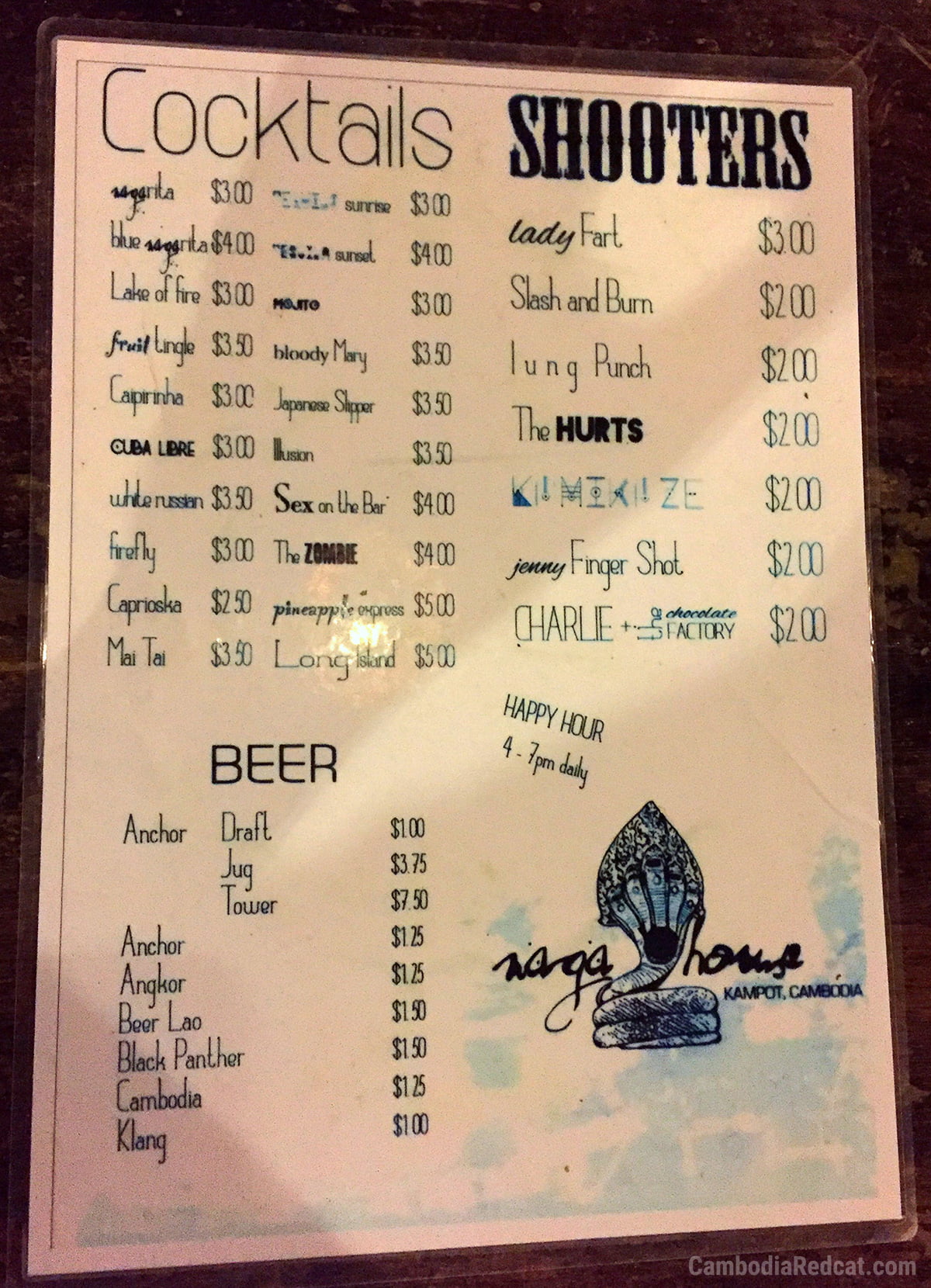 Now you should be well prepared for enjoying the best clubs in Kampot. Like always, I finish my guide with the videos I took on my recent trip there:
Videos of Night Clubs in Kampot
Last Updated on March 12, 2021