Phnom Penh Highlights & Dating Spots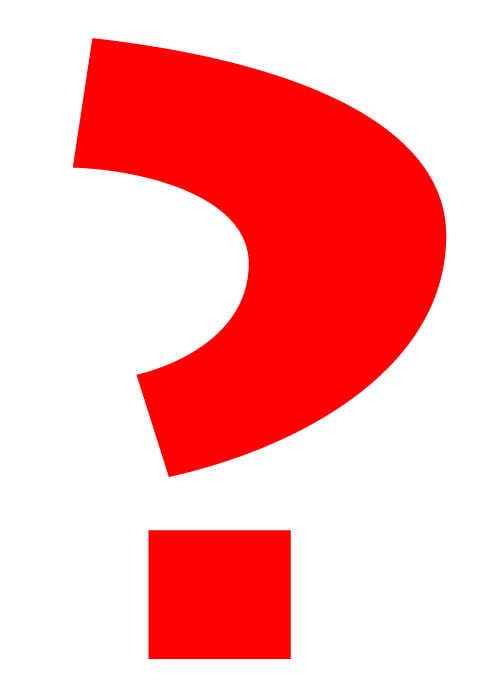 If you think of Phnom Penh, which image comes up first in your head? A temple? Rather not, the most famous temple in Cambodia and the only one most foreigners know of is found in Siem Reap: Angkor Wat. An impressive skyline and rooftop bars with breathtaking views? Rather not, that's what you get in Bangkok, but Cambodia is still a very poor third world country and the tallest building in Phnom Penh, the Morgan Tower, is just as high as the 20th tallest building in Bangkok, the Nimit Langsuan: 210 meters.
What other imaginations do you have of this city? Hot and beautiful Cambodian girls? Probably yes, since this might be one of the main reasons why you come visit here and read about on this website. I have covered the different options on how to have sex with girls in Phnom Penh in detail, but here I'm going to present you the best things to see and do in Cambodia's capital and most of them make quite nice and romantic dating spots too. Let's start off with a couple of cool facts you might not have known yet:
The average income of Phnom Penh citizens is about 3,480 USD a year.
That's 290 USD a month or 9.50 USD a day.
The standard price any Tuk Tuk driver will quote you as a foreigner to most destinations in town is:
2 USD.
Phnom Penh has a population of about 2.2 million people.
In comparison there are more than 8 million people living in the Bangkok metropolitan area.
Even though there are not nearly as many vehicles on the streets of Phnom Penh as in Bangkok –
The air pollution is worse.
During the 1975-1979 rule of the Khmer Rouge 2 million Cambodian people or in other words 20% of the country's population were killed in the "Killing Fields" 15 km southeast of town. Most of them were well educated people, teachers, monks and priests.
With that being said, let's go on to the main part of this piece and what you can actually see and do in the "Pearl of Asia". There's a short description of each place as well as a picture, a video and the exact location highlighted on the map:
River Promenade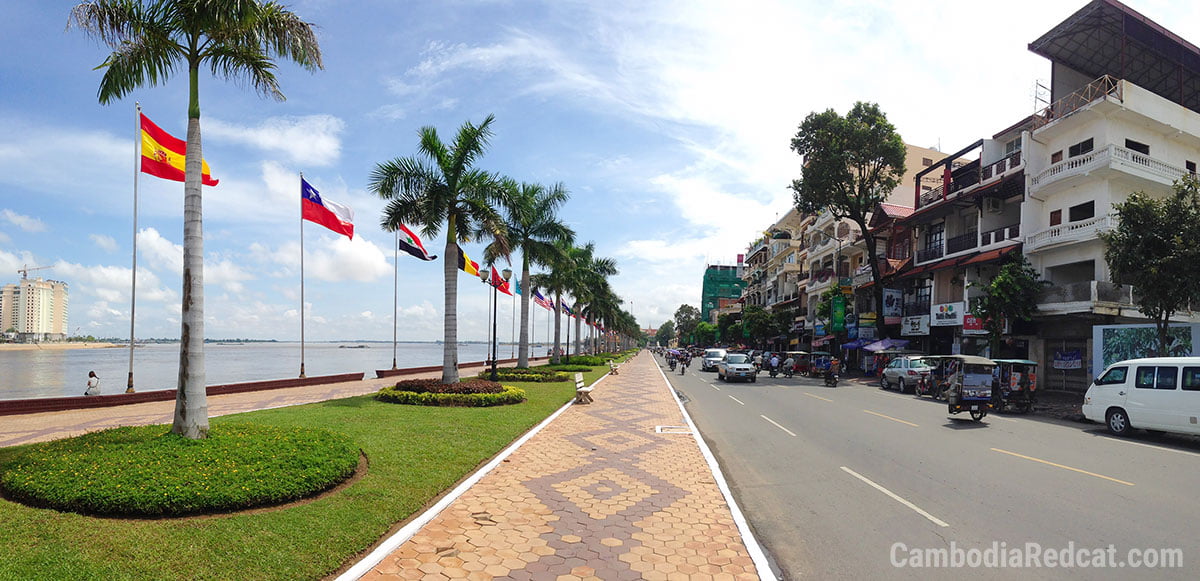 Every afternoon when the hottest hours of the day are over, you see both locals and foreigners heading to the scenic River Promenade. They are exercising, buying drinks and snacks from the vendors, bringing their beloved ones to a romantic walk or just taking a seat and enjoying the absolutely laid back atmosphere with beautiful views over the Mekong river.
The River Promenade is several hundred meters long, but the nicest and most spacious part is in Riverside district just north of the Grand Palace (see below) and that's also where the best foreign owned restaurants are found, as well as massage salons, lady spots and now a steadily increasing number of rooftop bars – your date will love it. Those are open from around 4pm to 1am.

Royal Palace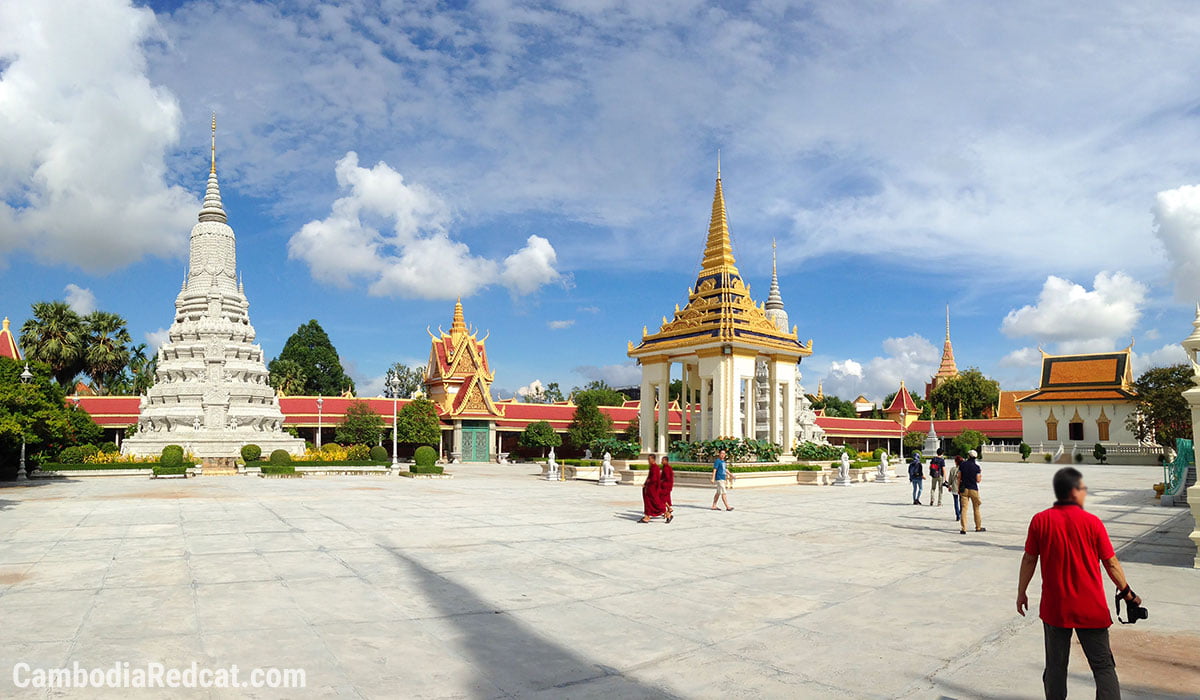 Just like in Bangkok, a visit to the Royal Palace is a must and if you've got only enough time to visit one sight in town with your Khmer girl, then spend the 10 USD (or 40,650 Riel) and a couple of hours strolling around Cambodia's second most significant cultural site (after Angkor Wat in Siem Reap).
Among the main attractions of the Grand Palace, which is surrounded by a 402m x 435m protection wall, are the Throne Hall (where royal ceremonies are held), the Moonlight Pavilion (where regularly classical Khmer dance shows take place) and most importantly: The Silver Pagoda, a compound where the Wat Phra Kaew can be found and which holds a collection of some of the country's most sacred treasures, such as the Crystal Buddha also known as the "Emerald Buddha of Cambodia".
National Museum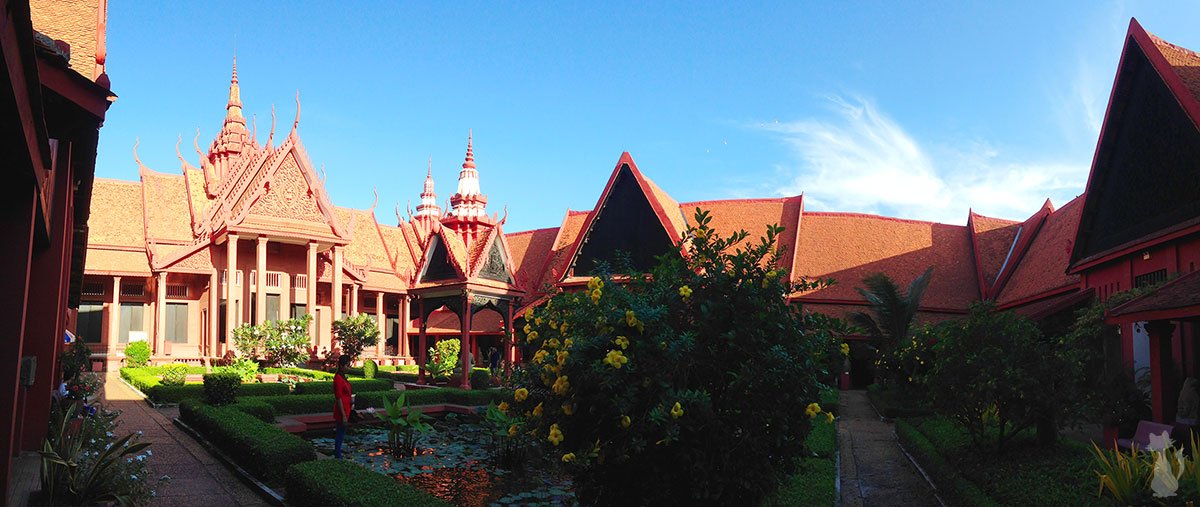 The National Museum rounds off a visit to the adjacent Grand Palace quite well. It's a beautiful Khmer style wooden building with a large courtyard and pond in the center. There are more than 14,000 items exhibited, among them Khmer art, including sculptural, ethnographic objects, ceramics and bronzes.
The national museum is open daily from 8am to 5pm and the admission fee is 10 USD for foreigners and 500 Riel for Cambodians.
Independence Monument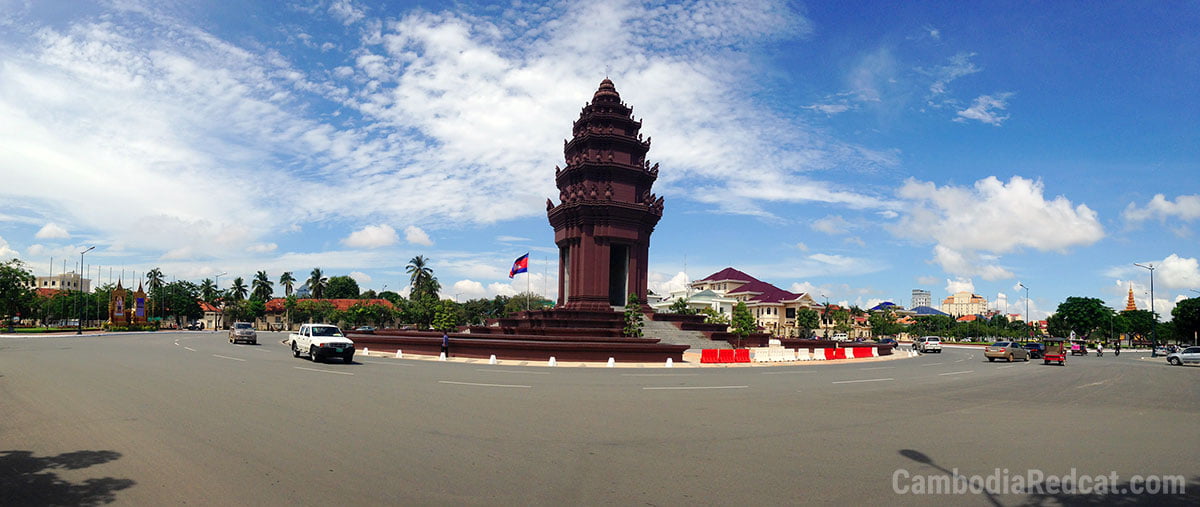 The Independence Monument was built in 1958 to celebrate Cambodia's independence from France in 1953.
It has the form of a lotus shaped stupa – a style similar to Angkor Wat and various other Khmer monuments. It's surrounded by Naga heads – multi-headed cobras. You can find the Independence Monument at the traffic roundabout at the intersection of Sihanouk Blvd and Norodom Blvd.
Wat Phnom

Built in 1373, Wat Phnom in Riverside is not just one of the oldest, but at 27 meters also the single tallest religious monument in Phnom Penh. The main point of interest is the pagoda called Wat Preah Chedey Borapaut on top of the temple (1 USD admission fee).
However even the surrounding park itself is worth a visit as it is the only one in the area. The roundabout and park at Wat Phnom is also a hotspot for Cambodian Street Hookers at night.
Tonle Bati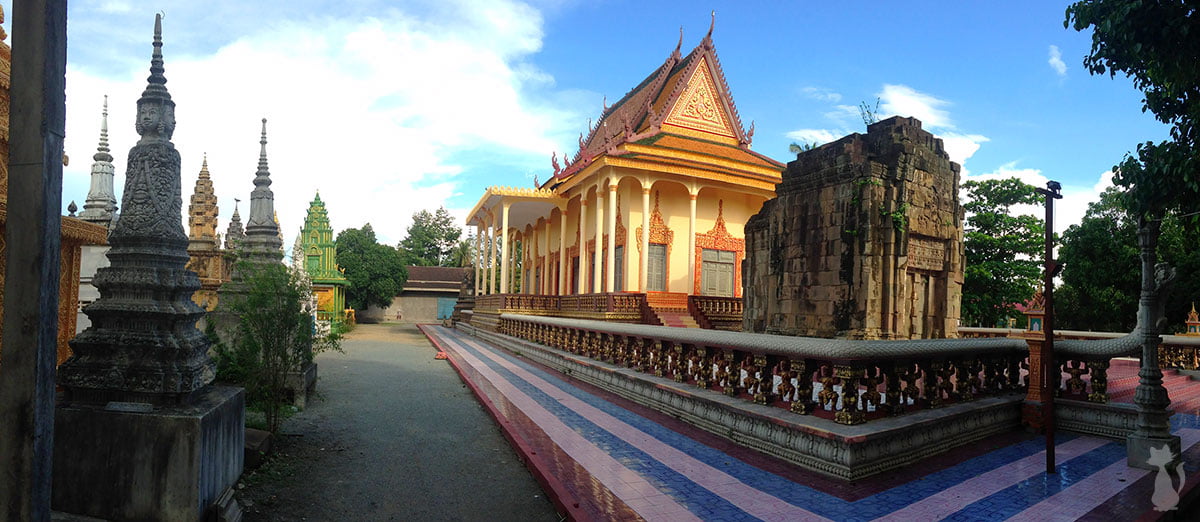 You can easily visit all the main sights in Phnom Penh as mentioned here within one day, and then the next morning you wake up you will ask yourself what you're going to do next. The bars and massage shops are opening in the afternoon and maybe you don't even feel like starting drinking and chasing the chicks too early. So why not take a day trip out of town?
About 30km south of Phnom Penh is the so called Tonle Bati (first picture), a scenic and quiet lake. You will see very few tourists in this area if any at all, but instead a few locals who invite you to dine in their bamboo shelters right on the lake. Nearby must-visits are the 12th century Ta Prohm Khmer temple (second picture) and the Tonle Bati Pagoda (third picture) just opposite. As of now, there are no admission fees to any of these sites.
To get to Tonle Bati, you will need to arrange a taxi or Tuk Tuk service. A taxi will usually quote you 50 USD return, however 30-40 USD is a good bargain. A Tuk Tuk can be a lot more fun as the views along the way are nicer (mostly rice farms, villages & village girls) and a fair price for hiring a driver for the day is around 25 USD. You can inquire at your hotel reception, but in order to get cheaper rates just go on the street and talk to the drivers directly.
Shooting Range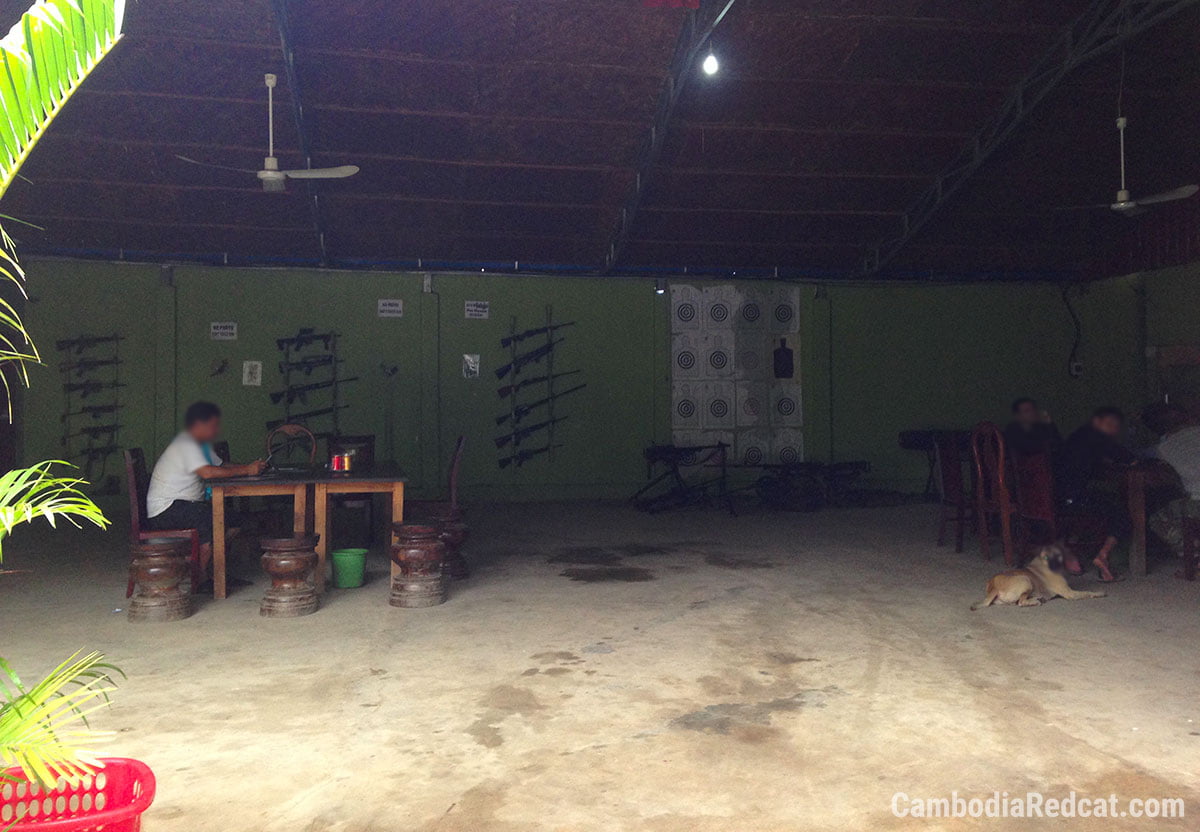 Almost halfway from Phnom Penh to the Tonle Bati Lake is the "Shooting Range" located in the bush behind a small village called Baku. Not sure why people would like to come here and pay 55 USD for 20 revolver bullets shooting on artificial targets, throwing around hand grenades for 100 USD each or even letting out their aggressions with a Kalashnikov at 160 USD for 200 bullets. Just in case you find that cool I have included the location below.
Tuk Tuks charge 15-20 USD return from downtown Phnom Penh.
Shopping Malls & Night Markets in Phnom Penh

A great place to take your date in Phnom Penh is the new Aeon Mall. It's a great place to escape the heat and drink a coffee, have some food, stroll around the many western retail shops or even watch a Hollywood movie in the Major Cineplex (2nd floor).
If you've been to Bangkok and enjoyed the Chatuchak Weekend Market then chances are that you'll also like the Central Market in Riverside Phnom Penh. What you can find here is almost the same but on a smaller scale. There are locals selling everything from handicrafts, paintings, Buddha statues, clothes, watches, sunglasses, tourist crap etc.
Another yet smaller place just by the river bank is the Night Market. It's very similar to the Central Market but has a better selection of food stalls clustered all around.
Opening hours: 7am-6pm (Central Market) & 5pm-11pm (Night Market)
If that's still not enough, maybe the most romantic thing you can do with your girl is going on a Mekong River Cruise. Just show up at the pier in Riverside and buy a ticket. They have one-hour cruises from 5-6pm and 6-7pm for 10 USD per person including one drink and 7 USD no drink included.
How to get around in Phnom Penh
For detailed information about the 4 public and 2 private ways to get around in Phnom Penh have a look at this post.
Map of Phnom Penh Highlights
Videos of Phnom Penh Highlights
Last Updated on September 27, 2023