Getting from Siem Reap to Phnom Penh (and vice versa)
Cambodia is one of the few countries in the world (like Australia, USA and Turkey) that has fewer people arriving at the capital city's airport than at another city's airport. And even more interesting: There are even fewer countries (like Germany) that have more people arriving at smaller cities compared to the biggest one.
In the example of Germany that would be due to the decision of the government to promote Frankfurt Airport as the main transportation hub of the country, but in the case of Cambodia the reason is quite a different one: Angkor Wat. Well, that's probably because Phnom Penh doesn't have any major tourist attractions. Or could you name one besides the Mekong river? If not you may want to check out this page.
Anyway, no matter if you arrive at Siem Reap or Phnom Penh – in this guide I will show you the different modes of transportation between both cities. In order to travel the distance of 320km it will cost you between 10 and 90 USD and take you between 45 minutes and 7 hours, depending on your chosen type of transport.
Bus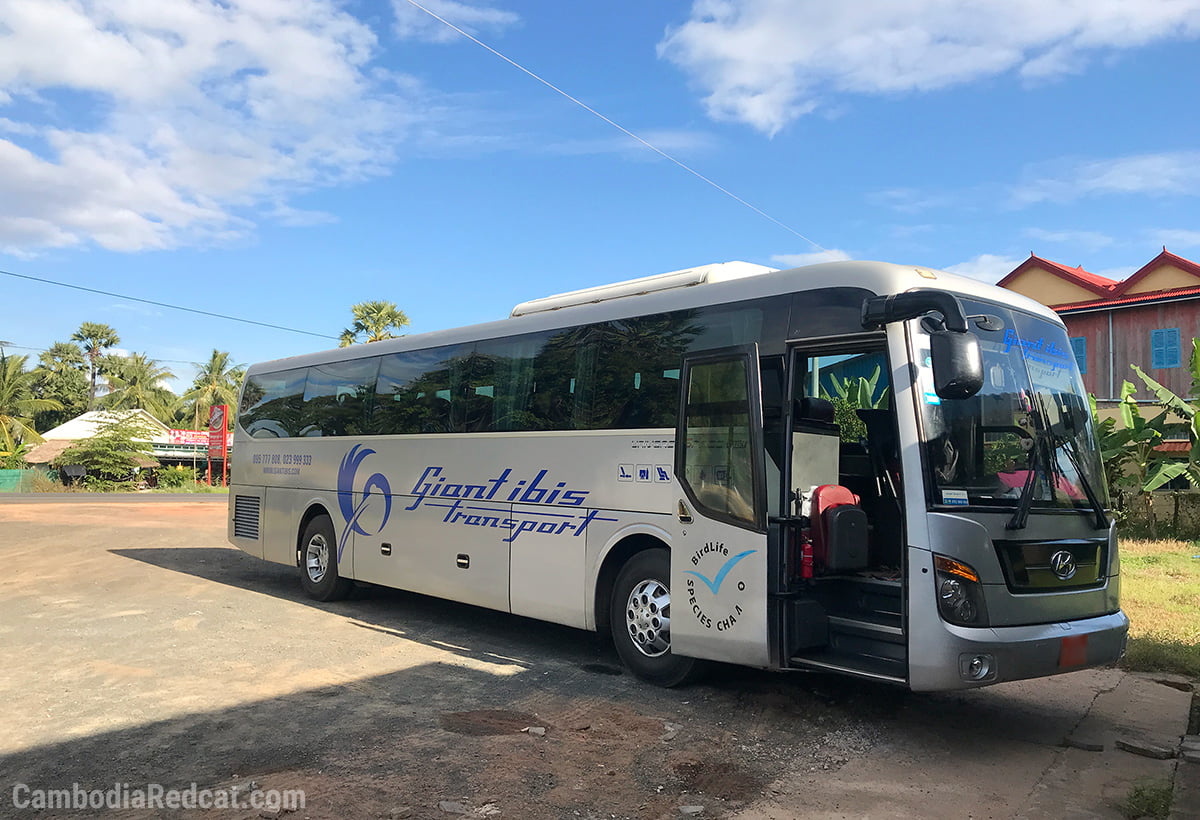 Even though the flights have gotten quite affordable during the past few years, most people still prefer to travel the traditional way using the busses. The advantage here is that you can get a feel for the laid back countryside while passing countless of rice paddies, water buffalos, trees and villages.
You can choose among several bus companies, however, Mekong Express has long been a favorite among expats and tourists. Click the link to check out their current departure times. Tickets cost between 10 and 13 USD and the trip takes about 6-7 hours, depending on the traffic situation in Siem Reap but much more so in Phnom Penh. If you drive in there at about 6pm during rush hour, you can expect a delay of easily 45 minutes. You might consider that when choosing a particular time for your trip – better leave right after breakfast in the morning.
Another increasingly popular bus company is the brand new Giant Ibis that are popular for their great and easy to navigate website, reliable departure times, friendly and English speaking staff and slightly more comfort than in all other busses available. Therefore, they are just a little pricier at 15 USD one way, but it's totally worth for the extra comfort and service. Giant Ibis is also one of the few companies offering overnight services in both directions at 10:30pm, 11:00pm and 11:30pm.
Mini Bus
More and more popular are the mini buses that are significantly faster than the big buses (see above). The only downside here is that you don't have as much space, especially legroom, and the vehicles tend to be always full.
The currently four most popular minibus companies serving the Siem Reap – Phnom Penh – Siem Reap route are:
One way tickets cost between 10 and 13 USD, depending on which company you choose (they are all more or less the same in terms of type of vehicle and service). Yes, that's pretty much exactly the same price as for the big busses. The trip takes about 6 hours and that's because they only stop once along the way for a toilet and snack break and also drive slightly faster than the big busses.
Another great thing about the mini busses is that they pick you up from your hotel, so you don't need to walk or take a tuk tuk to the mini bus terminal.
Express Boat
If you are very adventurous you could also take a boat from Siem Reap to Phnom Penh or vice versa. However, there are services only during the months of July and March when the water level is high. Tickets are rather expensive at 35 USD and you would need to buy it right at the pier: Phnom Penh Port on Sisowath Quay near Street 104. Or if you go from Siem Reap: The floating village of Chong Kneas near Phnom Krom, 11km south of Siem Reap.
There is only one daily service at 7:30am and depending on the weather conditions the trip takes between 5 and 6 hours. The worst thing about taking the boat is that they often sell more tickets than they have seats available and so it's not uncommon for some unlucky passengers to sit on the noisy engine, and also complete breakdowns are not uncommon. The best thing about taking the boat is that you drive all the way through the Tonle Sap – the biggest lake in Southeast Asia.
Taxi
Depending on the demand, supply and your own negotiating skills, a taxi ride from Siem Reap to Phnom Penh or vice versa will cost between 60 and 90 USD. It is obviously the quickest way to do the trip overland, but some drivers have jobs as "delivery guys" means they like to stop at random points along the way to receive and drop packages. You may want to ask your driver in advance if he can drive without stopping (maybe once for a toilet break). Also, don't expect them to turn on the meter – no one is going to do that. It is crucial to arrange a price before you get in the taxi or you may have trouble arguing with him later.
What you could also do is to take one of the so called shared taxis that leave from the southwestern corner of the Central Market in Phnom Penh (called Psar Thei in Khmer). The price is around 10-15 USD per person, but you will need to wait until the taxi is full.
Taxis do the trip in about 5 hours time.
Flight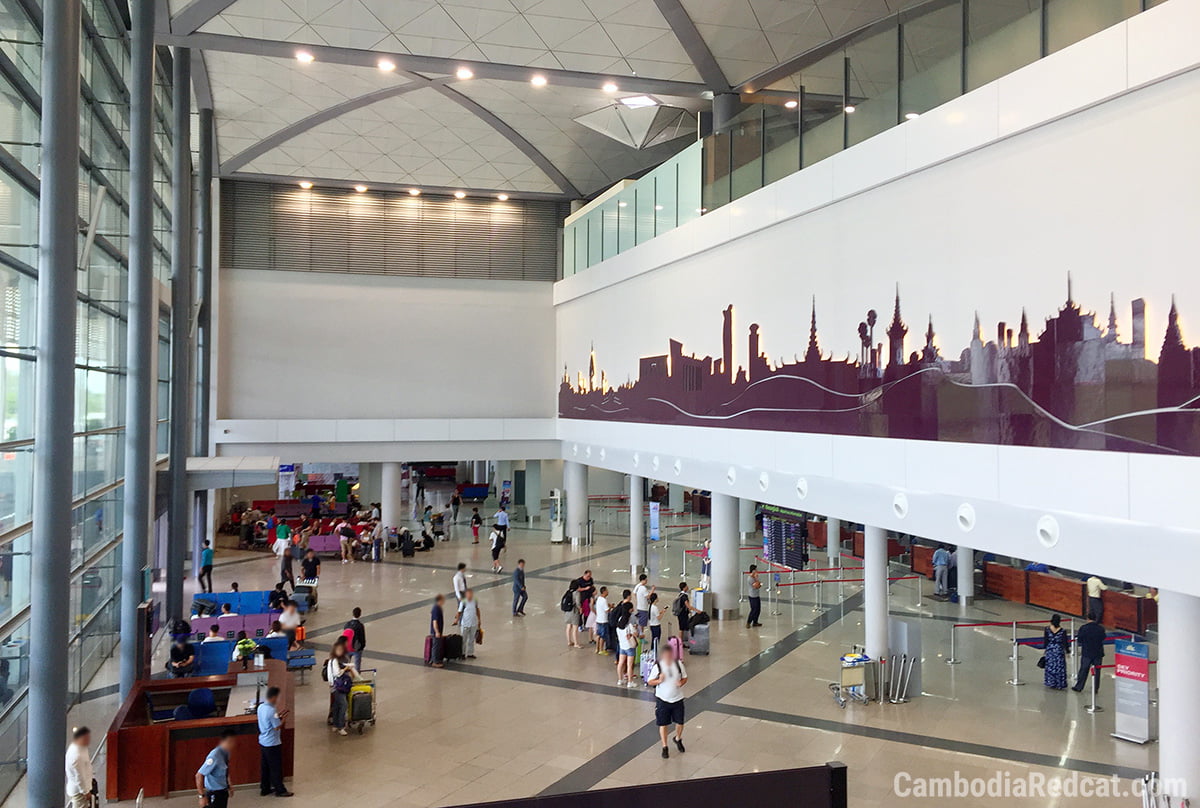 The quickest way to travel from Siem Reap to Phnom Penh and Phnom Penh to Siem Reap in just about 45 minutes. There are fewer airlines operating on this route than you may think (AirAsia is not among them) and there are mostly the two big local airlines:
One way fares range from 56 USD (including taxes) for a promotion on an economy seat to 197 USD for a business class seat. And if you are wondering how to get from Phnom Penh airport into the city center then have a look at this page.
Map of Phnom Penh & Siem Reap Transport
Video of Bus Ride from Phnom Penh to Siem Reap
Last Updated on February 19, 2021