Sihanoukville to Koh Rong (Slow Boat / Speed Boat)
For most people a trip to Sihanoukville isn't complete without taking the boat to Koh Rong. Even though there is not much to do there besides sunbathing on the beautiful beaches, reading books and partying at night, it's well worth to experience it for a couple of nights. And so in this post I will show you the different ways to travel to both Koh Rong (the bigger island) and Koh Rong Samloem (the smaller island).
The ferry pier in Sihanoukville from where the boats to both islands are leaving is located on the western end of Serendipity Beach (see the map below). There is also a nice restaurant that serves excellent western food right in front of the pier (try their chicken cordon bleu or pasta). Anyway, here are the most important facts to the transport to the islands:
Sihanoukville to Koh Rong: 33.9km – 50 minutes by speed boat / 2.5 hours by slow boat
Sihanoukville to Koh Rong Samloem: 25.3km – 40 minutes by speed boat / 1.5 hours by slow boat
My Experience Traveling with both Boat Types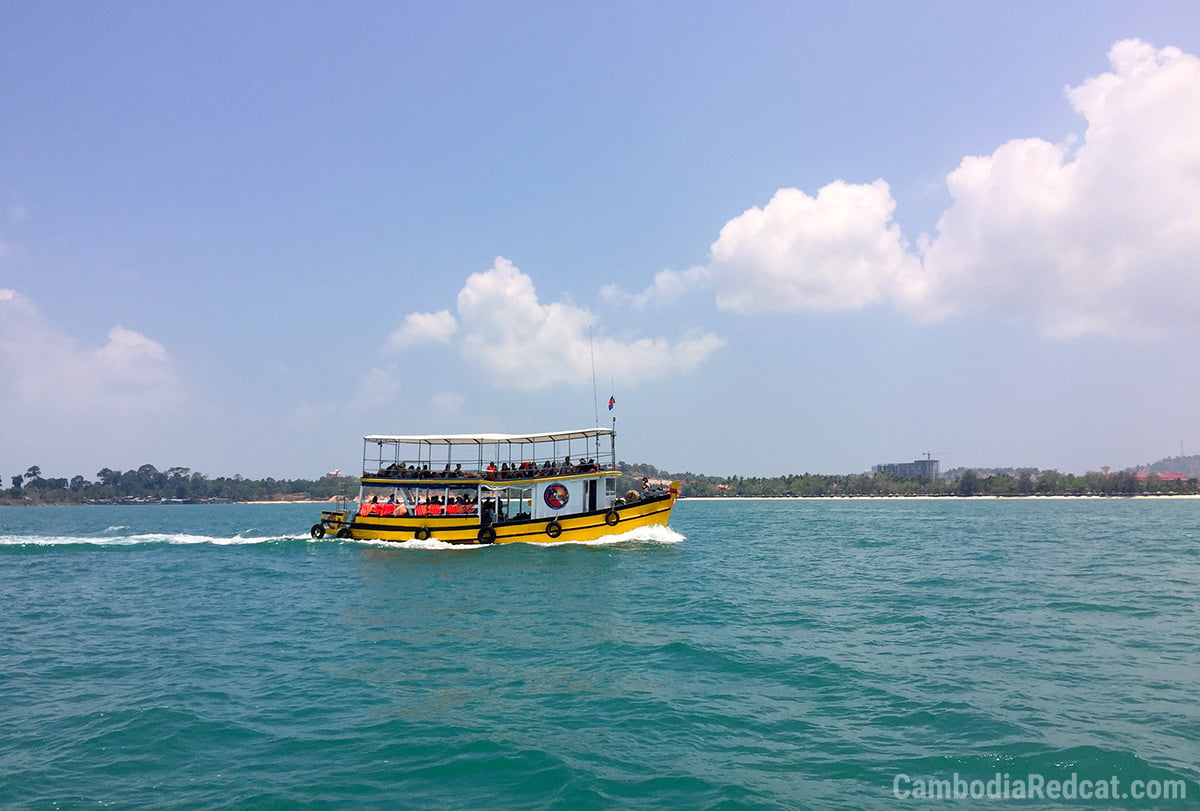 There are pretty much only two companies operating on this route: Speed Ferry Cambodia (20-22 USD round trip) that lets you prebook your tickets online (don't believe their promotion though – it is not cheaper but lets you secure your seat) and Buva Sea Cambodia (30 USD round trip). Sure, you could also hire a private long tail boat from a local fisherman or someone, but that would cost at least 100 USD one way, makes only sense if you share it with 10-15 other people and takes way more than 2 hours.
I think it's the best if you check out the websites to get more information about the departure times, but just in case I will show you the timetable of Speed Ferry Cambodia (that's the most popular company):
Sihanoukville to Koh Rong:
9.00am, 11.00am, 3.00pm
Return:
10.00am, 12.00pm, 4.00pm
Sihanoukville to Koh Rong Samloem:
9.00am, 11.00am, 3.00pm
Return:
10.00am, 12.00pm, 4.00pm
Yes that's right, these are exactly the same times.
So coming back to my experience: I pre-booked the round trip ticket for the "Speed Ferry Cambodia" to Koh Rong online, paid with PayPal and assumed I would save a few bucks. When I checked the prices at the pier it turned out that wasn't the case – in fact I paid 1 USD more! The regular one way fare is 10 USD and I paid 21 USD with Paypal. Deduct the Paypal fee of 4.4% and they get out almost exactly 20 USD.
Anyway not a big issue. What was the bigger issue is that my 11am ferry had a 90 minute delay and the (foreign) guy working with the company suggested we take the slow boat that was leaving at 11:30am and arrive earlier. Again not true, because about 10km before Koh Rong we were overtaken by the speed boat that was on a 90 minute delay. The trip took 3 hours and not 2 hours like they told us (and the boat was only 70% full).
So my advice: Do not take the slow boat to Koh Rong. Even if the speed boat has a delay of a couple of hours – wait. It's about 3 times as fast as the slow boat.
On my way back the speed boat was actually on time (well just a 10 minute delay). Don't forget to confirm your seat the day before or you might not get to travel if it's full – yes, they sometimes sell more tickets than they have capacity for. The boat was extremely packed.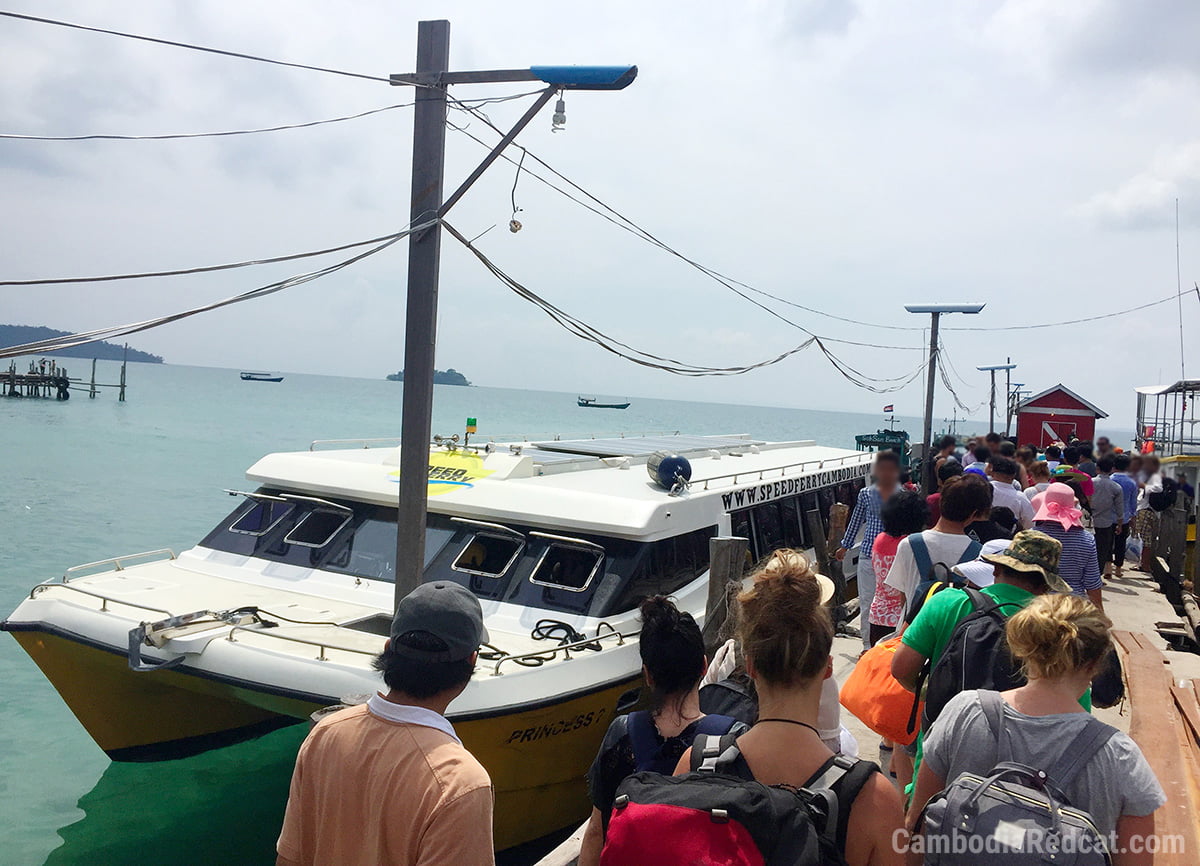 There were even people standing around and sitting on the floor. The only good thing about this trip was that it was really fast, just 50 minutes and I was seriously happy to be back on the mainland.
I took a lot of ferries with and without local girls in Southeast Asia over the last years, especially in Thailand, Indonesia and the Philippines, but I have never experienced such a bad organization and service like here in Sihanoukville. Let's hope the owners of these companies react to the constant increase of tourists and buy some new boats for additional services very soon. And then you will not only enjoy your stay on the paradise-like islands of Koh Rong and Samloem but also your travel there and back.
Koh Rong to Koh Rong Samloem
Speed Ferry Cambodia also offers a transfer from Koh Rong to Koh Rong Samloem for 5 USD. However, you cannot prebook the ticket online, instead you would just go to the ferry pier (preferably on the day before) to book your ticket and secure your seat. It's a speed boat ride and takes about 25 minutes.
I hope you found this post useful – have a great time on Cambodia's most beautiful island!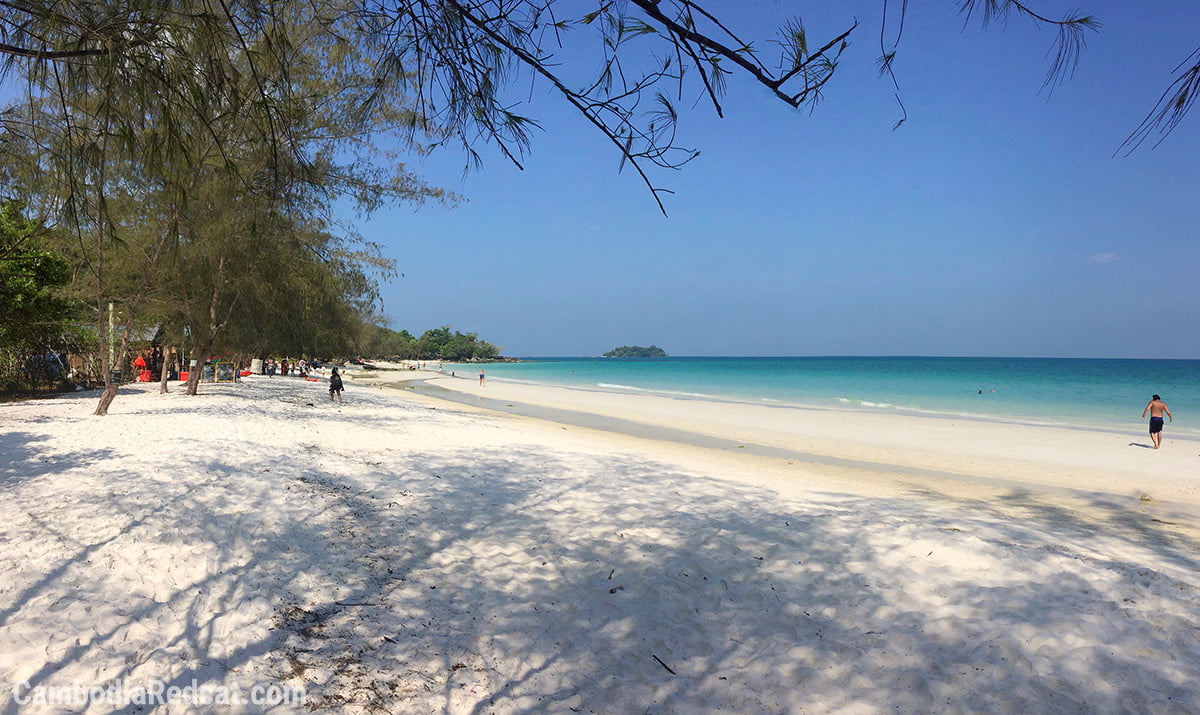 Last Updated on September 27, 2023