Nightlife & Cambodian Girls in Phnom Penh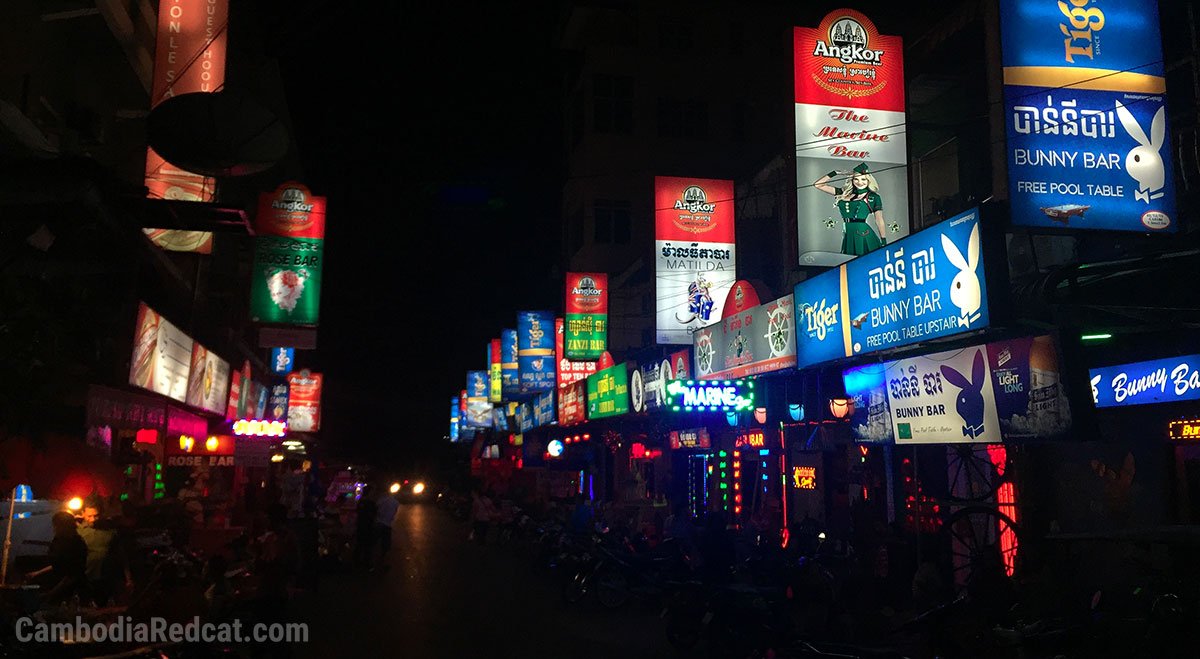 Phnom Penh as the capital city has the most exciting nightlife in Cambodia, but there's much more to it: Especially for foreign men who want to meet Cambodian girls there are countless of different venues: girly bars, hostess bars, regular bars with girls, night clubs, massage parlors etc. Leave alone all the girls with ordinary jobs you can easily arrange dates with by using the popular online dating site.
Just like in neighboring Thailand, the majority of ladies working in the "entertainment industry" are coming from the countryside. Unless they are new in town, their English is generally okay as they are used to talking to foreign customers, so you can have a standard conversation with them.
Where to find girls in Phnom Penh?
There are no centralized red light districts in Phnom Penh, but several areas where you can easily hook up and have a great time with Cambodian girls. In the description to each type of venue below you can find not only the information about prices and how things work in the different nightlife places, but also where exactly you can find them as well as illustrated on the map.
Girly Bars in Phnom Penh

Call them whatever you like – girly bars, beer bars or hostess bars – the concept is always the same: Relatively small but neat bars packed with young and attractive Cambodian girls (and sometimes a live band and often a pool table). You can take a seat, order a drink and it won't take long until one of the girls comes over to you and starts small talk like "Hi how are you, where are you from what's your name?".
Of course you can also just sit by yourself and of course you can decide which girl you want to hang out with and buy her a lady drink or two. If you like a girl and she likes you too (which is usually the case), you may take her out and straight to your hotel for some dirty fun.
There are six places where girly bars can be found in Phnom Penh: Street 104, Street 118, Street 130 and Street 136, Restaurant Street (Street 172) as well as in and around the Golden Sorya Mall. The area is called "Riverside" as it's close to the Mekong River.
Prices: Beers 2-3.50 USD, Spirits 2-4.50 USD, Lady Drinks 3-4 USD. The bar fine is 10 USD in all girly bars in Phnom Penh. The price for Short Time / Long Time has to be negotiated with the girl, they usually start asking for 50 USD for ST and 100 USD for LT but you can bargain for much less than this.
See also: Complete Guide to Girly Bars in Phnom Penh
Go Go Bars in Phnom Penh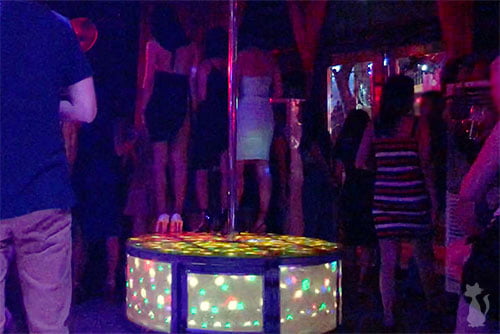 There are currently no real Go Go Bars in Phnom Penh. But you might want to give Mr. Butterfly and Candy Bar in Street 136 a visit where you can find three to four girls dancing coyote-style right on top of the bar almost nonstop. Don't expect them to get naked though like in the go go bars of Bangkok and Pattaya – not allowed. Still, these two places are two of the best hostess bars with some of the hottest girls anyway, and it's well worth to give them a visit. Like everywhere else there is no entrance fee in there, so you can just take a quick look and if you like the ladies then you can order a beer.
Night Clubs in Phnom Penh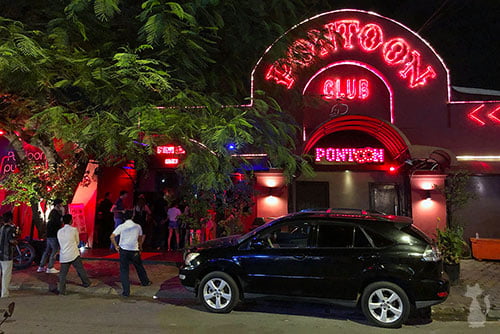 Along with the beer bars, the nightclubs are the best places to party and meet hot Cambodian girls in Phnom Penh's nightlife. The three best night clubs are Pontoon Club and Heart of Darkness in front of the Golden Sorya Mall as well as Club Love in Street 278.
Once the most popular and infamous club in town, the Heart of Darkness is now full of local gays, but there are still more than enough girls to get in touch with. The no. 1 night club is now Pontoon Club, so if you only got one night to spend that's the place you should definitely not miss out. It's packed every night with the ladies outnumbering the guys. Club Love is still quite new and is better for group partying as it doesn't have a dance floor but lots of small round tables all over the place.
Some of the girls in these clubs are freelance hookers so you'll need to talk about a price before you take her to your room (usually in the 20-50 USD range), while others are just normal women with ordinary jobs and curious about meeting foreigners. And then you also got the girls from the bars that go there after finishing work and who haven't found company for the night yet.
See also: 5 Best Night Clubs in Phnom Penh to Meet Girls
Happy Ending Massage in Phnom Penh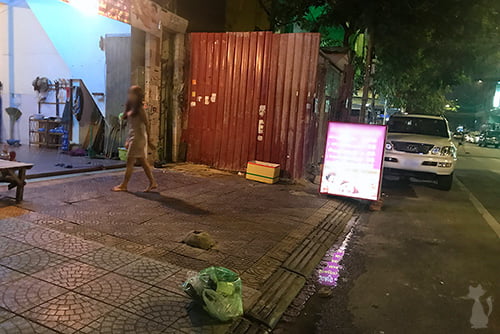 Similar to most cities in Thailand, you can also find countless of massage salons in Phnom Penh. While the majority of places don't offer any "extras" to the massage, if you know the right areas – and of course that's why you are reading this – then you'll be sure to not waste your time and have a happy ending one.
You can find these foreigner-oriented massage salons in three main areas:
Along the River Promenade as well as in Streets 118, 130 and 136 (among the girly bars)
At the northern side of the Wat Phnom roundabout (about half a dozen salons next to each other)
Along Samdech Sothearos Blvd just south of the "Building" (that's what you can tell the Tuk Tuk driver)
Note that not all girls will perform a special massage. Sometimes you can tell before by how she interacts with you, and sometimes it's just by trying your luck. If she's open to the happy ending, a fair price for a hand job is 10 USD, no need to pay more even if she asks for more, usually she will think 10 is better than 0.
The price for a one hour body massage is generally 6 USD while an oil massage will cost 8-10 USD. If you make your way to the outskirts of Phnom Penh you can still get a massage for 10,000 Riel (2.50 USD) but then they usually don't speak even one word of English.
There are a few special massage salons (pink pin on the map below) that I describe here:
Soapy Massage Parlors in Phnom Penh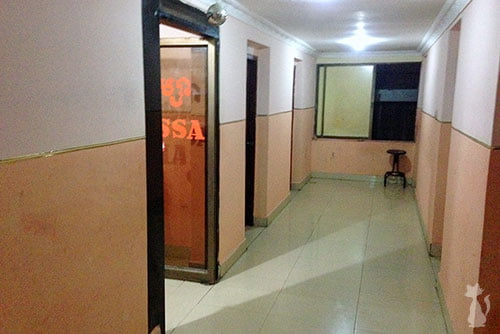 Even though there are no body-to-body kind of soapy massage parlors in Phnom Penh (yet), there is a place that comes very close to it. It's called Massa and can be found well off the tourist radar, in a fairly quiet street about 500m northwest of the Independency Monument. Just like with all other places mentioned here, just look on the map below for the exact location.
If you walk up the stairs and enter the lobby of Massa, you will find a fishbowl packed with hot and white skinned girls. They are divided into two categories: The ones with blue numbers are Cambodian and the ones with red numbers are Vietnamese (Cambodians outnumber the Vietnamese).
It's 10 USD for a one hour body massage for all girls. The rooms have queen size beds and are more than basic and have definitely seen better times but come with an attached bathroom that you take a shower in before and after the massage. Extras are very much guaranteed.
For more information about what the girls are like, how much they charge and a few more pictures have a look at this article.
KTVs in Phnom Penh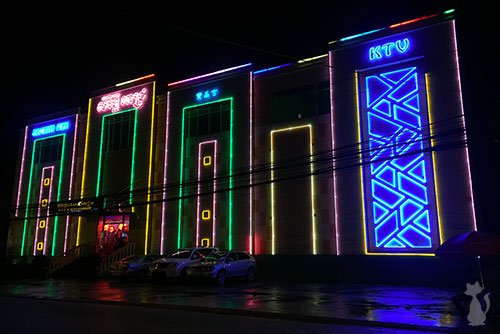 The KTVs, also called karaoke clubs, are the most popular nightlife venue for the local Khmer guys in Phnom Penh. You can find them all around the city, and while some of these places are small, old and dirty houses where most foreigners would feel disgusted to walk inside, other places are huge and modern buildings with colorful neon lights outside and some of the hottest Khmer and Vietnamese girls you can imagine inside (especially on Street 271 and Street 598). It's safe to say that the creme de la creme of the prostitutes in Phnom Penh works in the upscale KTVs.
If you think about visiting a KTV in Phnom Penh you can expect to pay 10 USD per hour for the private room (comfortable couches, a big table, a big TV and several microphones), 40-55 USD for a box of beer (24 cans) as well as a "tip" for the girls – depending on her service and what you plan on doing with her. Make sure you confirm the prices with the manager before you choose one (or two, or three) of the ladies.
Ladyboys in Phnom Penh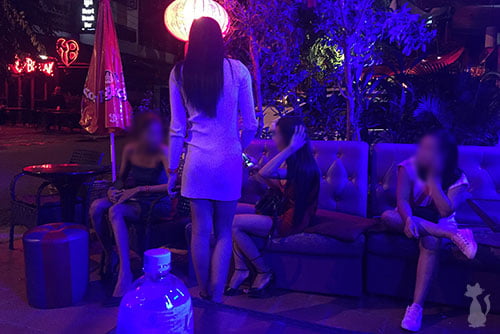 Of course Phnom Penh is not just famous for its happening girls scene but also for some of the most attractive ladyboys in Asia. You can find a lot of hostess bars that have ladyboys, or you can find some of them in the night clubs, or right on the streets, or in everyday life or on the online dating sites.
I wrote a separate guide on this topic that you can find here.
Street Hookers in Phnom Penh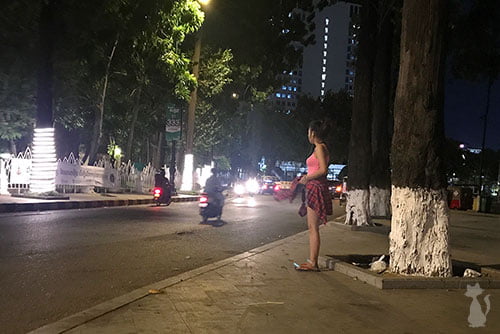 You can find cheap street hookers every night gathering at the quiet spots around the Wat Phnom Roundabout as well as along the River Promenade (in fewer numbers though). They aren't the most beautiful girls you can imagine but some are pretty hot and tempting. They usually ask for 20 USD for short time. Another 5 USD comes on top of that for the rental of a short time room just around the corner. By the way, yes of course I took the picture to the right and this is not an unusual scene on the river promenade late at night (from about 9-10pm).
Brothels in Phnom Penh
Unknown to most foreigners (and especially the first time tourists) are the cheap and somewhat dirty brothels. These establishments can be found outside the tourist areas, especially on Street 271, Street 598 and Street 335. They are usually small and old houses with open doors where a small group of Khmer and/or Vietnamese women sit together while waiting for a customer. Certainly not the most "pleasant" type of red light venue, but this guide to nightlife in Phnom Penh just wouldn't be complete without mentioning them.
Normal Bars in Phnom Penh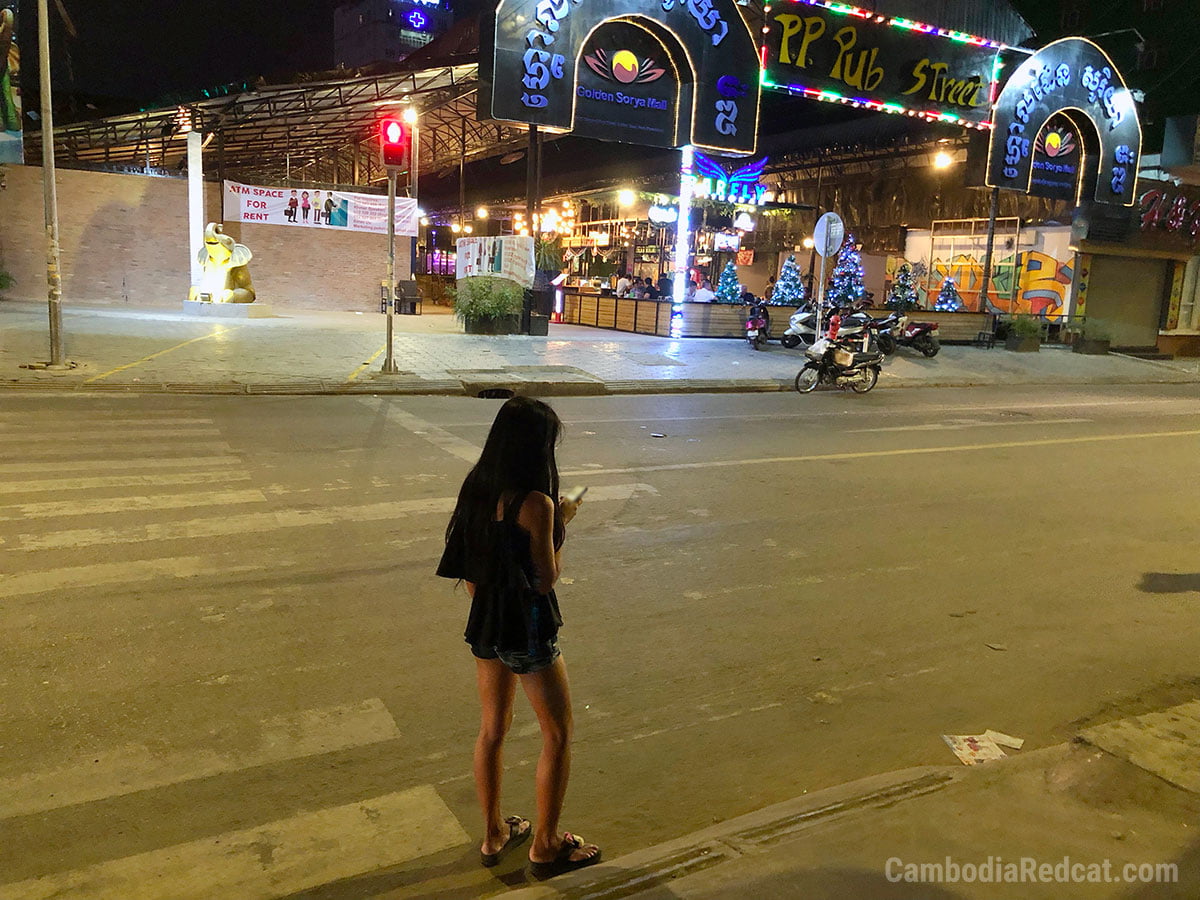 If you want to have a relaxed drink without girls permanently asking you for drinks, check out the new PP Pub Street. It's a bar complex right behind Pontoon Club, so it's a great place to sit, relax and enjoy before partying in the club. And well, you might even see some nice Khmer girls who are not working.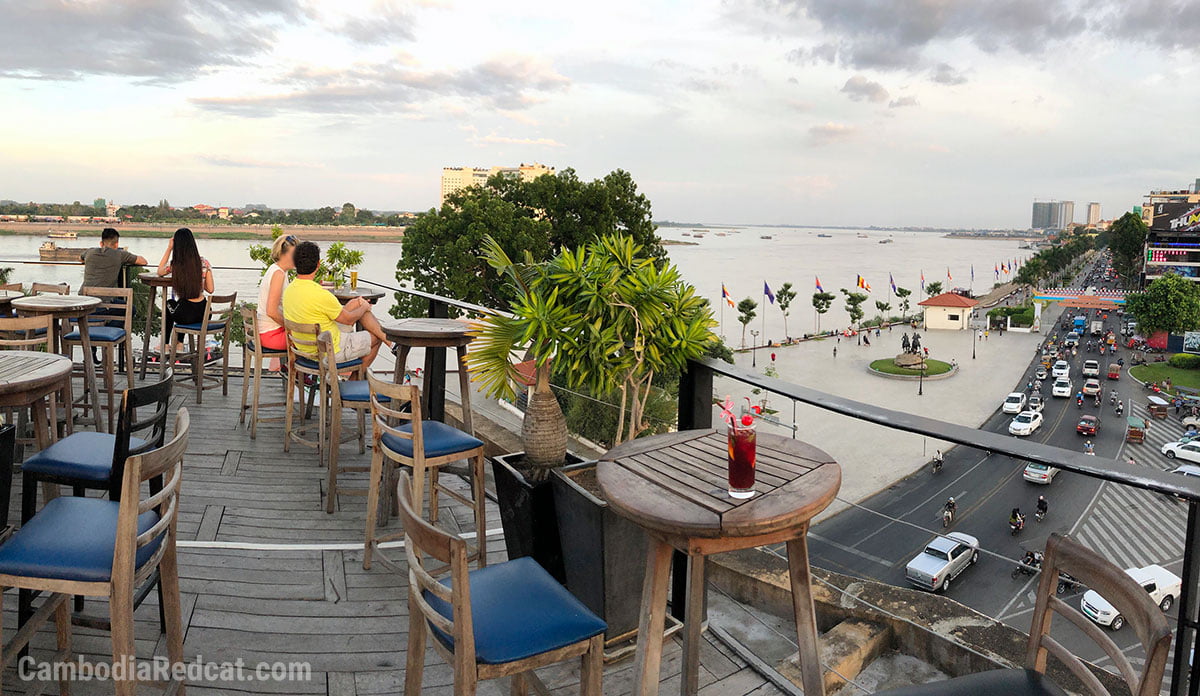 And if you are looking for a romantic place to impress your date (or even yourself!), give Le Moon Rooftop Lounge a try, arguably the nicest rooftop bar in town overlooking the river promenade. I also took a video there last week that you can check out below.
Night Markets in Phnom Penh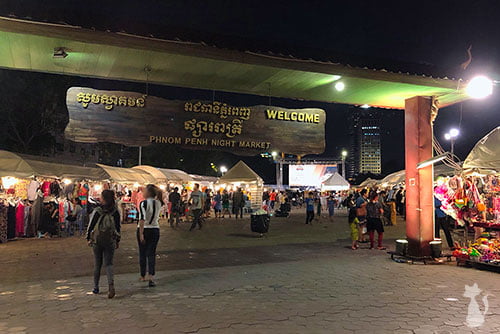 Just to make this guide complete, a nice way to start your night is visiting one of the night markets. About 80% of their products are fashion and clothes articles and the rest is all sorts of accessories, paintings, Buddha figures and tourist crap. The biggest one is called Central Market and about 600 meters from it another one actually called Night Market (picture) which has a wider range of food stalls with authentic local Cambodian food, drinks and snacks.
Vendors at both places start setting up their shops at around 5-6pm and stay open until about 11pm, every day of the week.
Map of Nightlife in Phnom Penh
You probably have a good idea now how big the nightlife scene in Phnom Penh is and that it makes a huge sexual playground for foreign men (Westerners, also called "Barang" by local Cambodians). Unlike in Thailand where you have several tourist centers (Bangkok, Pattaya, Phuket & Chiang Mai) as well as regional hubs (like Udon Thani, Koh Samui, Hua Hin, Hat Yai) it's very different in Cambodia:
The country is not just significantly smaller than Thailand, it's also much more poor and so the only two relevant cities that girls from all over the country come to work in are Phnom Penh and Siem Reap, with the range of venues much bigger in the capital Phnom Penh. Getting laid is a lot cheaper than in Thailand with both drinks and short time / long time literally half the price. And the girls seem more authentic, more appreciative and less harsh and picky as in Thailand. Hold on…
Phnom Penh – just like Bangkok 50 years ago? There are certainly a few good reasons for this but also many different ways to look at it and this topic really deserves its own article that will be coming soon.
Videos of Nightlife in Phnom Penh
What to do in Phnom Penh during the daytime?
Here we have covered all the nightlife places and activities in Phnom Penh. If you're unsure what to do during the day or where to take your Khmer girl out for a date have a look at this article.
Last Updated on July 20, 2023