Happy Ending Massage in Phnom Penh (Hand Job / Blow Job)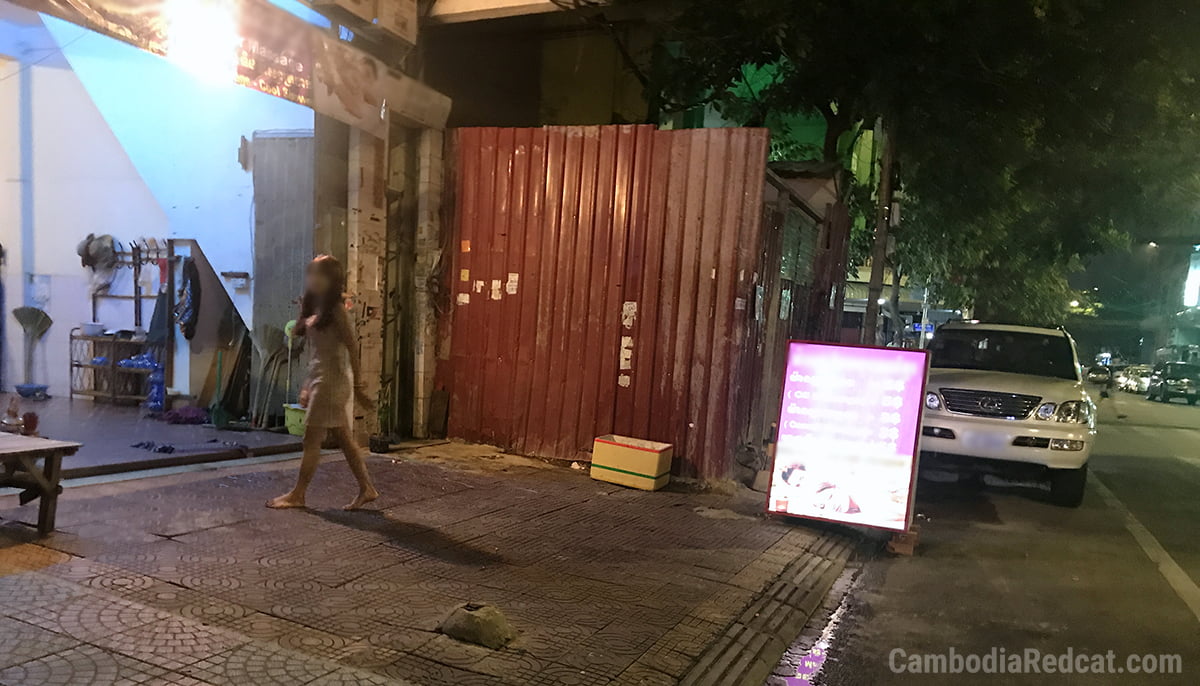 The good news is that there are countless of massage salons spread all around Cambodia's capital, however the bad news is that not all of them offer happy endings. In fact, most of the shops in the tourist areas offer traditional massages only and you need to know where to find the "not so traditional" places.
In this guide I will reveal to you these areas and give you the complete overview of the happy ending massage scene in Phnom Penh – including a map with all the locations.
So without further ado, let's get right into the different types of places to find massages in the capital:
Massage Salons in Riverside
I have mentioned a few times on this site that I highly recommend you to stay in the area near the Mekong River Promenade, ideally in or close to Street 130 / Street 136. The reason for that is because this is the center of the main tourist area with 80% of all girly bars, restaurants and shops within short walking distance.
And you can imagine that there are also quite a lot of massage salons in the riverside area. Some of them are found right next to the girly bars, while others are spread along the river promenade.

Yes, that looks very traditional. It doesn't look anything like you may be used to from Thailand, where sexy girls in short skirts are sitting outside the shops and excitedly yelling at you: "Hello, welcome massage!"
Here in the tourist area of Phnom Penh it's a little bit different. Yes, sometimes there are masseuses sitting outside, but they are usually wearing long and traditional massage clothes. They may smile at you, but it's not like in Thailand. Most of these masseuses will not provide happy endings to their customers. But of course you never really know, it's always a surprise.
If you see a nice girl in one of the massage salons, you can follow her inside and request the "menu". It will have listed the different services, such as Foot Massage for 5-7 USD, Traditional Khmer Massage for 6-8 USD, Oil Massage for 8-12 USD and lot's of other overpriced treatments, like Aloe Vera Massage for 15 USD or more. These prices are for one hour.
There are also several older salons like the ones pictured above that offer massages for just 3 or 5 USD – and it's usually in these places where you'll have better chances for some "extra" service.
I guess I don't have to tell you that if you want a happy ending with a nice hand job then you should never take the foot massage. That's because the foot massage will be given in the lobby and not in a private room. So guaranteed no happy ending for the foot massage.
Your best choice would be the oil massage to ensure maximum pleasure. That sounds like on one of these naughty websites, doesn't it? And if you want a blow job ("yam yam"), then it doesn't really matter, you can also take a normal Khmer Massage. However, note that only very few ladies are willing to suck your dick in exchange for a tip. Most Khmer girls just don't like it.
There is another tourist area with mostly traditional massage salons: Street 278 just south of the Democracy Monument. Those shops look very similar to the ones in the pictures above, and I have marked them with the yellow pin on the map at the end of the guide.
Massage Salons at Wat Phnom, on Street 271 & Samdech Sothearos Blvd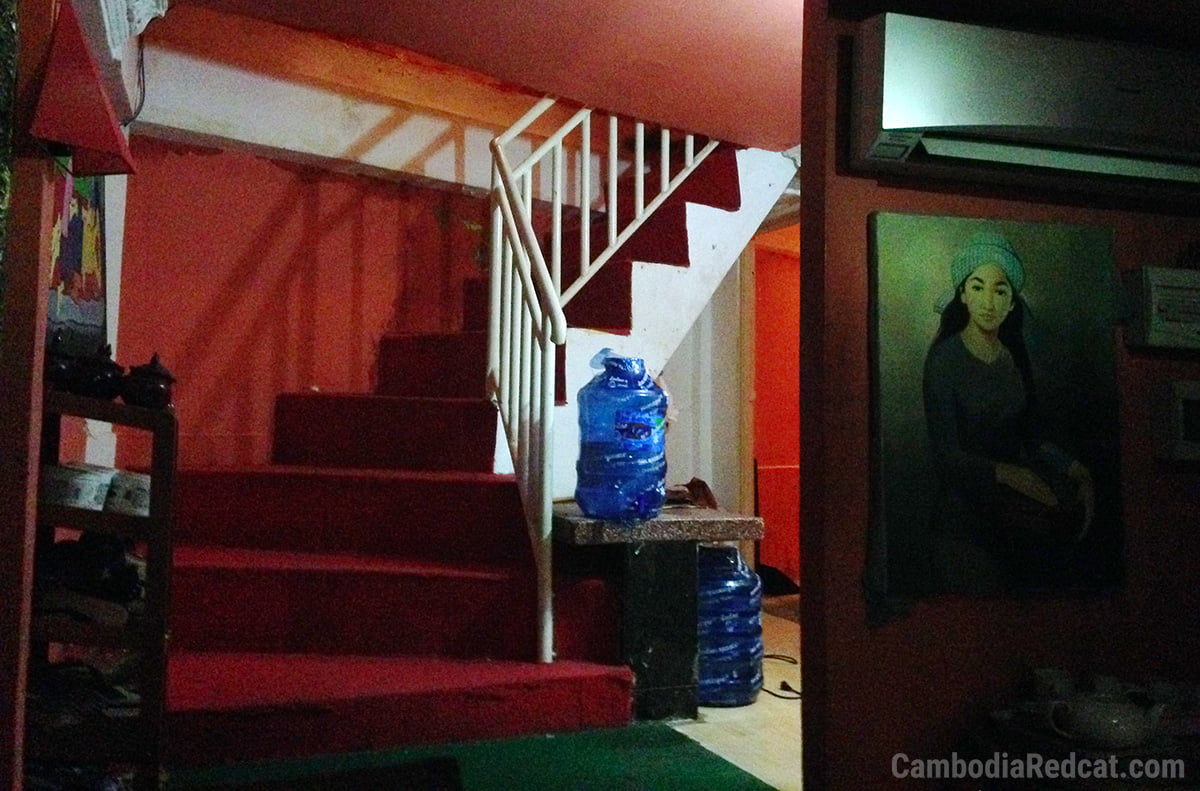 Next are the massage salons for the local Khmers. They usually look like in my picture – they have signs in Khmer script, sometimes they write "Massage" in big letters, but everything else is in Khmer. And even though they are oriented towards the local Cambodians, you are welcome as a foreigner, too. Just don't expect them to speak good English.
The prices are usually much cheaper, often as low as 10,000 Riel (2.50 USD) for a Khmer Massage, but the rooms are obviously not nearly as nice as in the tourist places. The good thing though is that the chances for a happy ending in these places are significantly higher than in Riverside.
The three main areas with local massage salons in Phnom Penh are the roundabout at Wat Phnom, Street 271 (a huge and long main road where also the best KTVs are located) and Samdech Sothearos Blvd near the Independence Monument. I have marked those with the red pin on the map below.
Special Massage Salons in Phnom Penh
So I have saved the best part until the end: There are some places with guaranteed happy endings in the northern part of Riverside. Those are very old buildings and almost look like brothels (well, technically they are brothels). Not many foreigners know about them and this is the first time someone talks about them on the internet.
Coming from the tourist area in Riverside, walk along the street that runs parallel to the river, past all the girly bars. After Street 104, which is the brightest street in the area, you will pass a few new restaurants. From there, continue walking down the street for another 500m and you will reach a couple of Khmer barbecue places, and right after the next intersection you are there.
This is a very quiet area, and you will see a few women sitting outside the old buildings: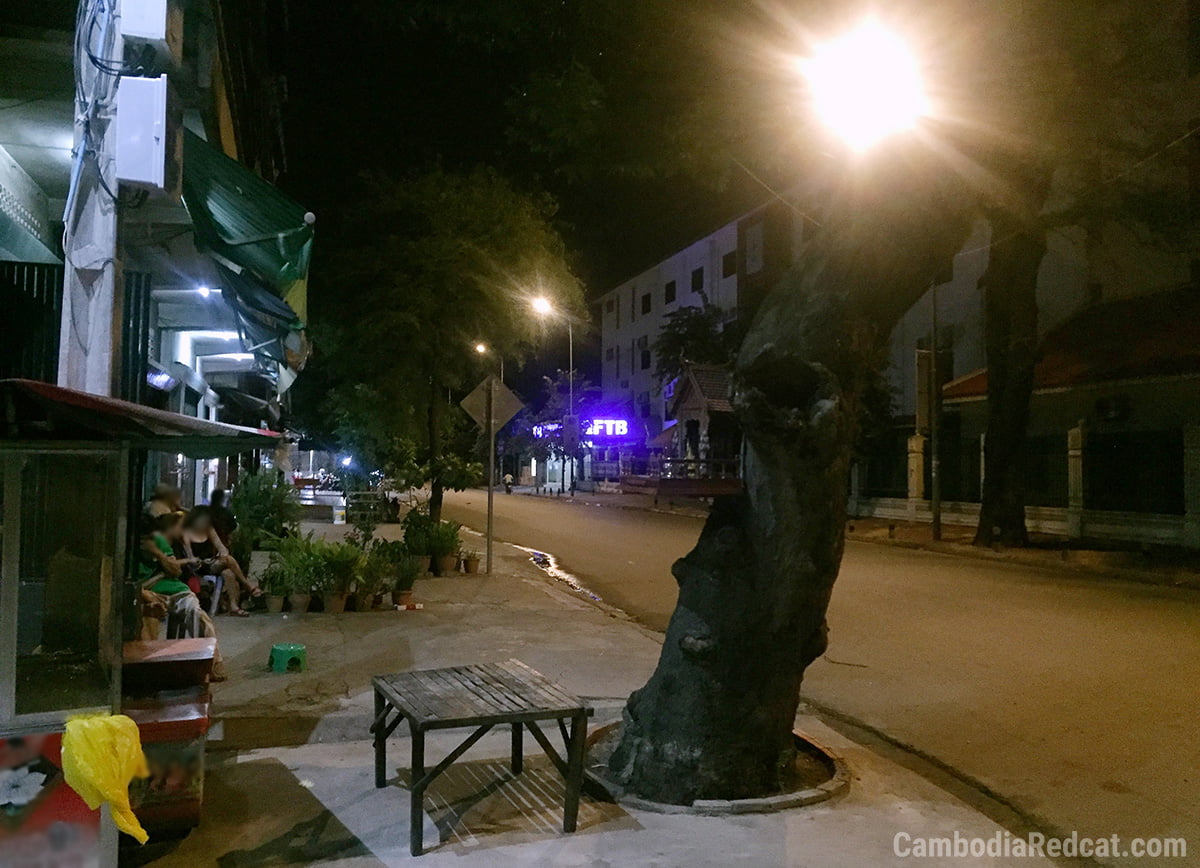 If you go there, some of the women will smile at you meaningful. No, they don't speak much English, maybe they will say "massage?", but often they don't say anything and just wait for you to choose one of them. Yes that's right, you can just go to one of these places, smile, maybe say "hello, how are you?" to create a friendly vibe and if you like one of the ladies you can point at her and say "okay?".
You will then follow her inside and will be lead to one of the rooms. Again, these are old and rundown buildings and often they don't have private rooms but a large room with small private areas and just an old mattresses in them and divided with curtains.
The girls don't tell you a price in advance – not even for the massage. This is how the Khmer guys do it: They just take the service and then give the girl whatever they think is "appropriate". Since this is a total Khmer place and you probably won't see any foreigners here, you can expect the same – no price talk before.
You can then lie down on your stomach and your girl will start with a basic body massage. It usually doesn't take very long until she tells you to turn around. She will slowly work her way to the area between your legs and once she sees that you have a big boner – or you can't hold it any longer yourself and just take off the towel – she will start massaging your penis until you come.
A 10 USD note afterwards will usually put a smile on their face and you can make your way back to the city center. There are usually a few Tuk Tuk drivers on the road that will bring you to the girly bars for one dollar. Once you get there, you can enjoy a cool Angkor beer and think about that memorable and authentic experience in red light Phnom Penh.
Overview Map of Massage Salons in Phnom Penh
I have divided the massage salons into three types:
Tourist Massages (yellow pin)
Khmer Massages (red pin)
Special Massages (pink pin)
Even though the happy ending massage industry in Phnom Penh is in no way comparable to that in Bangkok (or even Saigon or Manila), you will still find more than enough places to release your load for little money.
Once again, if you are out for a serious massage and not so much for hand jobs or blow jobs, the tourist salons with the yellow pin are a good choice for that. If you want a more "local "experience and better chances for a happy ending, then you can try the salons marked with the red pin.
And if you don't really care about the massage at all but want to quickly release all your "stress" before heading to the bars and clubs, then you will probably love the brothel-kind-of places marked with the pink pin. And I'm sure some of these girls would be willing to do the "full program" if you brought a condom. Nothing is impossible in this city – not even a hand job in the middle of a bar. But that's a different story.