Sex Holiday in Cambodia: Planning, Advice & Costs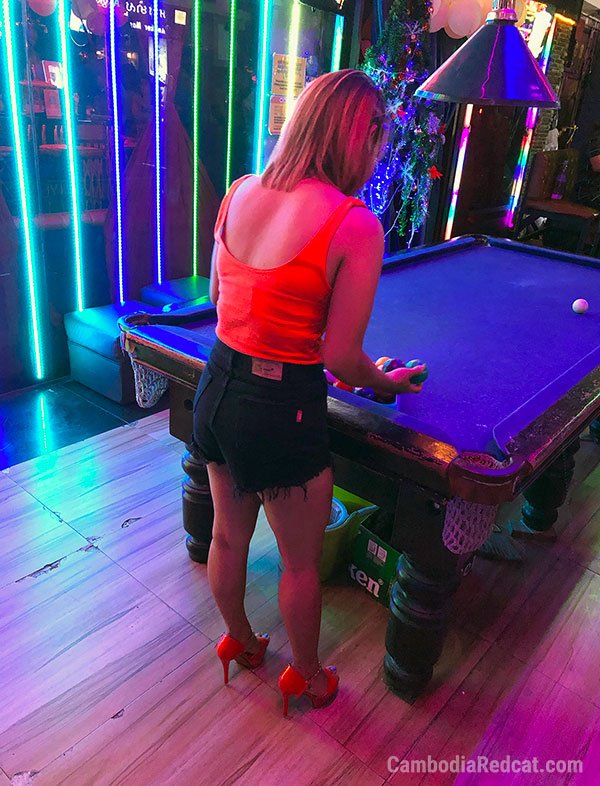 Cambodia has always been regarded as a cheaper, dirtier and less developed alternative to Thailand for a holiday. The reasons are obvious: The big neighbor has a much better infrastructure, there are more places to visit and there is simply much more information and guidance available.
Means that if you want to plan a sex trip to Thailand, you will find so many blogs and websites on the internet that cover every major and minor topic related to girls and sex: Descriptions of the best go go bars in Pattaya, nightlife overview maps to Patong, guides on where to meet ladyboys in Chiang Mai and even where to meet girls in the smaller and not so touristic places like Cha Am or Chaiyaphum. Well, at least I know you can find it on a website called "Thailand Redcat".
In Cambodia that's a little bit different: There are not many resources that give you reliable and up to date information on where to find girls for sex in Cambodian cities, how much it costs and how to plan a great single vacation in general. Well, that's the reason I decided to start Cambodia Redcat, because I wanted to fill this gap and create the most comprehensive online resource on the kingdom for single men on the planet.
There are many reasons why there has never been a better time for a sex holiday in Cambodia than now: There are not nearly as many tourists compared to Thailand, and that means you will find the local Khmers more friendly, more authentic and often also more trustworthy than in Thailand. Sure, Cambodia is still a third world country and they will try to charge you more as a foreigner for tuk tuk rides or motorbike rentals compared to local Khmers. But that's not a big deal and really the same like in Thailand – if you do some bargaining you can easily rent a motorbike for 5 dollars a day in Sihanoukville compared to 300 Baht or more in Phuket.
And that brings me to the next point: The prices for fun and entertainment are slightly cheaper in Cambodia compared to Thailand. Of course I'm not talking about watching a movie in the cinema or visiting museums, but about enjoying yourself with young and attractive Khmer girls: If you go to a girly bar you pay less for your own drinks, for lady drinks, for the bar fine and also for sex with the girls. I will go into detail on this in the next section.
And another great reason to choose Cambodia for a sex holiday is that it has a lot more beautiful places to visit than just Angkor Wat. Ask anyone if they know any nice place to visit in Cambodia other than Siem Reap or Phnom Penh and chances are that they don't know of any. They don't know of places like the Tonle Sap, the biggest fresh water lake in Southeast Asia, or Bokor Mountain in Kampot, that's almost a surreal experience driving up to the top on the motorbike, or the beautiful beaches down in Sihanoukville and Koh Rong: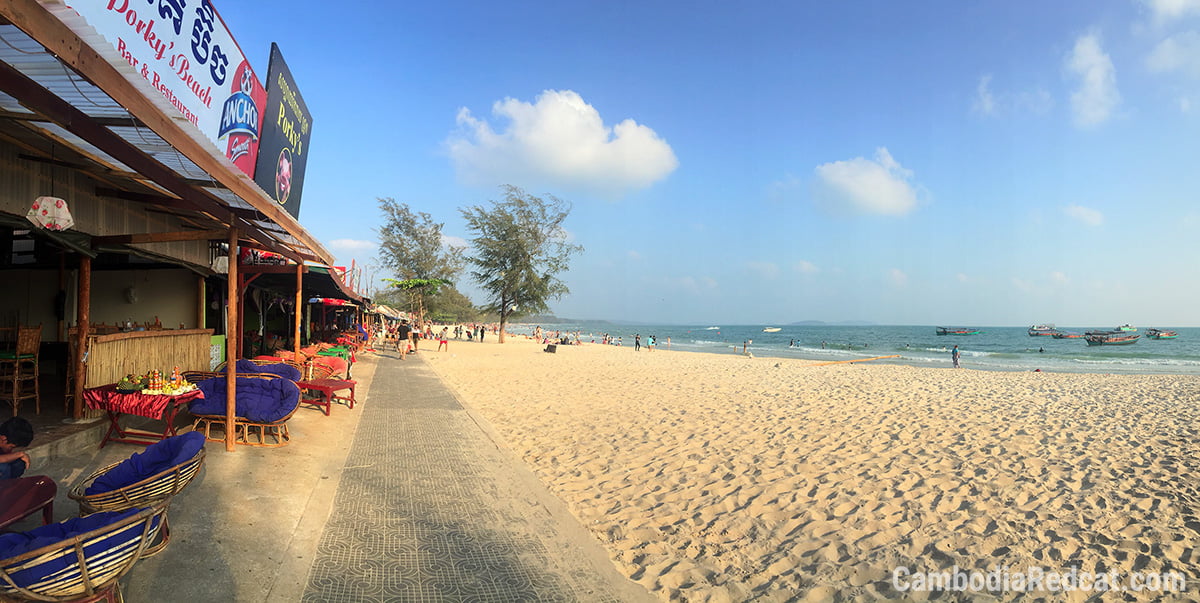 If you are still unsure on where to spend your next vacation, then this guide should answer most of your questions to help you make a decision on whether to book your ticket to Phnom Penh, Bangkok, Manila or maybe even Jakarta. Anyway, I will provide you with all the advice you need in order to plan a great sex vacation in Cambodia. I have put in a lot of work in here and this is what I will cover:
This is probably the most comprehensive guide on the topic sex holiday in Cambodia that has ever been written, and I will make sure to update it whenever the prices change or I have different opinions on which places to visit and the best ways to meet girls.

Cost of a Sex Holiday in Cambodia
The most important thing when planning a "single vacation" to Cambodia is to set up a budget on your expenses. And before you can do that, you will need to know how much everything costs. With everything I mean not just how much for a standard meal in a German restaurant, but also how much for one drink for a girl in the bar and how much for a hand job in a massage salon.
Like for any holiday, there are two types of expenses: The daily expenses and the one-time expenses (such as flight, insurance, visa etc). I will first discuss the daily expenses as these are more interesting. Let's assume that you go on a two week holiday to Cambodia and that you want "entertainment" at least once a day – no matter whether that's just being jerked off in a massage salon or to have sex with a bar girl. That's quite realistic, because you won't just sit in your hotel room reading a book at night – the temptation to go outside and to "see what happens" is just too big, trust me.
Here are the 4 types of costs during your sex holiday in Cambodia:
Total daily costs: 40 USD (hotel) + 20 USD (food & drinks) + 6 USD (transport) + 60 USD (entertainment) = 126 USD per day. If you are not American (I'm neither) and want to know how much that is in your currency, you can use a currency converter.
126 USD is not bad at all. Imagine you go to Amsterdam or Hamburg instead – this money may pay for one hour with an average looking prostitute. Not including your hotel, food, drinks and transport.
And you can do it even cheaper than this. No need to cut back on girls and sex, but the way you meet them could be a lot more cost-effective. Like instead of paying 50 USD per day in the girly bars you can pay only 20 USD per month if you use the popular online dating sites and meet girls for free.
Apart from the daily costs you also have to consider the one time costs, such as the return flight ticket from your home country and domestic flights or bus journeys. Examples: A mini bus ride from Phnom Penh to Siem Reap with Giant Ibis currently costs 16 USD, and a flight on the same route with Bangkok Air costs about 61 USD (promotion fare in one month from now).
And finally there may be costs for the health and travel insurance and visa fees (most western nationalities including Americans, western Europeans and Australians can get a 30 day visa on arrival on Cambodian airports and land borders for 30 USD (just make sure you bring a photograph, otherwise they might charge an additional 5 USD for the photo). And last but not least, maybe you also want to buy some souvenirs like a new phone for your girlfriend or fresh organic pepper for your mom.

Where to Meet Cambodian Girls on Your Sex Holiday?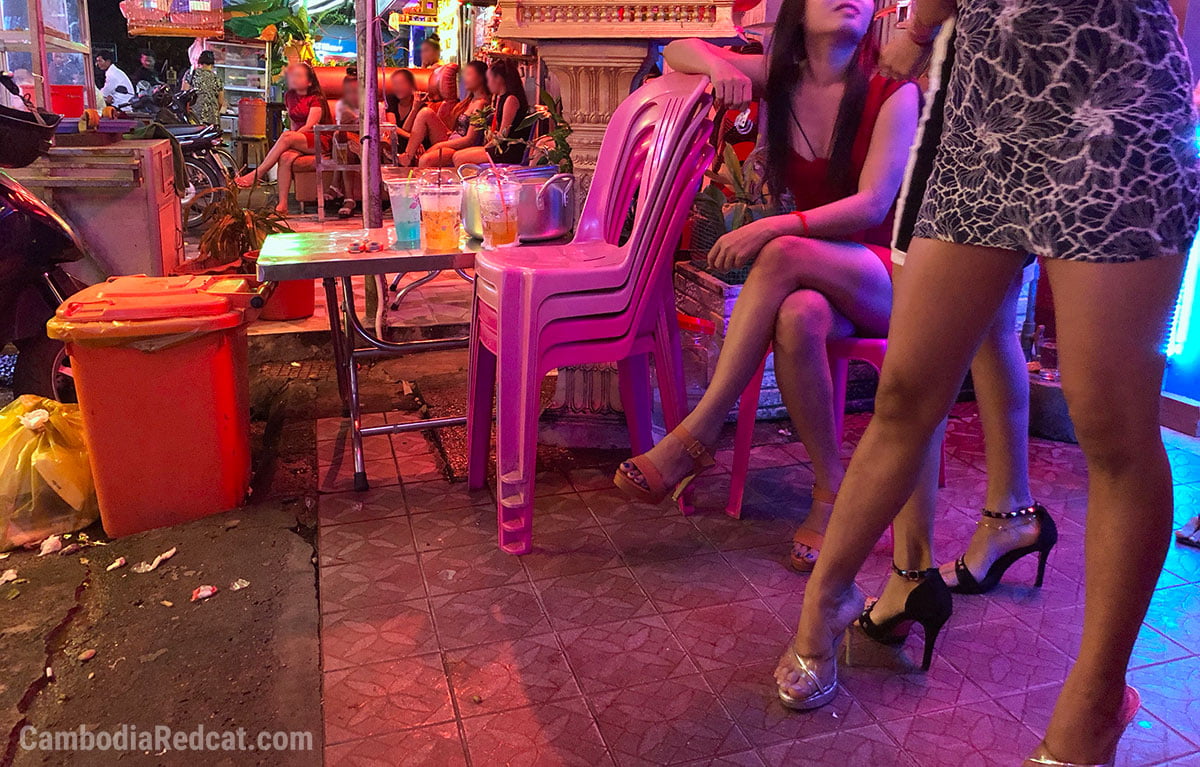 Let's put it simple: You can meet girls in Cambodia either online or offline. That means you can either sign up on one of the dating sites – the most popular website for meeting girls is Seeking Arrangement and the most popular website for meeting ladyboys is My Ladyboy Date. The basic functions of both sites are free to use so you can take a look at them first and browse through the members.
Or you do it the traditional way and meet girls in the "normal life". Again there are several options. You can go around town and try to approach a girl you like in the shopping mall, restaurant, shop or even right on the street. However, don't believe people who tell you that "all Asian girls are horny and it's so easy to have sex with them." You cannot just go on the street and say to a girl "Hey, you are cute, let's fuck?".
Most Khmer girls are extremely shy in public (partly due to their poor English skills, partly due to Buddhist culture) and you will need to try with many girls until you find one who is responsive. And most of them have boyfriends or husbands. In that regards the dating sites are definitely much more time effective, because there are only single girls who want to meet men. That's the only reason they have signed up.
And if that all sounds too much work to you on your sex vacation then of course you can also take it easy and get yourself a prostitute. You can go to a girly bar. You can go to a massage parlor. You can go to a KTV. You can call an escort girl. You can even go to certain areas in every city and pick up a street prostitute.
I wrote an overview guide on the different ways to meet Khmer girls that you can find here.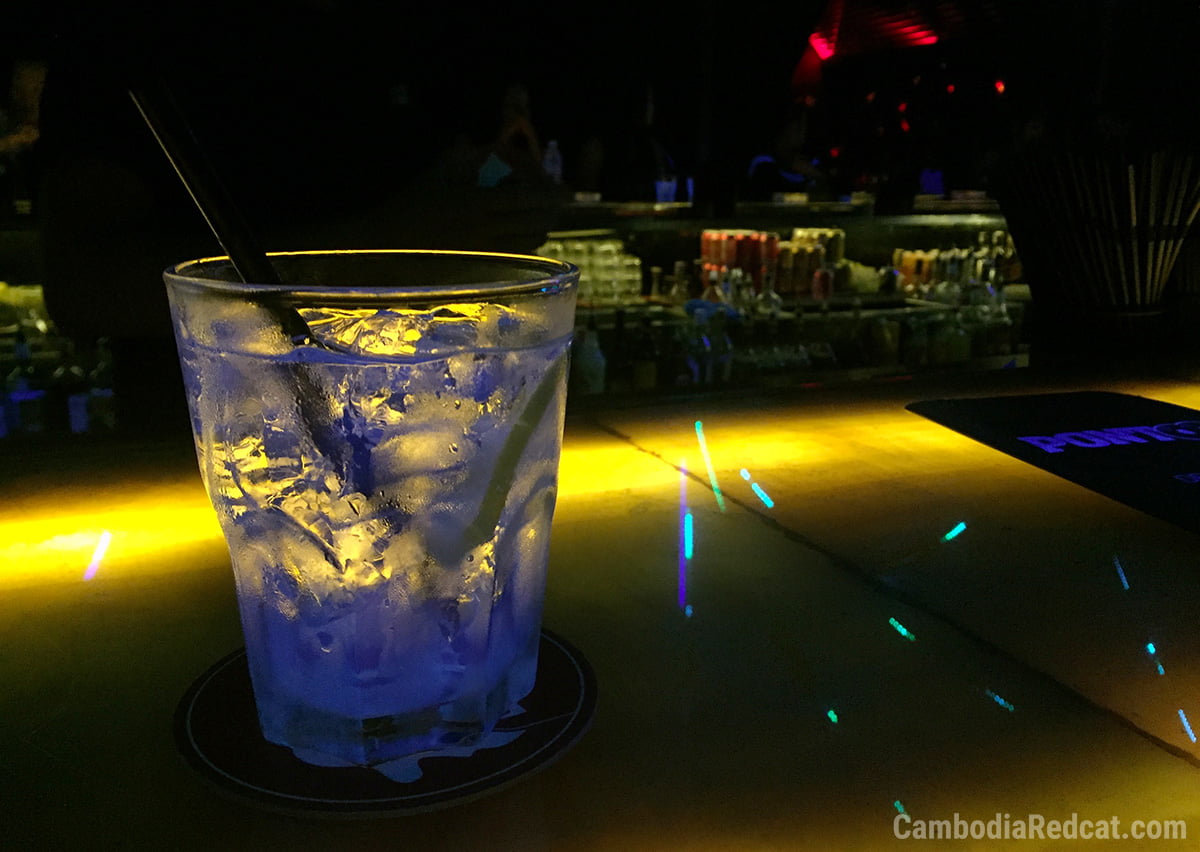 Best Places for a Sex Holiday in Cambodia?
That depends on what you like. If your priority are as many girls and as many types of "entertainment venues" as possible and you don't mind about crowded, somewhat dirty and air-polluted cities, then you could spend your whole sex holiday in Phnom Penh. In no other city in Cambodia you can find more foreigner-oriented hostess bars, massage salons and night clubs. And if you dare to explore some of the seedier side of the red light scene, you will be able to find countless of cheap brothels and sex massage parlors with both young Khmer and Vietnamese girls.
But if you don't really like the big cities and want to combine a nice beach vacation with occasional hand jobs and sex whenever you feel like, then you will love Sihanoukville that is not nearly as big and touristic as Phnom Penh and Siem Reap, but offers everything a man needs on a holiday on a smaller scale.
But let's be practical: If you have time for two weeks, I would recommend you to split your time between Phnom Penh, Siem Reap and Sihanoukville. That gives you 4-5 nights in each of these places, which is enough to get orientation and find your favorite places, but not too long so you won't get bored.
If this is not your first time in Cambodia and you have already visited the "Big 3", then I would recommend you to spend two or three nights in Phnom Penh again to party hard and "release all your stress" and then take the mini van down to Kampot, a beautiful and laid back town on the bank of a river. Spend five nights there and then another five nights in Kep. Both towns are not nearly as much visited as the big tourist centers, but they still have more than enough places to meet girls.
For more information you can take a look at my nightlife overview guides:
By the way, forget about Koh Rong in terms of girls and sex. It's a total hippie and backpacker place and there are no girly bars or any kind of brothels. The beach is beautiful, but other than that it's not a good destination for a sex vacation.

Choosing a Hotel for Your Sex Holiday in Cambodia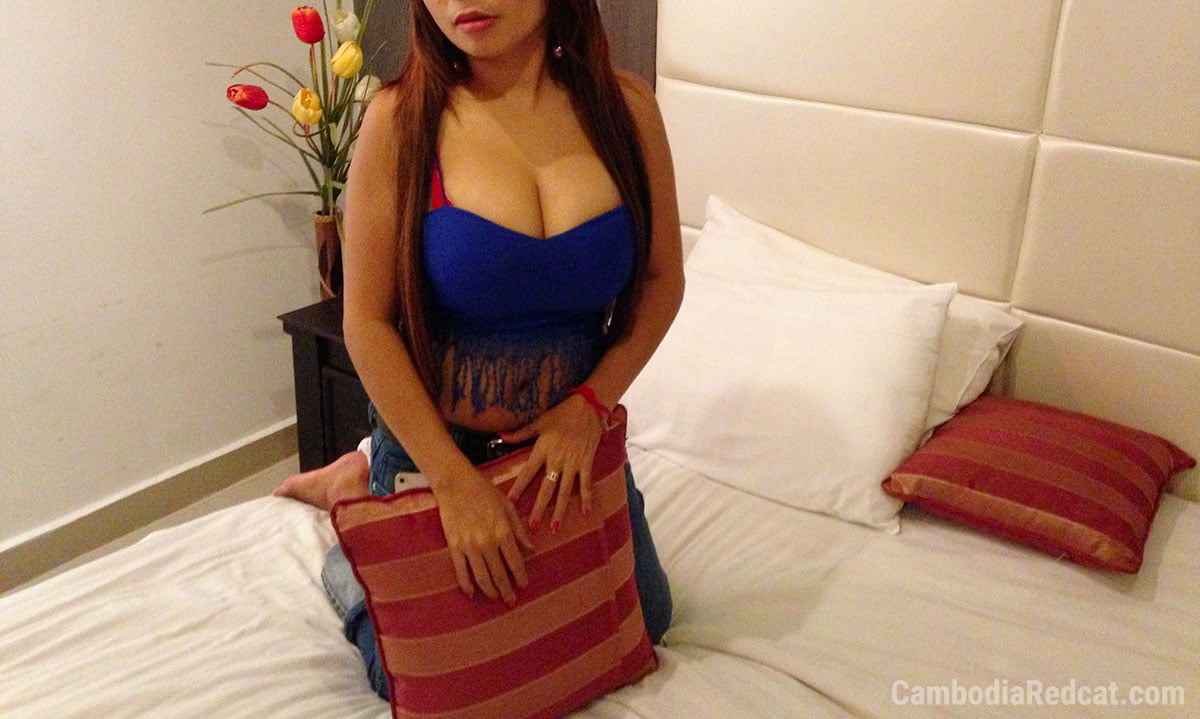 No matter if you plan your sex holiday in Phnom Penh, Siem Reap or Battambang – before you book a hotel you should always check if it is "guest friendly" or not. Believe it or not, but there are many hotels that simply won't allow you to bring any guests back to your room. And by "guests" I mean Khmer ladies of course. Sometimes they allow you to do it, but charge a so called "joiner fee" of around 20 USD.
So my advice is that you always contact the hotels first and ask them if they allow guests and if they charge extra for them or not. If yes, then don't stay there. And apart from that, you should obviously also make sure that the hotel has a good location, means within walking distance to the nightlife areas, and like always it should have a good value for money.
You can either go on the popular hotel booking sites like Agoda.com or Booking.com and do the research by yourself, or you can check out my hotel guides with my personal recommendations for each city:
Sex Holiday in Cambodia vs Thailand
I have already touched this topic in the beginning of the guide, but let me tell you one thing: No matter if you decide to spend your sex holiday in Thailand, Cambodia, Philippines or Indonesia – you will have an unforgettable time in any of these countries and you won't find it hard to meet and sleep with young girls that are more than 10 times as attractive as the girls from your home country – at a fraction of the cost.
And what I personally love so much about Cambodia is that it's not nearly as touristic as its bigger neighbors, which results in a more fun, authentic and also cheaper experience. And if we are talking about Cambodia vs Thailand: I find that the Thai girls generally have a lot more attitude and often act selfish, whereas Khmer girls seem to put in more effort to make their men happy. That has probably something to do with the fact that Khmer people are (even) poorer than Thai people and they need to be nice to others if they want to improve their lives.
Long story short: Thailand is without doubt more developed and better organized (if you compare it to other countries in the region of course), while Cambodia is more chaotic but often more fun and more exciting than elsewhere. I have spent a lot of time in both countries and it often feels like Cambodia is what Thailand was 15 or 20 years ago: "The good, old days."
Again, you can't make a bad decision with either country, but if you have already been to Thailand then I strongly recommend you to give Cambodia a try and you will understand what I'm talking about.

Final Thoughts
I hope you are not overwhelmed now with so much information on how to plan your sex trip to Cambodia. Remember that there are only two things you need to decide before you go: Which places you want to visit and where you want to stay. Everything else you can figure out later, like you can read more of the guides here on Cambodia Redcat on where to find the best girly bars, night clubs etc., but that's not really necessary – just look it up once you get there.
That all being said, you won't find it difficult to have a fantastic time here in Cambodia – as long as you are friendly and polite and have a smile on your face you will surely end up in bed with a sexy Khmer girl at the end of your nights. No matter whether you go to Phnom Penh, Kep or Battambang.
Last Updated on September 27, 2023