5 Best Girl Friendly Hotels in Sihanoukville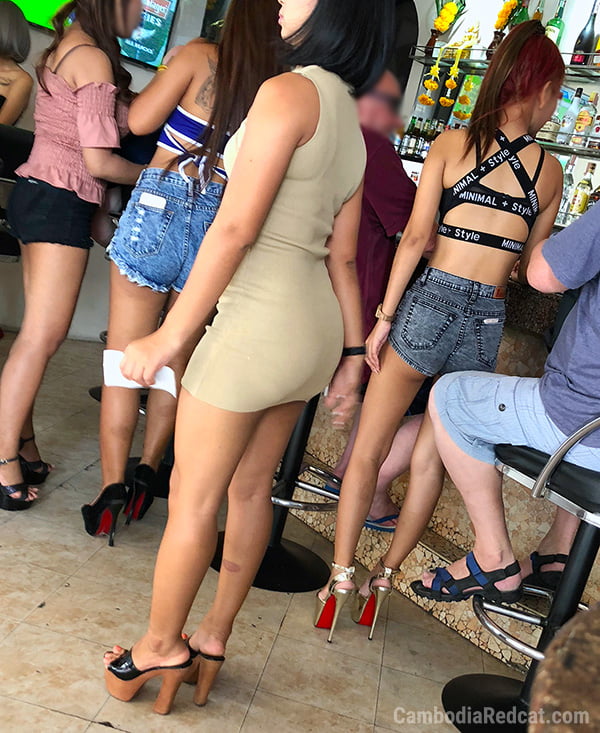 Sihanoukville is a big city (the third biggest in Cambodia in fact) and that makes the choice for a suitable hotel not quite easy. Especially if it's your first visit and you don't have an orientation of where the main points of interest are.
In terms of daytime activities and beaches that would definitely be Serendipity Beach (see this post for a complete overview of all beaches in Sihanoukville) but in terms of nightlife and girls you have the option of either Serendipity Beach or Victory Hill (see this post for a complete overview of all girly bar areas). Forget all other areas of town, there is nothing going on and you will depend on Tuk Tuks or have to drive long distances with your (rented) motorbike.
Now what exactly would be a "suitable" hotel? Well first of all, it obviously needs to offer a good value for money. Second, it should be located on either the Serendipity Beach or Victory Hill area (assuming it is your goal to meet some nice local girls). And third, you want to make sure that your hotel has a guest-friendly policy means they allow you to bring girls back to your room without charging extra or denying them entry at all.
I have some time today so I thought I could put together a list of five popular hotels for girls and sex in Sihanoukville that all fulfill the mentioned requirements for being suitable for a sex holiday. I don't want to write down all the prices as they not just depend on the seasons but also change all the time. So I think it's a good idea to provide you with the link to Agoda who usually have the cheapest rates by far so you can check it yourself.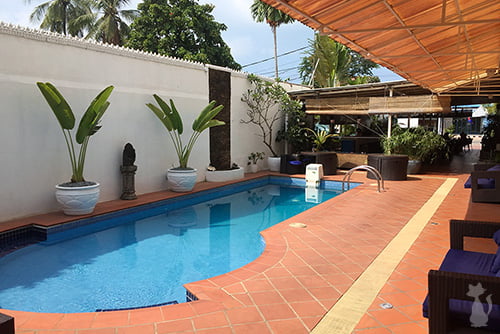 I personally stayed at this hotel on Serendipity Beach and it was an excellent choice. The rooms are great value for money – I took a double room which was just around 25 USD per night, not as spacious as the pricier options but just fine, super clean and very important: a good quality mattress. For me it's also important that the rooms have new aircons and that's the case here (just compare the pictures of the rooms with other hotels and you'll see the difference). Apart from that, the location of the Coolabah Hotel is pretty awesome, just around the popular Utopia Bar which is open 24 hours and a great pick up place (and super cheap drinks) and just like 3-5 minutes walk to Sihanoukville Square, the biggest girly bar area in town. Oh yeah, and the beach is also just a 5 minute walk down the road.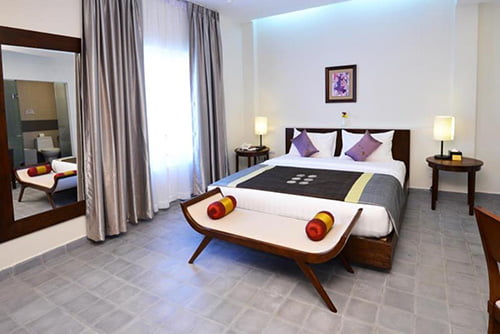 Even closer to Serendipity Beach (2 mins walk) and conveniently located near the "Restaurant Street" with the best and most diverse range of foreign cuisine is the Golden Sand Hotel. Rooms are slightly pricier (starting from around 40 USD a night) but the hotel itself is a little more modern than the Coolabah (see above) and has a nicer pool. However, if it's your main priority to have a good time in the bars of Sihanoukville and pay the bar fine for a lot of ladies then it doesn't really matter because the rooms are similar sized, equipped and clean.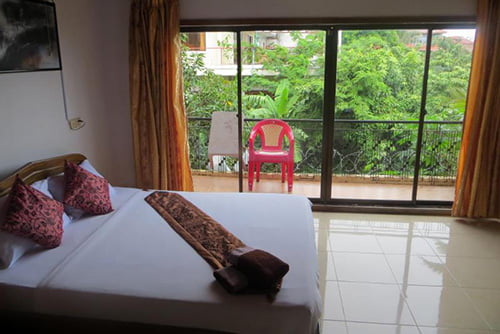 The Divers Hotel is the most popular choice for single male travelers who want to stay on Victory Hill. There is absolutely nothing to do apart from drinking beer in the girly bars. But if you come here mainly for the girls anyway then why not. Rooms are in the 20-25 USD range and not quite as sophisticated as at the Coolabah and Holiday Villa on Serendipity Beach and that's because the competition over here isn't nearly as high. I wouldn't stay in this area but rather rent a motorbike to come visit a couple of times (that's exactly what I did) but it's up to you. For 2 nights it should be alright but after that you are very likely to get extremely bored.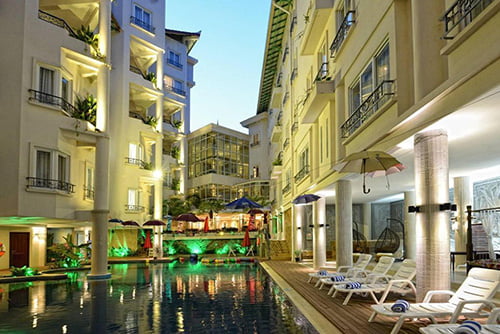 One of the newest hotels in town that is not only popular among couples who love the beautiful swimming pool in the center of this boutique-style hotel, but also among single male travelers who want to impress their girl for the night. The location couldn't be better – it's situated right on the "Restaurant Street" and it's literally 1 minute walk to Serendipity Beach (and 5-7 minutes up to the girly bars of Sihanoukville Square). Since this is one of the hotels with the best value-for-money in Sihanoukville (about 46 USD per night for their Deluxe Pool View Rooms), it's often fully booked, so make sure you check the availability early enough (link below).
At around 25 USD per night, the Beach Club Resort is one of the most popular budget hotels on Serendipity Beach. But it's not only the price that makes it a regular place to stay for many (sex) tourists: They even have quite a nice hotel bar with pool table, which makes it the perfect place to start your adventurous evening / night out in Sihanoukville. Don't expect to meet any Khmer girls there though, as it's mostly other foreign guys who hang out here. Oh, and they also got quite a nice swimming pool, which is pretty awesome for a hotel in this price range.
See also: 5 Places to Meet Sexy Girls in Sihanoukville
Last Updated on February 12, 2021