Complete Guide to Girly Bars in Sihanoukville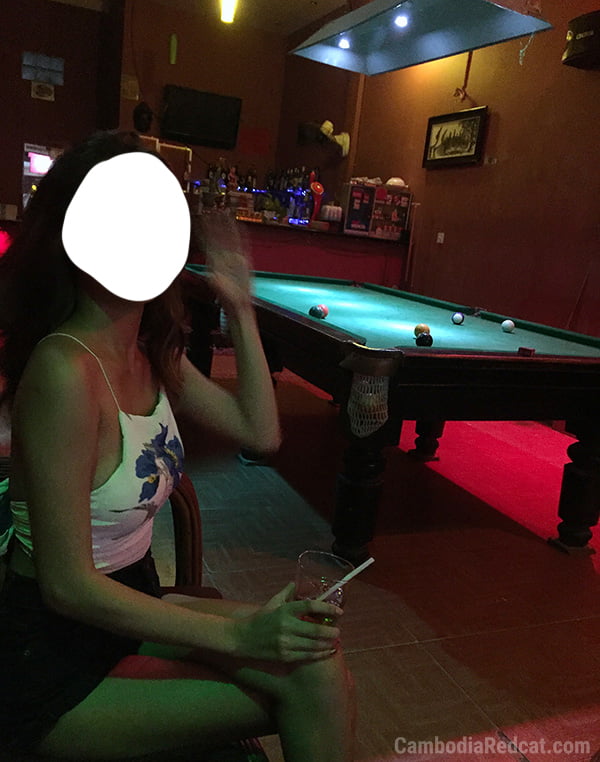 When you first arrive at the tourist area on Serendipity Beach in Cambodia's most popular beach town you'll start asking yourself why there are so many hippies and backpackers in all the bars and restaurants. You might even wonder if you came to the wrong city because you can barely spot any sexy Cambodian girls walking around the tourist area.
Keep calm though, everything is okay and there is a very simple explanation for this: First, all girly bars in Sihanoukville are clustered in three different areas that you might even oversee if you aren't actively looking for them. And the second reason is that all the freelancers are hitting the beach bars and clubs quite late at night so you might not see any Khmer hooker by randomly walking around town in the afternoon or early evening.
There are three centralized girly bar areas in Sihanoukville (sorted from biggest to smallest):
Sihanoukville Square
Pub Street / Golden Lion Plaza
Victory Hill
Each area has quite a different atmosphere and its own advantages and disadvantages depending on what you are looking for. I'm going to present you each one in more detail, followed by information on prices, the locations on the map as well as a video at the end of this guide so you'll get some impression of the typical ongoings in the bars.
1. Sihanoukville Square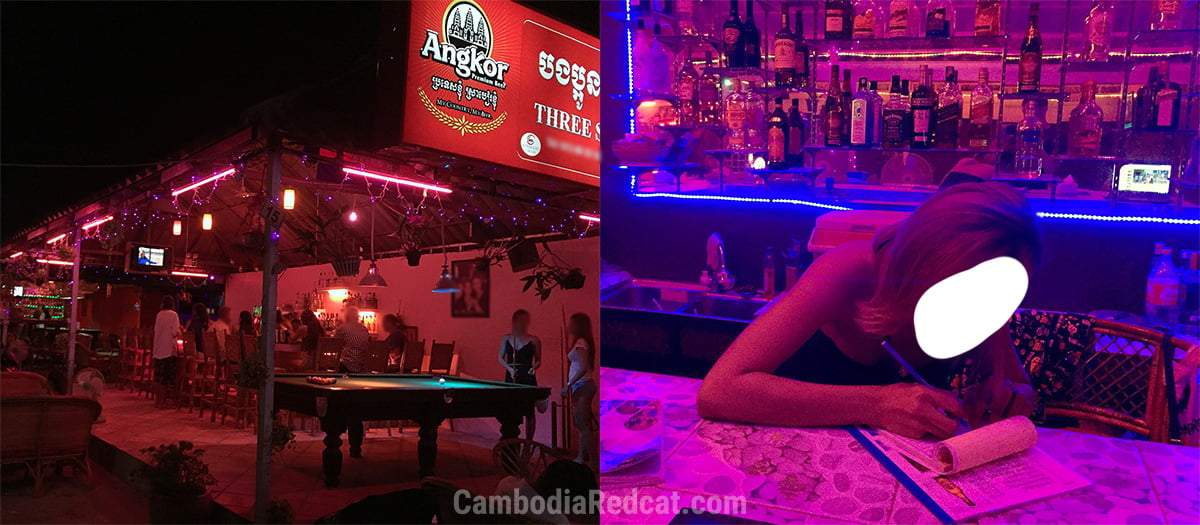 The largest girly bar area in town right across from the Golden Lion Roundabout. You can find at least 25-30 bars (some of them randomly close on different nights) each of them full with young and attractive Khmer girls. They are all employed by the bar and not just work as waitresses but also as entertainers means as soon as you enter (or even before that) they'll try to get your attention so you want to hang out with them and ultimately if you get on well enough to pay their bar fine and take them to your hotel for short time or long time (see below for detailed information on the prices).
The atmosphere in the girly bars of Sihanoukville Square is really great – not as sketchy as on Victory Hill but not as quiet and lame as on Pub Street. Each bar has a pool table that's usually free of charge (but the tables are also quite old especially compared to the bars in Thailand) and a great way to start getting in touch with the ladies. "Do you want to play pool?" is just a better way to say "Do you want to hang out with me?", and "Do you want a lady drink?" is the polite way of going the next step and really meaning "You're so hot I want to touch you, just get yourself a drink if you want."
Girls Quality: 8/10
Entertainment: 9/10
2. Pub Street (Golden Lion Plaza)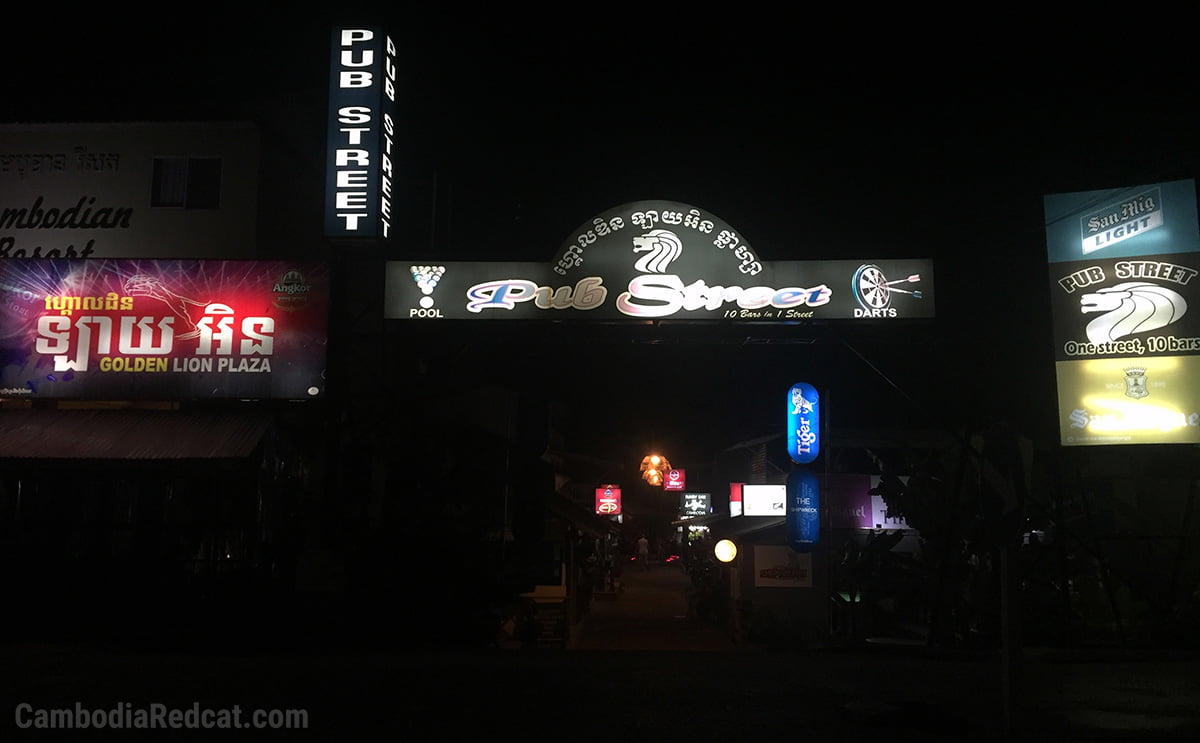 The second largest girly bar cluster in town (though not even half as big as Sihanoukville Square) is Pub Street or often referred to as the Golden Lion Plaza in Poulowai Street about 250m from the Golden Lion Circle. It's quite inconspicuous and you might even miss it if you didn't look at the location on the map and that's because the neon lights aren't as bright and colorful as you might expect for a red light area and also the bars are barely visible from the main street because it's going like 5m downhill into the plaza.
Pub Street is mostly popular with expats and the girls' quality isn't quite as good compared to Sihanoukville Square, but then sure there are always exceptions and you might find a thin 19 year old girl who has just started working in the bar a few weeks ago – but then the competition is also higher, means she may already be hanging out with another guy. All in all, laid back atmosphere in Pub Street, but better to just start your night out with a couple of drinks and pool if it's your goal to get laid.
Girls Quality: 6/10
Entertainment: 5/10
3. Victory Hill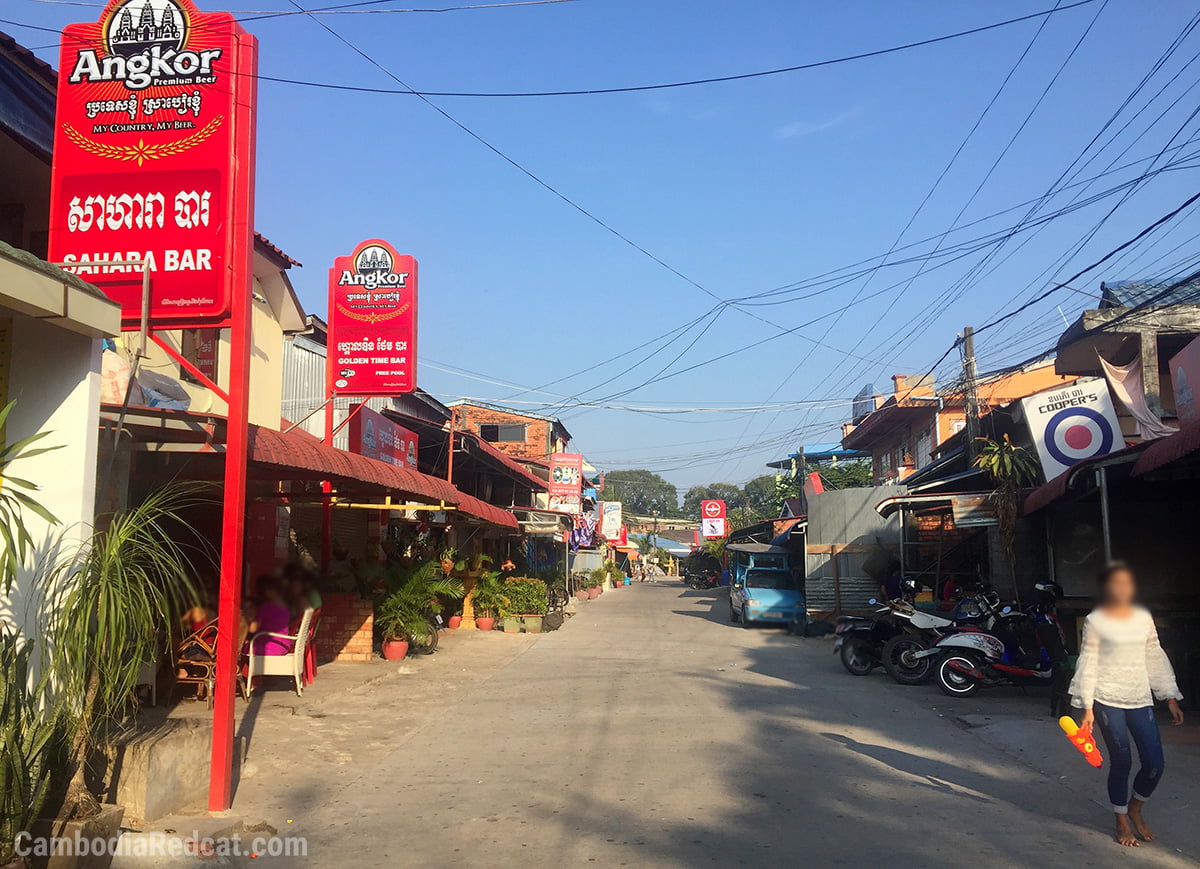 The third red light area in Sihanoukville and strangely this one is being most mentioned in the forums, even though it really has the least number of girly bars (about 10) and the atmosphere here is also more "intense" and uneasy than at the other places. Let me explain in just a bit. Victory Hill is somewhat off the main tourist area of Serendipity Beach located near the harbor.
The girls in these bars aren't the most attractive ones you can find in this beach town and I found many of them also quite sketchy and speaking to you in a loud voice (which is considered not quite polite and also doesn't feel very good). Of course there are always some exceptions, similar for the plenty of ladyboys that you can find in the bars here – this is the only area that allows them to enter the different joints. So it's really something for everyone on Victory Hill, but if you visit the other two girly bar areas near the beach you would probably agree with me that it's more fun down there.
Girls Quality: 5/10
Entertainment: 6/10
Map of Girly Bar Areas in Sihanoukville
Prices in Sihanoukville's Girly Bars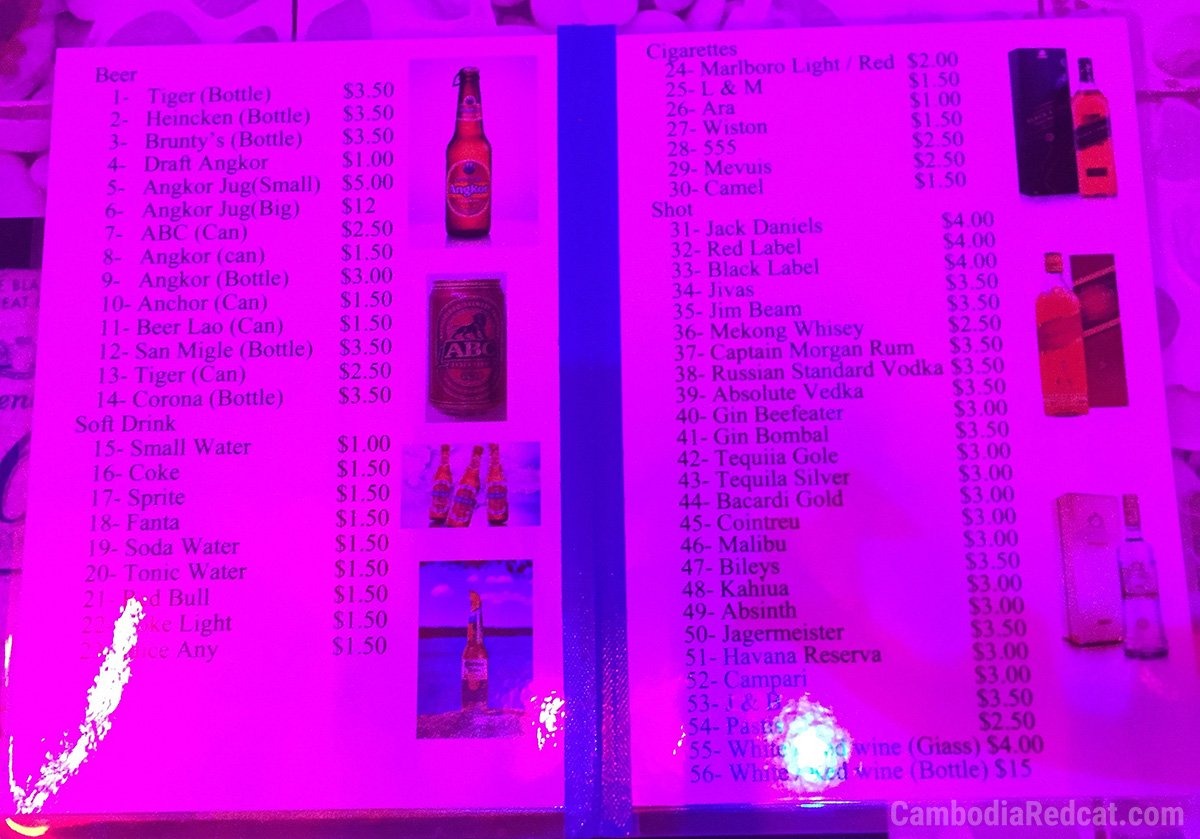 The pricing structure for drinks and girls is very similar in the lady bars of all three areas: Most guys who enter a bar start off with ordering a glass (mug) of draft beer and that's typically just 1 or 1.50 USD. They usually got Angkor (my favorite) or Cambodian (I don't like it) and in some rare cases Anchor (forget it). If they don't have Angkor draft I usually order a can beer (1.50-2 USD) or just skip the beer part and get a gin tonic for 3 USD. Other spirits like Jack Daniels or Black Label are usually on offer too for 3-3.50 USD including mixer.
Lady Drinks usually cost 4 USD, playing pool is free (but again the tables tend to be old and worn-out), the bar fine is 10 USD in all bars and the girls usually start asking for 50 USD for short time and 100 USD for long time. Don't panic though, that's all negotiable and rates like 30 USD for ST and 50-70 USD for LT are quite realistic if you get along well.
Last Updated on September 29, 2023