4 Places To Meet Khmer Ladyboys in Siem Reap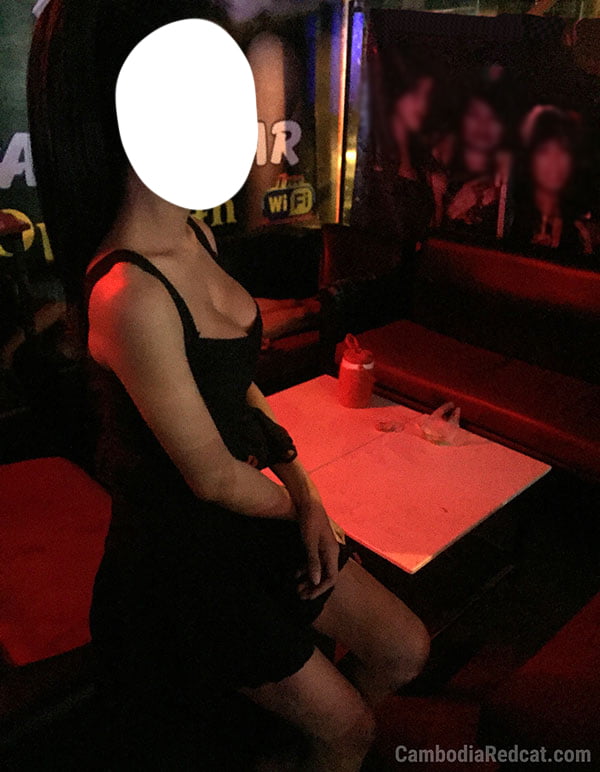 I was surprised to see in my website stats that some of the most popular posts on Cambodia Redcat are actually about how to meet ladyboys. So I thought if there are hundreds of people every day who want to know about Phnom Penh Ladyboys I guess that might just be the same in terms of Siem Reap Ladyboys. So here we go, this is the next part of the series on the best places to meet ladyboys in the kingdom.
First of all it's important to know that Siem Reap isn't really a paradise, the perfect destination for ladyboy lovers. That's just how it is and I don't want to create too high expectations. That said, of course it is still possible to meet some sexy transgenders if you know where you have to go. Because otherwise the only types of Khmer ladyboys you will find may be the ugly freelancers on the river promenade.
Which area to stay at when looking for ladyboys in Siem Reap?
That's probably the first question that comes to your mind. I'd definitely say in the Pub Street area, that's the main tourist quarter in town where most of the foreigner-oriented guest houses, restaurants, bars and markets are found. And if you are considering to not only meet ladyboys but also girls in Siem Reap then there is no better choice than this area. Yes, there are some bigger, nicer (and more expensive) hotels near the main road (Highway 6) in the northern part of town, but that's definitely not a good idea unless you want to ride long distances with your rental motorbike every day or depend on the Tuk Tuk drivers.
With that being said, here are the four different types of places to meet Khmer ladyboys in Siem Reap both during the day and at night.
Ladyboy Bars in Siem Reap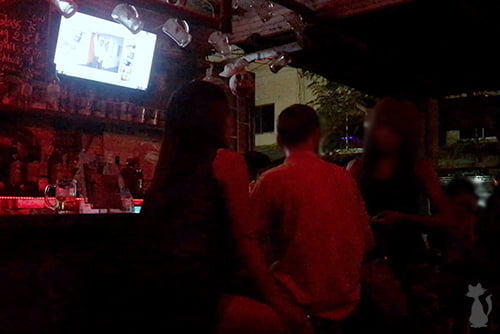 The Draft is the bar where I saw the most Khmer ladyboys on any given night. Barcode and Heaven & Dreamboys are actually gay bars but attract ladyboys, too. They sometimes have live performances on the stage. They are located on "Little Pub Street" and Sombai Road in the southern part of town respectively (see map below).
If you are looking for cabaret shows similar as you may know them from Thailand then check out Rosana Broadway, which is comparable to Tiffany's in Pattaya. You may also get in touch with the ladyboys after their performance or even some from the audience who know very well that there are Barangs who are curious about the third gender.
So yes that's right, there are currently no "ladyboy-only" bars in town. You might actually get lucky at Mickey's Bar which is popular among Khmer girls.
Prices: 20-50 USD if they are hookers, free if they are not.
Ladyboys in Siem Reap's Night Clubs
The most popular night club among ladyboys in Siem Reap is Kesorkole. Only few tourists go there, probably because they think it's only a KTV (karaoke) which is not the case. This is also one of the most popular local night clubs in town and the best place to meet ladyboys in the nightlife. Some of them are smoking hot but don't expect them to always make the first move as only some of them are "working". Kesorkole is only a 10-15 minute walk from Pub Street, so no need to waste money on a Tuk Tuk ride.
Apart from that, it's also possible to meet ladyboys outside Temple Bar on Pub Street and in the outdoor seating area of Hip Hop Club near the river. Why outside? Well, simply because they aren't allowed to enter. If this changes in the future I will make sure to update this page.
Prices: Same like in the bars: 20-50 USD if they are hookers, free if they are not.
Ladyboy Street Hookers in Siem Reap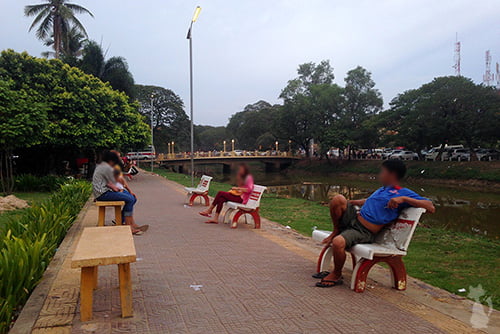 There are mainly two places to find ladyboy freelancers who are looking for customers on the street: There is the Siem Reap River Promenade and especially near the bridge close to Pub Street is an infamous pick up spot (picture). And the other hot spot is about 1km north from there in the park and again along the street running parallel to the river. Don't expect them to be nearly as attractive as the ones in the bars, clubs or dating sites, but you never know.
Prices: Usually 10-15 USD for a short time. Ask them and they will know a short time hotel for about 5 USD.
Siem Reap Ladyboys on Dating Site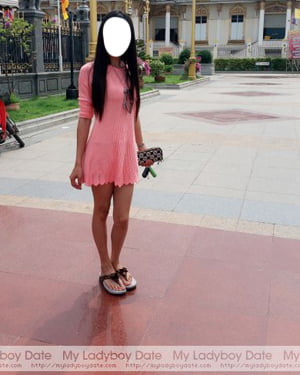 An increasingly popular way to meet Khmer ladyboys in Siem Reap (and to sleep with them) are the ladyboy online dating sites. Why? Because they are the most reliable method to meet "normal" ladyboys who don't regard you as a walking ATM and who are just as curious about having a sexual experience with a foreigner and often even look for serious dating and relationships.
The currently most popular dating site in this category is My Ladyboy Date that allows you to sign up for free. It has plenty of single ladyboys not only from Siem Reap but all around Cambodia and even more from neighboring Thailand.
Prices: As mentioned most of them aren't out for your money so just be a gentleman and pay the bill in the restaurant, bar or whatever you are doing during your date.
Conclusion
As you can see there are many different ways to go about meeting ladyboys in Siem Reap and it's really up to you what you prefer. If you are a party animal and love dancing then you should definitely check out the night clubs mentioned in this guide and have some really hot ladyboys around you. If you prefer it more quiet then you could just go to one of the bars, sit back and enjoy the show on stage while making eye contact with one of the ladyboys.
A quicker yet riskier way (in terms of her stealing from you and running away) to have sex would be the street hookers along the Siem Reap River promenade and the park, but again those ladyboys are pretty much all well below the average you can find here. And if the pay for play scene isn't really your thing then you should enjoy the dating site by meeting more sincere (and usually also more attractive) ladyboys on there.
Last Updated on March 5, 2021