Happy Ending Massage in Siem Reap (Hand Job / Blow Job)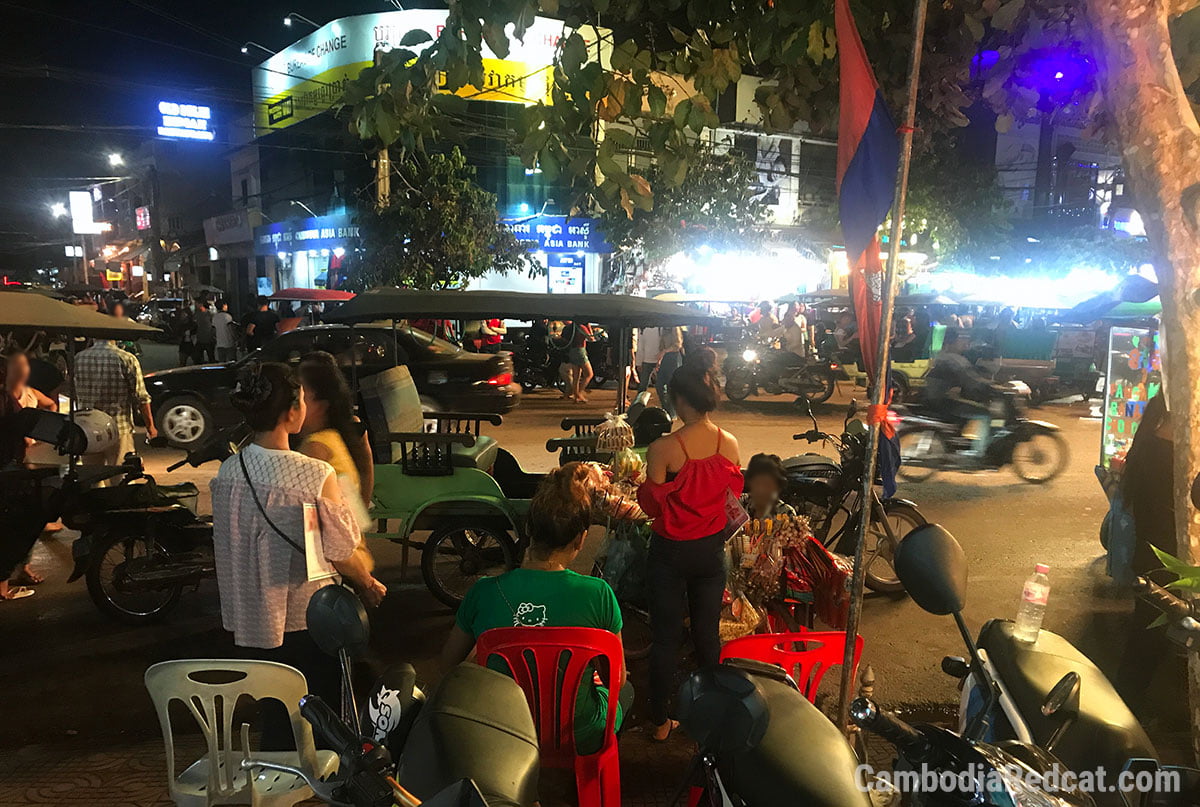 Siem Reap is not really the best place for happy ending massages. That might be quite a surprise, because it's one of the main tourist hot spots in Cambodia, but they have set up the tourist area around Pub Street in a mostly "clean" and family friendly way.
That's why you will find only a few girly bars and even fewer massage salons here. Well, there are obviously plenty of regular spas, but most of them do strictly massages only and no hand jobs at the end of the session. Just look at how the women are dressed – if they wear long and traditional Khmer massage dresses, then you better pass that shop, and simply check out the places in my guide here.
Because if you know where to go, you will be able to find the very few naughty salons that have young Khmer girls working, who will surely give you a happy ending for some tip. In this guide I will show you these places, as well as where exactly they are located on the map, and like always with my own pictures.
The 3 Places for Happy Ending Massages in Siem Reap
1. Salon on Corner of Night Market St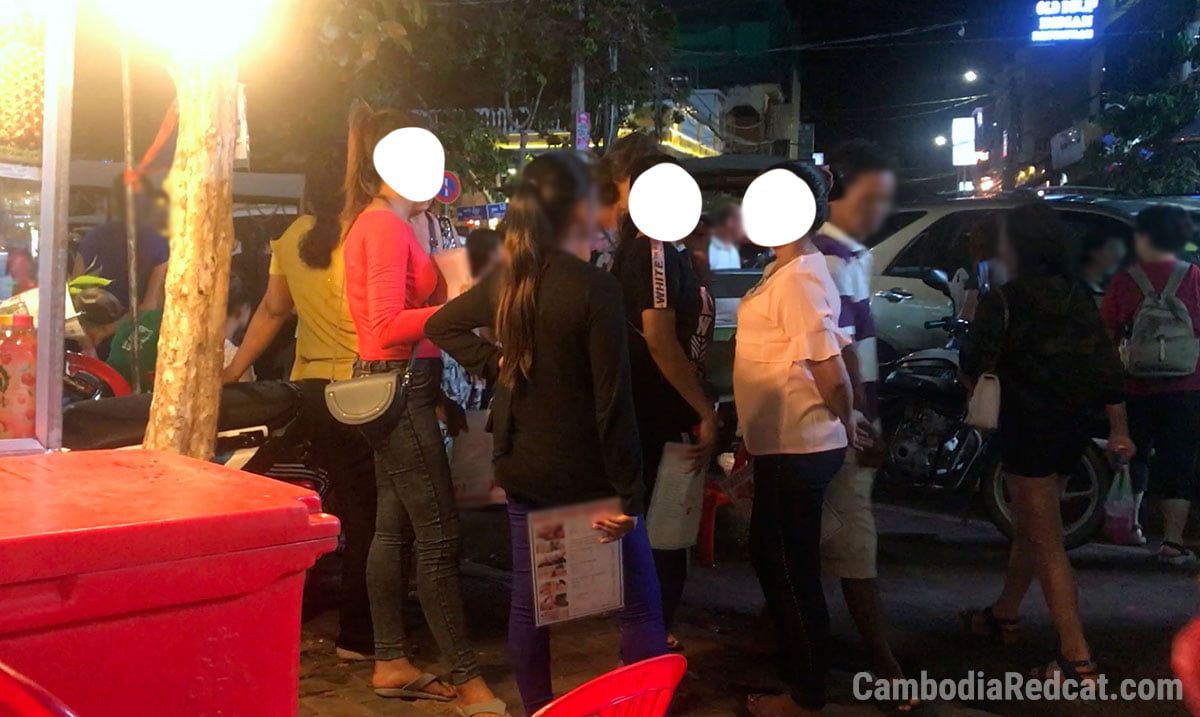 Without doubt the best place to go for a guaranteed happy ending massage in Siem Reap. This salon is located on the corner of Night Market St and Sivatha Blvd (I have marked it on the map below).
There are about 10-15 mostly young and sexy Khmer girls working, and it's really obvious that they will give you more than just a regular massage here: They dress how they like and become really excited when you approach their shop as a foreign guy. And they even tell you straight away things like "really good massage, promise sir" or even "you want massage sir? I give you happy ending."
They only charge 3 USD for the massage itself, and that money goes 100% to the owner of the salon (a Khmer guy sitting in the lobby).
You follow your girl up to the room (you can choose one you like of course) and then you can discuss with her the price for the happy ending – it should be 10-15 USD for a hand job. Don't be surprised if their first offer is like 30 USD, of course you shouldn't pay that much. No more than 15 USD, that's like 500 Baht in Thailand and exactly the same standard rate for a hand job there. It should actually be cheaper since this is Cambodia, so most girls will accept 10 USD if you know how to bargain.
If you want a blow job ("yam yam" in Khmer) you should add an additional 10 USD. Sex is not allowed in the massage salons.
The massage area is one big room with five mattresses on the floor, but don't worry, you will get enough privacy because each spot has a curtain.
2. Salon on Sivatha Blvd
The next place you can check out is the salon on Sivatha Blvd, which is located just like 50m south of the western entrance to Pub Street.
It's not quite comparable to the first salon described above, the girls are sitting on the chairs outside and are much more soft in their approach. But there are some really young and cute ones as well.
Not all girls here do happy endings, so you will have to try and see what happens when you ask her 45 minutes into the session "can you massage here?" while pointing on the area between your legs. Just like anywhere else, 10 USD is a reasonable tip for a hand job.
3. Salon on Pub Street
You can find a few massage salons on Pub Street, but most of them don't provide happy endings.
No need to ask them beforehand if they do happy endings here, because they will always say "no". But believe me, some of the ladies have no problems with massaging your penis if you offer them some tip. Check it out, in my opinion the girls here are more attractive and much more gentle than in the first salon mentioned.
Prices for Massages & Happy Endings in Siem Reap
If you want a happy ending, don't choose a foot massage! Because that one will take place on a chair in the lobby, and your lady will obviously not take off your pants there.
Always choose a Khmer Massage, or better, Oil Massage if you want a hand job towards the end of the session. The price for that is between 7 and 9 USD. The exception here is the first place mentioned above, where they charge only 3 USD to lure you in (but don't expect to get a decent massage in there).
And regarding the reasonable tips for happy endings in Siem Reap:
Hand Job: 10-15 USD
Blow Job: 20 USD
Sex: Not allowed
Locations of Happy Ending Massage Salons in Siem Reap
I have marked the 3 "special" places with the pink pin, and all other, regular massage spas with the yellow pin.
Other Type of Happy Ending Massage in Siem Reap:
The Sex Massage Parlors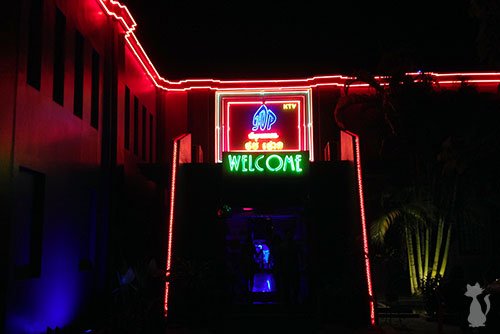 If a simple hand job or blow job isn't enough for you and you want full service, then you can check out the massage parlors in the northern part of Siem Reap.
Most of these places operate officially as KTVs. When you walk inside the manager will call all the girls (depending on the place between 20-40) who will line up in front of you and you can choose one of them.
While you can surely go with them to a karaoke room first and drink and sing for a while, that's not really necessary if you just want to have sex with them. If that is the case, you can tell the manager, and he will quote you a price for short time (around 50-60 USD). Most parlors don't have rooms with beds onsite, so you will be brought to a short time hotel nearby with a Tuk Tuk.
Last Updated on July 20, 2023