Happy Ending Massage in Sihanoukville (Hand Job / Blow Job)
Even though there is no shortage of options to get laid in Sihanoukville you might be quite disappointed by trying one of the tourist oriented massage salons on Serendipity Beach. And by disappointed I don't mean that your masseuse hasn't done a good job in what was offered, but she might not have given you that little "extra" at the end of the session.
If you walk around the streets you'll pass a lot of massage salons that usually have a big board illustrating all the different services, however, the vast majority of guests are going for one of the following three: Foot massage (7-9 USD), traditional Khmer massage (8-10 USD) and oil massage (12-15 USD). All these prices are for one hour.
Tip: If you are out for a happy ending then do not choose the foot massage. The reason is that for this type of service you won't get a private room (or area divided by curtains) but just a chair down in the public lobby. Needless to say that no one is willing to take off your pants in front of other employees, customers and street walkers behind the glass door.
Still, even if you request a Khmer body massage or oil massage and confirm that you'll get a private room the chances for a happy ending at those salons in Sihanoukville are extremely low. It becomes quite obvious by just looking at how the masseuses are dressed: They wear traditional (and long) Khmer dresses instead of tight tops and short skirts. And no yelling like "hey handsome man, massage!" like you may know it from most tourist towns in Thailand.
You never know though and so you could just try and wait until your masseuse is working on your upper legs before asking her politely and with a smile: "Can you massage here please?" If she just smiles and pretends to be shy you could either ask again or say you'll give her a tip. In many cases her answer will be just a plain "no" and then you should accept it after asking for a couple of times or, if you are lucky, she will take a little extra oil in her palms and then massage your penis, first gently up and down to get a feel for it and then faster and faster until you shoot off your load. A fair tip for such a hand job would be 10-15 USD.
However once again, Sihanoukville has not the reputation for being a massage paradise for single male travelers and so you'll need to be quite lucky to get a happy ending one. Fortunately, there is one famous exception in this category:
The Best Happy Ending Massage in Sihanoukville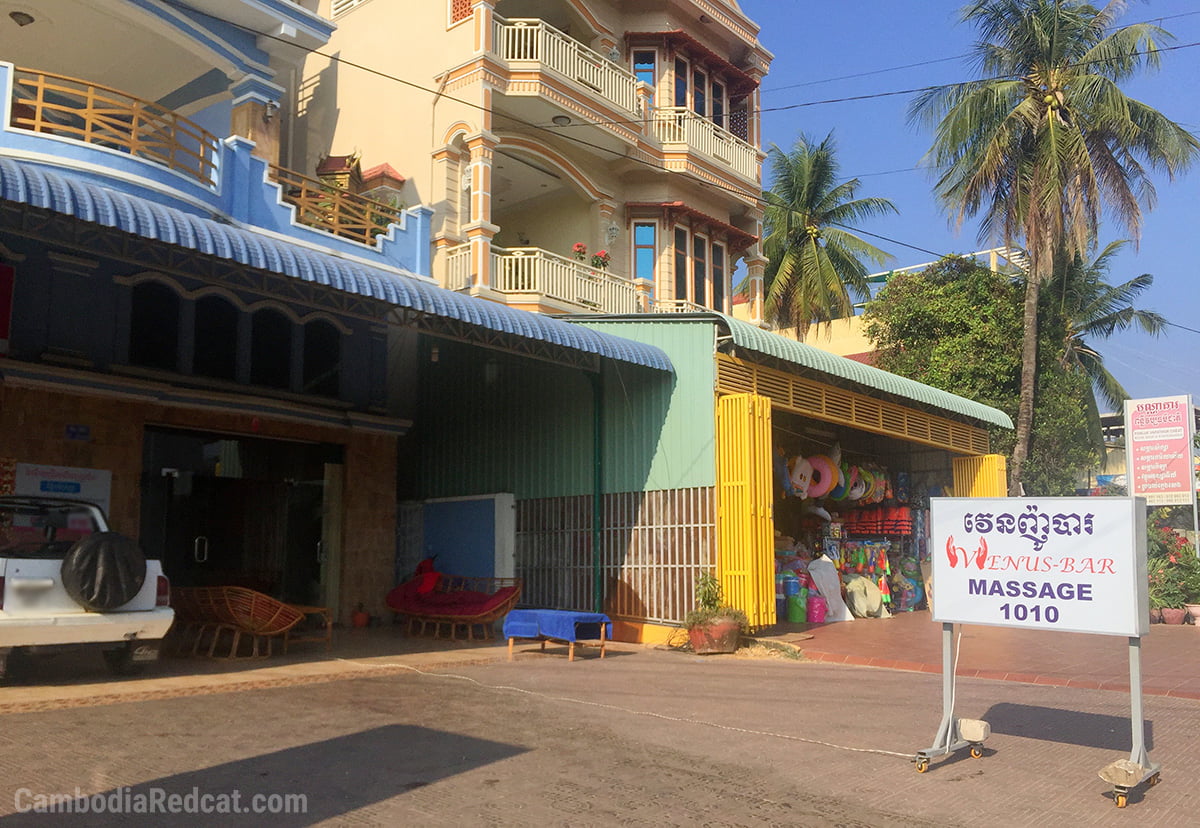 The one and only place in Sihanoukville with guaranteed special is called Venus Bar & Massage 1010. It's out of the tourist area and located in a relatively quiet area in downtown about 6km northwest of Serendipity Beach or 3km east of the girly bar area of Victory Hill. Only few foreigners know of it and so you'll find only few customers (if any at all) at any time you are visiting. Most of them are coming with their own motorbike and pretty much no one just discovers it while walking around because there are absolutely no guesthouses or hotels in this area, just one of the many KTVs at the end of the road.
Venus was once founded and run by a Swiss expat before he sold it to a local Khmer guy last year because he wanted to move to the Philippines. The good news is that nothing has changed at all:
There are between 5-7 mostly young Khmer ladies hanging out on the sofas in the lobby, usually playing on their phones or watching a Khmer soap opera. Upon entry you will be friendly greeted by one of the girls who kind of functions as a mamasan and explains you everything, but she does massage herself, too.
She usually asks you if you would like to drink something first. You don't have to if you want to pick a girl right away (many customers do that) but it's always a good idea to sit down and take your time looking at the girls to make up your choice. It's 2 USD for a cool beer or 1 USD for water and soft drinks. The girls are all very friendly and really much more attractive than the average girl in the standard massage salons down on Serendipity Beach.
Price and Service of the Happy Ending Massage
It's 25 USD for a massage including happy ending. That's their fixed rate and it saves you time to worry and negotiating with the girl. Alternatively, you can also take a standard massage without special for 12 USD, but I guess that's not what you are looking for.
After you told the mamasan which of the girls you would like, she will have her come over, prepare everything she needs and then make you follow her to one of the massage rooms. There are two rooms on the ground floor and if you are wondering why they are looking like apartments then that's actually the case: The owner is living here and so you'll see a wardrobe with his clothes, TV and a fully equipped bathroom. Don't worry though, they put on new sheets on the bed every day.
Your girl will usually ask if you would like to take a shower before she starts rubbing on you, but you don't need to. The massage itself is obviously not the best you will have in your life, but again you come here to enjoy some quality time with a young and hot Khmer girl and she'll be doing a great job in making you feel horny in no time. And so it usually doesn't take even half an hour until you can't hold yourself any longer and really want to get going.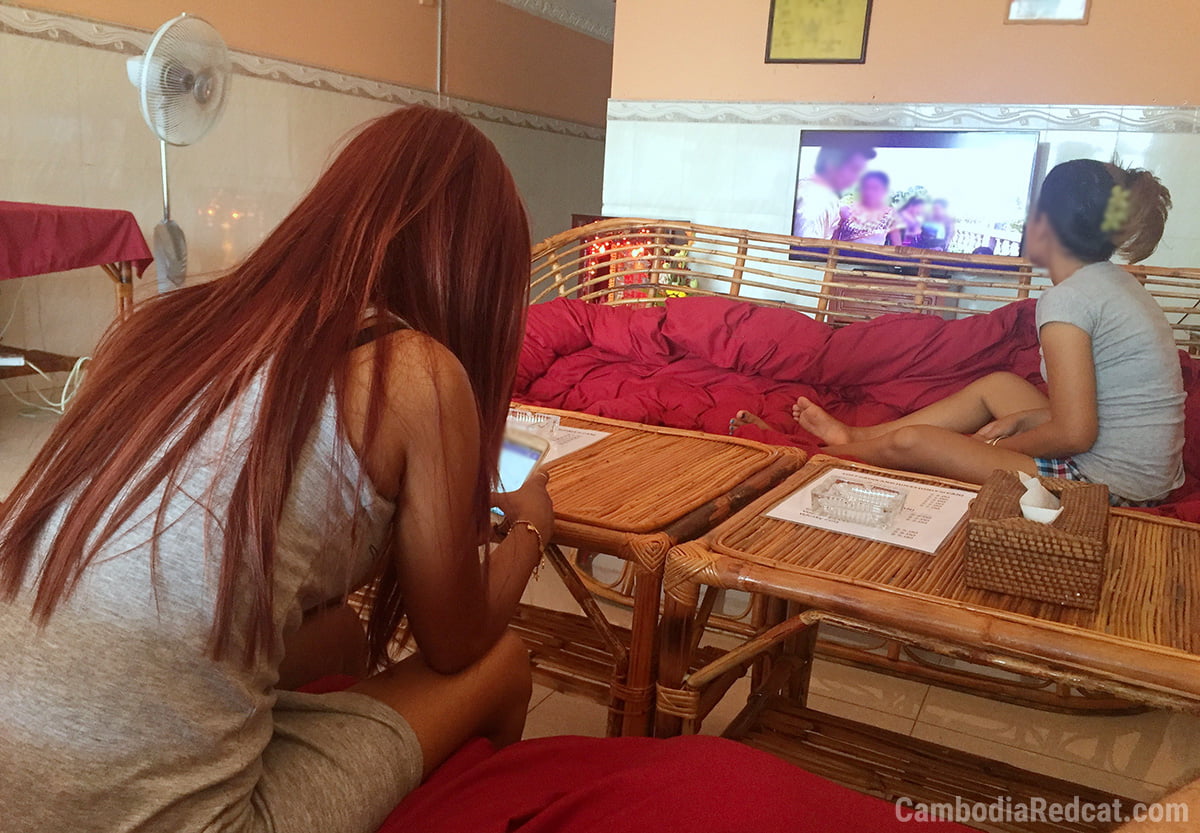 Once the hour is over (or you feel satisfied enough) you go out to the lobby again where you pay the massage price (yes they'll charge you afterwards which is very fair) but you can also sit down on the comfortable sofa first and have a drink, either alone or with your girl. It's a nice way to round off the whole experience.
The opening hours of Venus Bar & Massage 1010 are 2pm till midnight. As far as I know they don't have a website and so you cannot make a reservation for a particular girl. I would recommend you to come early in the afternoon (around 3pm) so that you'll get the best selection of girls and also avoid you being her second or even third customer of the day.
Map of Massage Salons in Sihanoukville
Venus Bar & Massage 1010 is indicated with the purple pin. All others (yellow pin) are "regular" massage salons.
Last Updated on September 29, 2023