How I Had My First Sex With A Cambodian Ladyboy
This is a guest post from David Peters.
Alright let me tell you one thing right away, I'm not the typical "Cambodian newbie" you may think of right now. Yes, it was my first time in Cambodia, but I had already been to Thailand twice, and that's at least somewhat comparable.
I know how it works in the red light scene, in the beer bars, the massage salons, the freelancers in the clubs, it's all quite similar. Cambodia must be a little like the Thailand of 10 years (or rather 20) ago. That said, yes, I'm not here for the temple ruins or the spicy food, but for banging some young and hot local Asian chicks. I've tried lots of different types of sex workers over in Thailand, so I thought Cambodia would be nice for a change.
But one thing I've never done before was to have sex with a ladyboy. When I was in Bangkok, I never really had the desire to walk into one of these ladyboy go go bars in Nana Plaza or such, and the street walkers looked rather scary to me. Nah thanks, I thought, maybe one day I would try a massage, that should be safer. Just to see what it's like.
But it was never really something that was on "my list".
But you know what, I've done it now. And I wanted to share my experience with you because I'm sure a lot of you guys are still on the fence, thinking whether you should try it out once or not. And trust me, you should give it a try.
I was just walking out of one of these "hostess bars" on Street 130 in Riverside, Phnom Penh. It was my first night by the way, I had just arrived after a stopover in Singapore three hours ago, and had quite some adrenalin inside me, full of excitement of how the girls would be like here. But it wasn't a Khmer girl I had my first sex with in this country.
It was already well after midnight, must have been around 1:30am, and I had drunken quite a few of these incredibly cheap $1.50 Anchor draft beers. Maybe that was one of the reasons why I made that decision that night. But well, perhaps not, she was just too hot.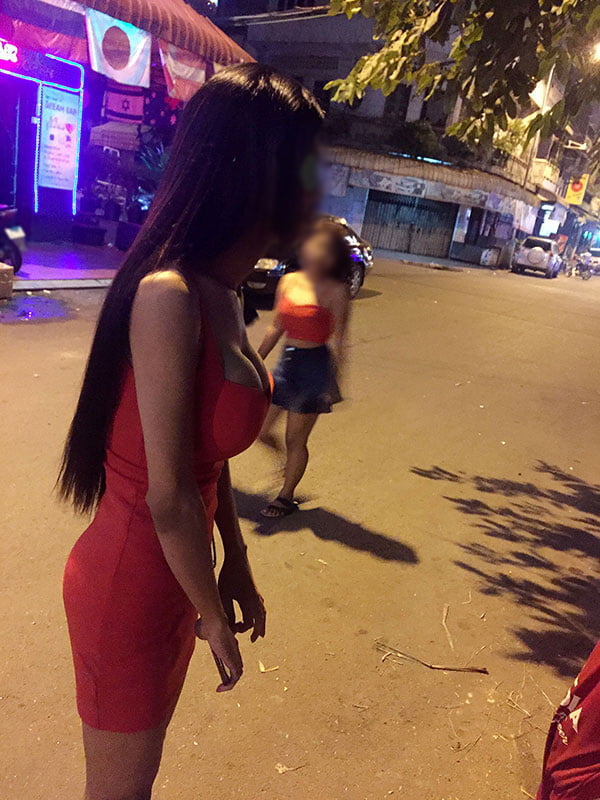 She was a ladyboy standing on the side of the street between 130 and 136. As some of you may know, there are some popular ladyboy bars in that area (note from Redcat: If you don't know, check out this guide), and so I assumed that she was probably working in one of these bars and just taking a break since she talked to someone on her phone.
As she saw me approaching her, she finished her call within a few seconds and then pretended to check something else on her phone, while repeatedly looking up at me. I instead, couldn't take my eyes off her for even one second: She was so incredibly hot.
She was about 1.65m tall, long and smoothened black hair, wearing a tight and short red dress, and black high heels. And these tits! Incredible. Sure, you could obviously tell they were fake, but that didn't bother my dick at all, which got hard from the second I looked at her. To round things off, she had a nice and firm butt that seemed to just wait for someone to get unpacked.
It was her who smiled at me, and it was me who said hi, how are you, what are you doing. We did some small talk for a while, and it turned out that she did indeed work at one of the ladyboy bars around the corner. She offered me to join me to my hotel for half an hour, like that I would not have to pay her bar fine. "Just give me 30 dollar", she said.
I didn't really think about bargaining that price, I thought that was more than reasonable for that sexy thing, and, like so often, bargaining too much with a hooker kind of ruins the experience.
About 10 minutes later we were together in the shower of my hotel room (I followed Redcat's recommendation and stayed at the City Centre Hotel, which is close walking distance to all the bars). I don't remember when my dick was ever that hard, it happily jumped up and down while I touched her hip and thighs.
Of course she noticed that, so she stopped kissing and licking my neck, grabbed the shower gel, put plenty on my dick and started rubbing it up and down. Slowly. Sentimentally. And at the same time she looked me deep in my eyes, smiled and began to moan like it's hard to describe.
I also quickly grabbed the shower gel tube, and put all the rest out on her mighty boobs. The shower water quickly made it to foam and I slid passionately on her, like a small baby. I tried to delay my finish as long as I could, but she was just too hot and good – less than 3 minutes later I shot out all my sperm, partly on her belly, partly on her penis (yeah, I know), partly just on the floor.
She giggled and said "feel good?".
We finished our shower, dried off our bodies and moved onto the bed. First thing she did was taking a condom out of her handbag and throwing it on the bed.
I usually need a break between round 1 and round 2, but somehow my penis wouldn't relax, but stayed firm all the time she was with me. Probably because he knew that it was time for the first sex with a ladyboy.
We didn't really want to lose time, and it was part of the deal that we kept to our 30 minutes. Most hookers in Southeast Asia only give you one shot for short time, so that was great that I got a hand job before the sex part so it would last longer. At least that's what I thought.
We hugged each other for a while, I sucked her boobs while firmly grabbing her ass, she licked my nipples and eventually also started sucking my dick. Yeah, the saying is true – ladyboys really know what a guy wants…
She probably knew that she made me so horny, so after a while she stopped and put the condom on my dick. "Do you have oil?", I asked. She nodded and took a small bottle out of her handbag. She made my dick wet and then started riding on me. It was incredible – that power, that energy.
After a minute I told her to stop, turned her around and banged her in doggy position, while watching her tits and cock moving back and forth. Then I put her on her back, and banged her in missionary position. That only lasted for about half a minute, then I could feel how I started to come again, so I took off my condom and released my load over her huge tits.
I could barely sleep that night. The sex with that Cambodian ladyboy was an incredible experience – one that I definitely wanted to repeat again.
I want to spare you all the details, but the next day I went to her bar on Street 136. We had a great time again, first enjoyed a few drinks and pool games, a relatively good conversation and then I paid her bar fine ($10) and we walked back to my room.
She said she would be fine with $20 this time if I can "help" her too. You probably don't believe how a heterosexual man who loves women and who is definitely not gay can do that, but believe me, you will understand the first time you lie in bed with a busty ladyboy.
Anyway, the next day I continued my trip to Siem Reap. I took the minivan, which was a rather tiring ride (7 hours along the shitty road with lots of traffic both going out of Phnom Penh as well as into Siem Reap).
After I checked into my hotel and took a shower, I just wanted to relax that evening. So I had dinner in one of the touristy restaurants on Temple Street, but then couldn't resist the temptation to check out the popular girly bar around the corner (note from Redcat: he's probably talking about Mickey's).
No intention to take any lady back to my hotel, instead I talked to one of the expats about the red light scene here. He told me it's really bad compared to Phnom Penh, even Sihanoukville would be better in terms of hookers.
I asked him if he knew any places to meet ladyboys in town, and he just shook his head. No bars or such, but he said there would be the popular online dating site My Ladyboy Date, that more and more tourists and expats use to amuse themselves with shemales.
I tried it out the following day – quickly created my profile and browsed through the members (which is free). Since I had uploaded a standard picture of myself I received two messages from quite attractive ladyboys within the first 10 minutes. Unfortunately, they were both from Phnom Penh, so I didn't reply.
Instead I browsed through the users from Siem Reap, and contacted one of the more busty shemales (yes, I'm into that type). She replied less than half an hour later, was really friendly and polite in her writing, and it turned out that she worked in the call center at one of the bigger tour operators in Siem Reap. We met that evening for dinner in Temple Street.
I don't think you want to read a similar story like the one above – you can imagine that this night ended in a similar way: I shot out my load over her stunningly beautiful breasts. The difference was that she didn't ask for any money – she regarded our meeting as casual dating. We met again the following day and even though she knew that I wasn't looking for a relationship, she was totally fine with that and just enjoyed the romance and sex.
I'm already looking forward to my next trip to Southeast Asia, I think this time I will split my time between Bangkok and Phnom Penh. The great thing about that dating site is that it has members from all over the region – and you can imagine that Thailand (and Bangkok in particular) has the highest number of these "open-minded" ladyboys who are not primarily out for your money.
What I want to tell you with my little article is that no matter if you take yourself a hooker or a "normal" ladyboy – there is nothing wrong or even gay about it. Some of them look even more feminin than the girls, and they are really passionate about what they're doing, too. You'd be surprised how many guys are trying that sex with a shemale these days – and Cambodia is one of the most popular countries to do just that, along with Thailand and the Philippines.
Last Updated on March 27, 2021